Canadian Malnutrition Week, September 24-28, is an annual awareness campaign organized by the Canadian Malnutrition Task Force (CMTF) that draws attention to the importance of food and nutrition in the health and recovery of patients.
---
Nearly half of hospital patients are malnourished and they end up staying two to three days longer than nourished patients, costing an additional $1500 per patient. Malnourished patients are also more likely to return within 30 days. That adds up to a lot of health care dollars that could potentially be saved with better eating. (2016 study in published in Clinical Nutrition) 
The issue of malnutrition in hospitals will be top of mind Sept, 24-28 during Canadian Malnutrition Week. This year's theme, What's Really on the Menu?, is designed to challenge perceptions of hospital food and explore the factors affecting how well patients eat. Everyone has heard the jokes about terrible hospital food but, according to the CMTF, several reports indicate that patients think hospital food is better than they thought.
At St. Paul's Hospital, foodservice patient satisfaction surveys consistently demonstrate the majority of patients find hospital food to be better than expected. Overall meal satisfaction has held steady between 85-94% over the past three years. Patient satisfaction surveys completed this past April demonstrate that patients rate Taste & Flavour, Overall Experience, Variety, Staff Friendliness and Portion Size between "Good" and "Very Good" on a 4-point scale of "Needs Improvement", "Satisfactory", "Good" and "Very Good".  The only category receiving a "Satisfactory" score was Food Temperature. 
While the impetus behind Canadian Malnutrition Week isn't to prove that all hospital food tastes delicious, the hope is for people to get a better understanding of what is working well, and engage in a discussion on what can improve. More importantly, the campaign wants to encourage health care staff to consider what they can do to encourage patients to eat.
Research from the CMTF determined that many factors can affect how well patients eat in hospital. The top barriers to adequate nutritional intake are: illness effects (poor appetite, too sick, tired, pain), eating difficulties (difficulty opening packages/unwrapping food, uncomfortable position to eat, difficulty reaching food), and organizational factors (when meals missed, not given hospital food by staff, did not want food that has been ordered, did not get help when needed).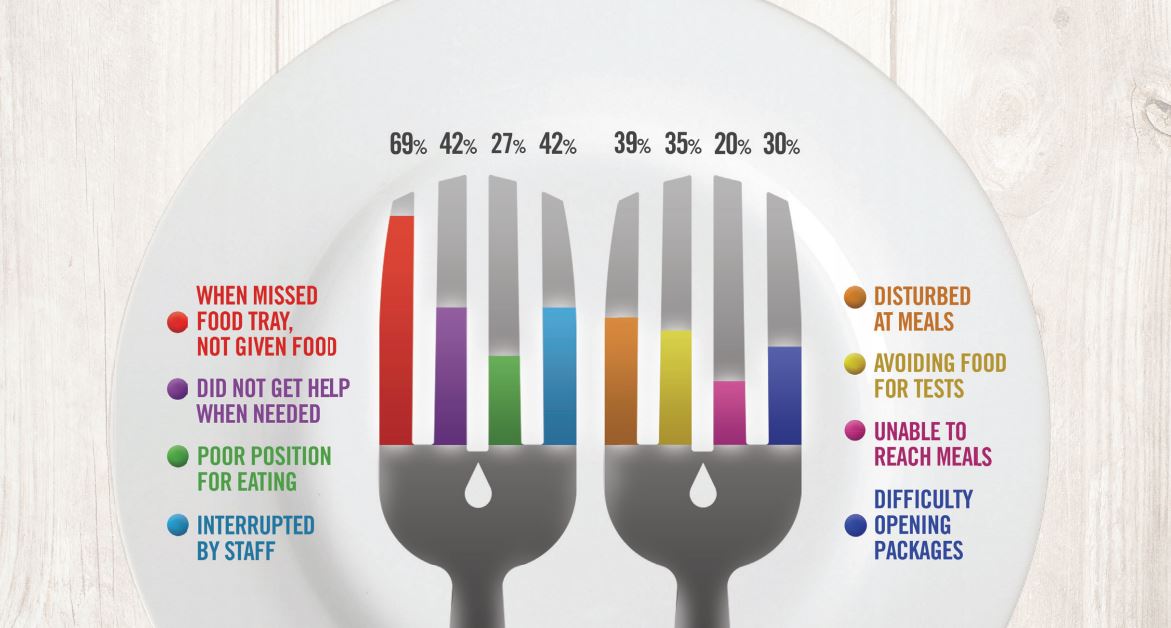 To overcome these barriers, the Clinical Nutrition team at St. Paul's suggests three practical tips staff and caregivers can take to help improve their patients' nutrition status: (1) Speak positively about food and encourage intake; (2) Ensure patients are able to reach and open all menu items. Provide eating assistance when needed; and (3) Do not interrupt patients during mealtimes.
Patients come from different backgrounds and cultures, with differing tastes and nutritional needs, and there is no one perfect diet for everyone. But by increasing staff engagement at mealtimes and exploring barriers to adequate intake in hospital, both the mealtime experience and nutrition status can be greatly improved.
— with files from Emily Zamora, Registered Dietitian at St. Paul's Hospital