Digital Health Week (November 12-18, 2018) is an annual celebration and recognition of how technology is changing the delivery of care across the country as more and more of the health care system goes digital. In light of this special week, we've rounded up a list of four digital tools and projects that are transforming care at Providence. By no means comprehensive, this list provides a small sampling of just some of the ways we're harnessing technology to improve the patient experience.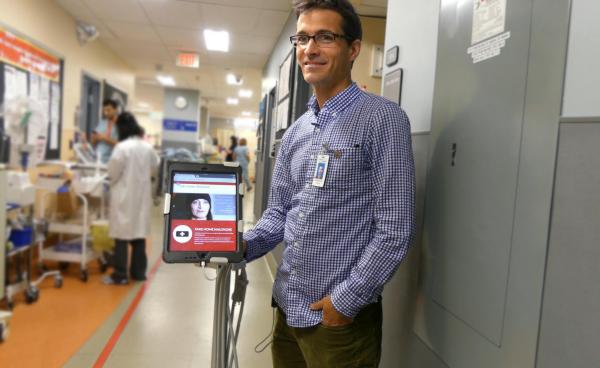 1. Naloxone training app helps save lives
Last year, a team from the St. Paul's Hospital Emergency Department spearheaded a project to give health care workers and all British Columbians access to a simple online training app to teach them how to use naloxone.
The ED team worked with local companies Hello Cool World and Animikii, in conjunction with the SPH Rapid Access Addiction Clinic to develop the web app www.NaloxoneTraining.com. The app uses information from Toward the Heart, a service of the BC Centre for Disease Control that administers the provincial Take Home Naloxone program.
"When we started handing out naloxone kits in the St. Paul's Hospital Emergency Department, we realized it was challenging to deliver consistent, high-quality training in a busy environment," emergency physician Dr. Andrew Kestler said at the time the app was launched. "We wanted training that could be accessed from an iPad in the hospital so it was easy for health care workers to deliver, even without a lot of previous experience with the kits."
The other goal was to develop training that would be accessible at home for people who use opioids and their families.
2. SeamlessMD aims to improve surgery care
Patients undergoing colorectal surgery at St. Paul's Hospital have a new tool to help improve their care right at their fingertips. Last year, the hospital became the first in BC to implement innovative technology from SeamlessMD, a digital patient engagement and ­­quality improvement platform.
SeamlessMD provides patients timely reminders leading up to surgery, a daily check-in to track their progress after surgery (e.g. symptoms, pain levels), personalized feedback on how to care for themselves, and an education library with multimedia to help patients recover safely at home. Such resources have been shown to prevent readmissions and unnecessary return visits to the Emergency Department.
St. Paul's already has protocols in place to hasten and improve patient recovery after major abdominal surgery, a concept known as Enhanced Recovery After Surgery (ERAS), and SeamlessMD is intended to take ERAS a step further.
3. TEC4Home investigates home health monitoring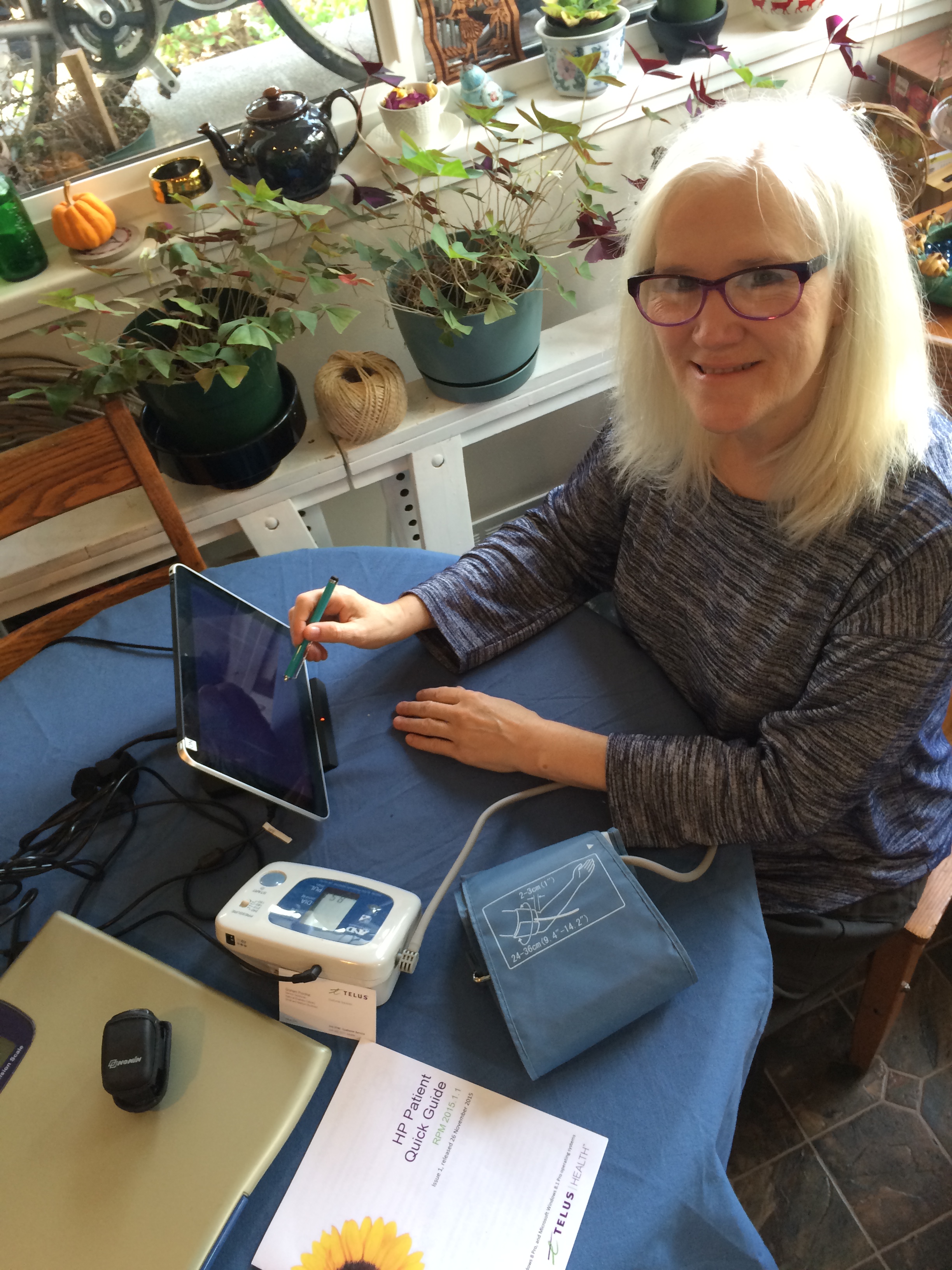 TEC4Home is a research project studying how home health monitoring can support heart failure patients transitioning from the hospital to home.
It works like this: TEC4Home partner Telus Health equips patients with a weigh scale, a blood pressure cuff, a finger clip to measure heart rate and blood oxygen levels, and a tablet to answer questions about symptoms. Patients collect their data daily for two months after leaving the hospital.
Phase one of the study involved 70 patients experiencing heart failure at VGH, St. Paul's Hospital, and Kelowna General Hospital. The results were encouraging: there was a 59 per cent reduction for heart failure re-admission, a 44 per cent drop in ER re-visits, a 44 per cent reduction in cost per patient, and 100 per cent improvement in patient self-reported quality of life.
Based on these promising results, the research team has moved on to a larger phase two trial in partnership with VCH, Providence, Interior, and Fraser Health to validate their results. Twenty hospital sites across the province are involved and 900 patients are being recruited.
Meanwhile, TEC4Home trials are also underway for Chronic Obstructive Pulmonary Disease (COPD).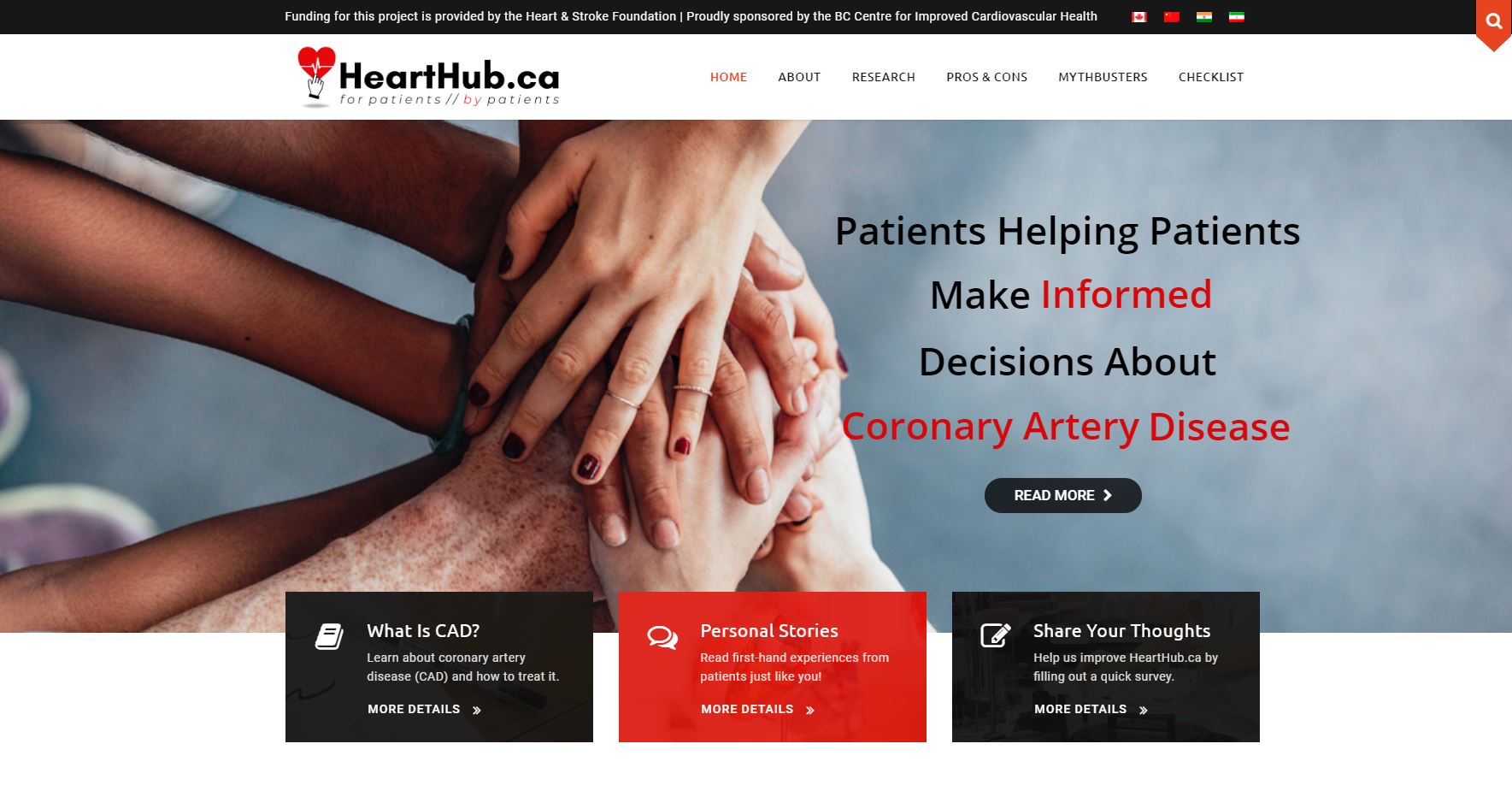 4. HeartHub.ca created for patients, by patients
Navigating the health care system is an added stress for those who've been diagnosed with heart disease. That's why, on July 1 of this year, the BC Centre for Improved Cardiovascular Health (ICVHealth) launched an interactive website for heart patients. HeartHub.ca was created, in close consultation with patient partners, with a goal to provide patients and their families with the right information at the right time to help them make heart treatment decisions.
The website can be used to prepare for medical appointments and to help guide conversations with heart doctors. The information provided on the website has been thought out by people who have experienced coronary artery disease, and by people like clinicians and family members who have taken care of someone with this disease.
The website is now available in four languages, English, Chinese (simplified), Punjabi, and Farsi, in hopes of improving access to heart health information across BC's diverse patient population.