The music world was shocked this week by news reports that Mick Jagger, the seemingly ageless Rolling Stones front man, needs heart-valve replacement surgery this week.
The band is temporarily postponing its upcoming North American No Filter tour due to his health issue.
"I will be working very hard to be back on stage as soon as I can," the rocker vowed in an Instagram post, that didn't specify the health issue but  sounded upbeat about the outcome.
While we don't officially know what's wrong with Sir Mick, 75, the reports that he needs valve surgery are shining a spotlight on a cardiac treatment pioneered at St. Paul's Hospital and now used around the world.
Minimally invasive cardiac procedure was developed at St. Paul's Hospital
Transfemoral Transcatheter Aortic Valve Implantation (TAVI), was born at St. Paul's in 2004 under the leadership of cardiologist Dr. John Webb. It's a minimally invasive treatment for aortic stenosis, or a debilitating narrowing of the aortic valve opening. Under a local anesthesia, doctors open the blocked valve with an expandable artificial valve into place through a catheter via a large blood vessel in the groin or side of the chest.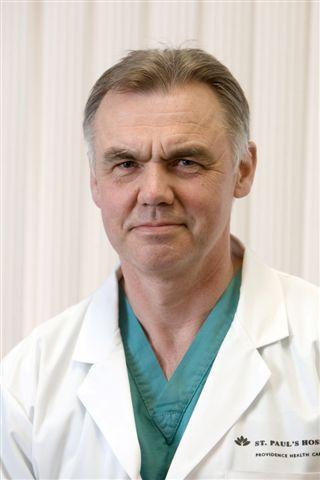 The innovative procedure has changed everything for cardiac patients.
Before TAVI, those with stenosis would require open-heart surgery, says Dr. Sandra Lauck, Clinical Scientist at St. Paul's Heart Centre. This invasive procedure requires the chest to be opened and involves a hospital stay of about five days. It also requires a significant recovery time. "Most patients say it takes about three to six months to recover. Most patients cannot drive for at least a month."
Never mind strutting around a stage at top velocity, belting out iconic hits.
TAVI leads to quick recovery times and shorter hospital stays
By contrast, patients undergoing TAVI recover quickly because it's done under a local anesthesia, says Dr. Jian Ye, a cardiac surgeon at St. Paul's who specializes in valve surgery.  Many patients can leave the hospital the next day. He says the official Stones statement that Jagger's doctors expect him to make a full recovery, and be back on stage as soon as possible, suggests he may be having TAVI.
Jagger's quick return would give fans satisfaction
Does Jagger's age put him at high risk during the procedure? No, says Dr. Ye. In fact, "age 75 is relatively young for TAVI. Usually people in their 80s and older get it" because at an advanced age, open-heart surgery is risky.  
If Mick Jagger is indeed set for TAVI, things look good. "He's in good shape," says Dr. Ye, "and if there are no complications, he could go home the next day."
That would give the singer and millions of Stones fans plenty of satisfaction.