In time for Mother's Day, the St. Paul's Maternity Care Clinic celebrated its first-year anniversary with parents, their little bundles who were born there in the past 12 months, and the doctors and staff who cared for them.
A group of about 30 moms (and a sprinkling of dads), babies ranging from eight days to 11 months old and expectant moms currently being cared for at the clinic took part in a Walk with Your Doc event together with doctors and staff. The group sauntered around St. Paul's in the bright sunshine, baby strollers adorned with blue and purple balloons.
Clinic provides care to women without a family doctor
The clinic opened its doors last March to provide low- and moderate-risk prenatal, delivery and up to six weeks of post-partum care to women who don't have a family doctor. One hundred and twenty-three babies have been born there in the past 12 months – 60 girls and 63 boys.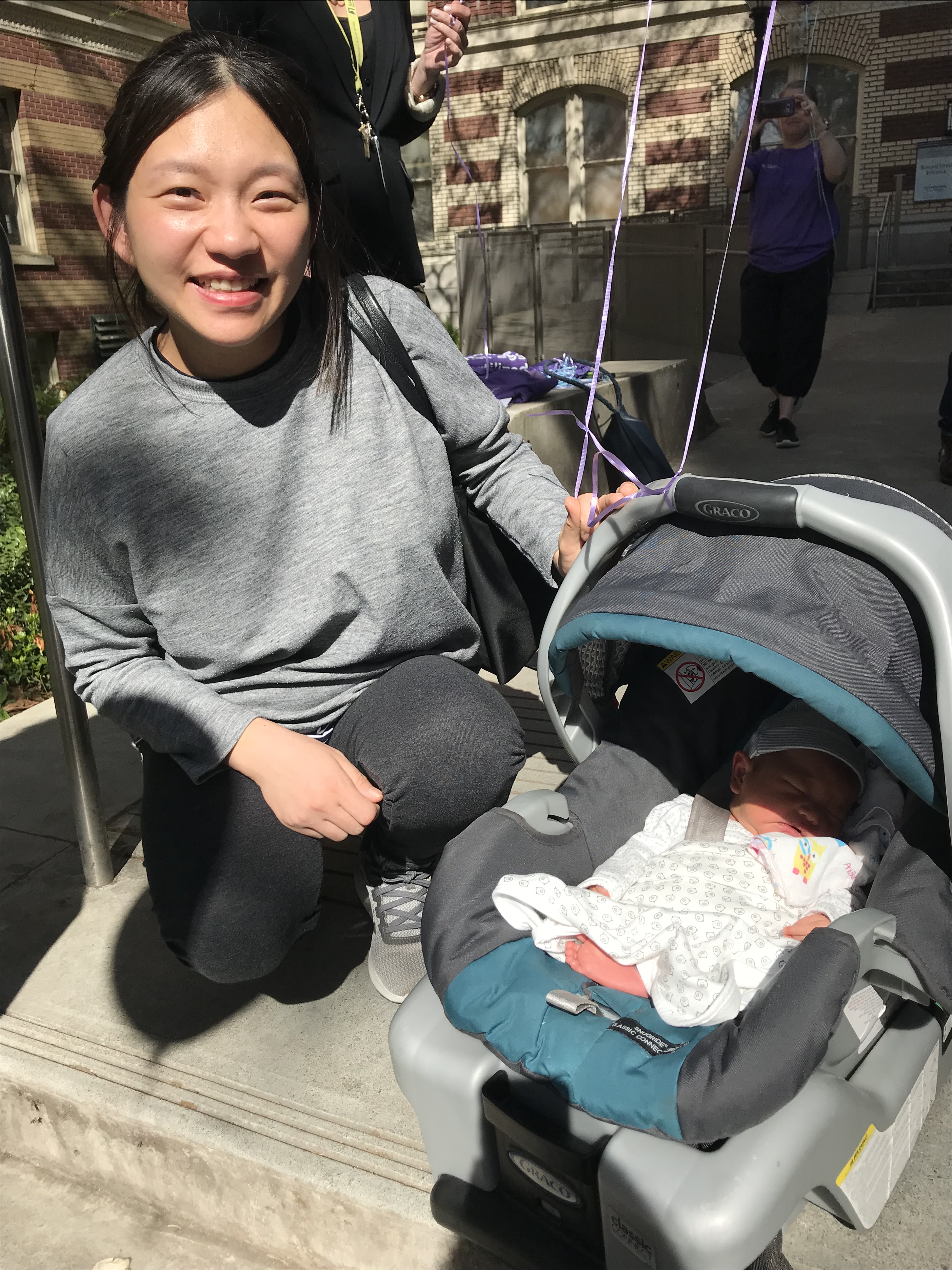 Heejung Kang is one such mom. She didn't have a family doctor, so she got referred to the clinic by a walk-in clinic that she had visited. Baby Dylan was born eight days ago. She says the care she received at the clinic was terrific. "My baby was born with jaundice and they really took care of him."
The location within a full-service hospital provides wraparound care 
What distinguishes the clinic is its location within a full-service hospital. Patients get access to specialty care and equipment if they need these things, says Dr. Ashley Smith, a family doctor who co-founded the clinic with fellow family physician Dr. Donna McLachlan.
Dr. Smith and Dr. McLachlan (the latter who delivered a baby girl at St. Paul's at 8:30 am just before the walk) were inspired to open the clinic because of the high number of women in Vancouver who don't have a family doctor. "There was an unmet need for women without a doctor and who ran the risk of missing out on continuous care during their pregnancy – which is so vital for them and their baby's health," says Dr. McLachlan.
Women without a doctor can self-refer. The clinic helps women transition back to their community doctor after the birth or helps them find a doctor if they're without one.
The family physicians join the team of obstetrician/gynecologists, midwives, pediatricians and staff at St. Paul's. Providence Health Care's Maternity Program supports the clinic.