The COVID-19 pandemic is affecting every aspect of how care is delivered. And for people facing diagnoses with uncertain outcomes, such as a stroke, navigating care is even more challenging right now. What side effects from the stroke will linger? For how long? What types of treatment will be the most effective? Exactly what that journey will look like is different for every patient and unique to the severity and location of the stroke itself.
But the pandemic has also inspired innovation and a strengthening of a community among survivors as they celebrate their own unique path.
"People are usually aware of the more noticeable, physical effects of having a stroke, such as weakness on one side of the face or body," says Dr. Evan Kwong, physiatrist at Holy Family Hospital Rehab. "But there are also less visible effects, such as difficulty communicating (aphasia), vision loss, or cognitive difficulties. There may be effects on mood as well, with more than one-third of stroke survivors having post-stroke depression."
While in acute care, stroke patients are trying to survive. During rehabilitation, survivors are learning new ways of doing things. Following discharge and into community reintegration, the focus often shifts toward finding meaning in various life activities.
The long road at home
"Life post-discharge from inpatient care is the longest phase of stroke recovery," says Dr. Kwong. "Rehabilitation should be considered a process, and not a physical destination."
Holy Family Hospital admits the most stroke patients for inpatient rehabilitation in the Vancouver region, serving approximately 160 to180 per year.  This includes patients from all over the Vancouver Coastal Health region, including rural communities. Patient partners are integrated into all aspects of care, including at the leadership council.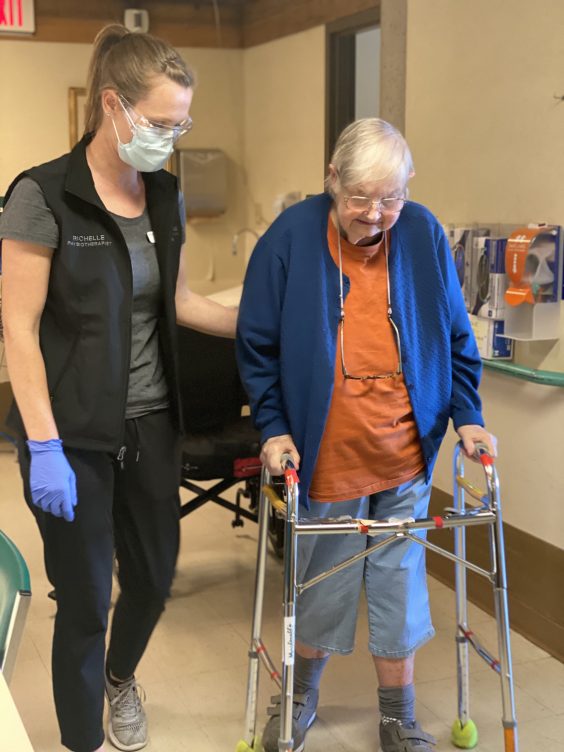 After discharge, survivors may be given a home exercise program, referred to further outpatient care at Holy Family or sent to other community-based initiatives. For man y stroke survivors, Holy Family remains a hub of connection, even long after discharge.
"One of our stroke patients put it well saying, 'St. Paul's Emergency saved my life, but Holy Family Rehabilitation gave me my life back'," says Anne Tuppurainen, Spiritual Health Practitioner.
The importance of keeping connected
Last year in 2019, Holy Family Rehab's group of patient partners, in collaboration with Spiritual Health, helped to organize the inaugural Stroke Recovery Day at Holy Family Hospital. Many discharged inpatients were invited back for a small gathering, enjoying music, food and socializing. Stroke recovery can occur over months and years. The Stroke Recovery Day allowed people to celebrate their ongoing recovery together, and to give staff a chance to see how far they have come since their discharge from Holy Family.
"As a physiatrist, I am lucky to be able to see a patient in the acute care hospital, during their rehabilitation course, and post-discharge into the community," says Dr. Kwong. " Sometimes when a stroke survivor sees me in the clinic, or the therapists in the outpatient program, they may drop by the inpatient unit to say hi and give thanks to the nursing staff."
When the COVID-19 pandemic hit, the rehab team had to quickly change course and rapidly implement a series of measures that balanced the increased safety needs with an ability to deliver care in a timely, efficient and effective way. Unfortunately, this also included the restrictions on visitation, as set by the Ministry of Health.
"Our inpatients accepted this, yet the staff witnessed its deep effects," says Anne. "This was particularly challenging for elderly and some of our non-English speaking patients. Very soon, the team came up with a solution: window visits and FaceTime phone calls with families, frequent check-ins and chats, and deliveries of summer flower bouquets from the hospital garden."
For the rehab program's outpatients, these changes included virtual rehabilitation strategies for outpatients to receive crucial therapies safely from the comfort of their own homes. With the outpatients department was closed, along with community pools and gathering places where stroke survivors and their family members would have been able to meet their peer supports, the team needed to reimagine how to support stroke survivors and keep them connected with each other.
Celebrating together, apart
"One day I was on the phone with our patient partner, it was then that I understood how different the stroke survivors' world has become during the COVID-19," explains Anne. "Some, who live alone, may not see anyone for days. The grocery delivery is the greatest event of the week! We need more reasons to celebrate. It was then that the idea came for a Virtual Stroke Recovery Day."
The importance of Stroke Recovery Day also honours June as the National Stroke Recovery awareness month. It builds community, but it also gives voice to stroke survivors and their family members.
"Like many events, this year's celebrations are different due to the COVID-19 pandemic. But in the time of physical distancing, one of our biggest concerns includes preventing further social isolation," remarks Dr. Kwong. "So, led by Spiritual Health and our patient partners, and in collaboration with the Providence's Media Services team, this year's celebration has gone virtual."
Watch the 2nd Annual Stroke Recovery Day Virtual Celebration here.
"Thank you to those who participated by pre-recording the kind words, music, and supportive tips during these times," says Dr. Kwong. "We hope to connect again next year for the Third Annual Stroke Recovery Day."
Do you know the signs of a stroke?
Remember the FAST acronym (Face, Arms, Speech, Time) if you suspect someone is having a stroke, and call 9-1-1 right away.?