Like the iconic 'I Heart NY' T-shirt, some designs were destined to catch on and be a symbol of their times.
Now, St. Vincent's: Brock Fahrni (BF) has their own trend-setting T-shirt that is proudly being worn around the Providence Health Care long-term care home. And the team behind the BF Artworks program wanted to shine the spotlight on one of their residents who created the T-shirt's design.
Things have looked different in the art studio that BF Artworks calls home for most of 2020, with the creative clutter – from paints to craft supplies – now neatly packed away to follow COVID guidelines.
Yet the mission of the art program – that began as a partnership between the Canadian Red Cross and Department of Veteran Affairs in 1945 – remains the same as when it began: to provide a therapeutic outlet for the home's 148 veterans and residents.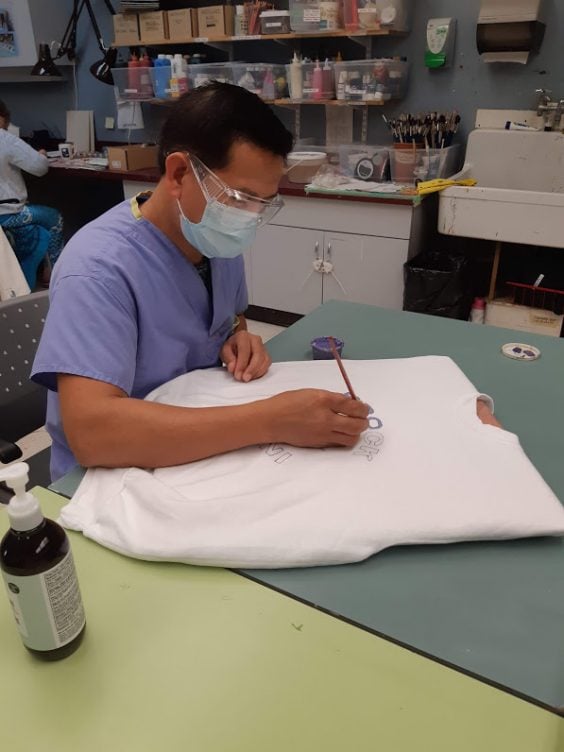 BF Artworks program coordinators Zana Becker, Cari Randa and Amber Murray work directly with each Artworks participant to help them on their self-guided art projects, no matter what they are: from paintings to silk scarves. Yet this was the first time they helped create a fashionable T-shirt design.
Inspiration strikes
Peter Borzillo, 59, arrived at BF almost two years ago, when he and his wife could no longer look after his numerous medical needs at home. Earlier this year, Peter came to BF Artworks with an idea for his personal art project: a T-shirt expressing the way he felt about his new home.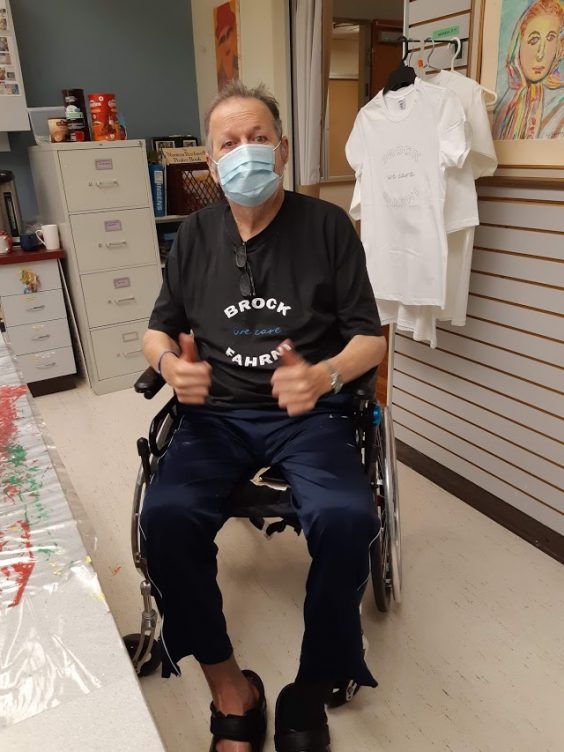 Peter's inspiration was to show his appreciation for everyone at BF and "the way they make you feel at home here," he explains.
Peter turned to Amber to help bring his T-shirt design to life: "Brock Fahrni" spelled out in clean, bold letters forming a circle, with "we care", hand-written in the middle. The final touch was provided by Peter, who completed the design with a pair of hearts.
"This was the first time I'd had a resident request a project specifically to commemorate their arrival at Brock Fahrni," Amber says. "I thought it was a sweet way to recognize the community to which Peter now belonged."
Amber transferred the outline of the pattern to a T-shirt for Borzillo to paint and he was happy with the final result. He wore his T-shirt proudly; not expecting his creative project would catch attention at the home.
A special shirt for a special community
According to Peter, the popularity of the shirt grew and took off when Dr. Janice Wong, Peter's doctor, began wearing the shirt whenever she came to work at Brock Fahrni.
Five more requests for the T-shirts came in shortly after Dr.Wong's shirt was created. By fall, demand for the hand-painted T-shirts exceeded what Peter and the BF Artworks team could keep up with.
The shirt design quickly became a message for residents and staff to rally around during a trying time.
The T-shirt was completed in the first months of the COVID crisis in B.C. – an event that has disproportionately affected long-term care homes.
It was a time when new visitor restrictions and safety measures were being introduced to care homes across the province to keep those at highest risk safe.
"The shirt Peter designed and created unites as all during this most challenging of times," says Dr. Wong. "It is an honor and a privilege to be a part of the Brock Fahrni community and I wear my shirt with pride."
Following necessary COVID rules, the Artworks team was invited to attend the studio alongside residents, and put their own spin on Peter's original design.
Many staff members had never painted before and were excited to give it a try. Laughter filled the studio as residents watched staff members paint. To date, over 52 total shirts (and counting) have been made.
Connection through creating
"Creating these shirts has created connection, inclusion and provided stress relief during COVID conditions," says Zana, BF Artworks coordinator. "It's built tremendous community in terms of the way we relate to each other and lifted spirits at a time when we need it most."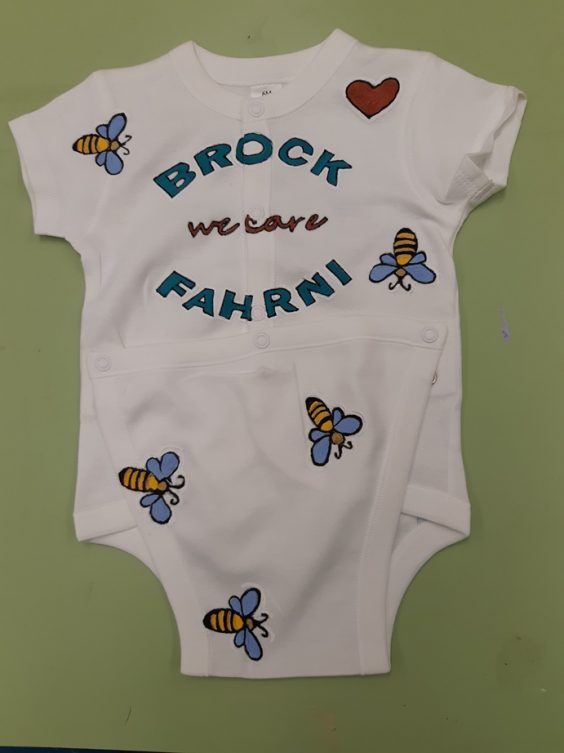 The design itself continues to find an audience, the latest design: a baby onesie by a recent staff member.
Reflecting on being an artistic trendsetter and the positive experience, Peter says humbly: "I thought these T-shirts bring a sense of community to everyone. The ladies were proud of wearing their shirts. It's been a good experience."