Just over six weeks since the launch of the WestJet-YVR COVID-19 Rapid Testing Study, the interim results. The previous update showed the launch of the WestJet-YVR COVID-19 Testing Study, a collaborative effort between researchers from UBC and Providence Health Care and project sponsors WestJet and Vancouver Airport Authority. The purpose of the study is to evaluate COVID-19 rapid antigen testing as it relates to air travel, and more specifically, to help inform the safest and most efficient way to screen departing passengers at YVR for COVID-19.
All passengers in study so far tested negative
The research team has provided interim results based on 200 participants that met the full eligibility criteria and provided informed consent between November 23 and December 17, 2020. To date, more than 300 passengers have participated in the testing study. Based on the interim results, 100% of the participants tested negative with the rapid antigen tests that use nasopharyngeal (back of nose) swabs and oral rinses. The tests were later verified in a lab using a sensitive Health Canada approved RT-PCR diagnostic test, which indicated that no participants had a false negative rapid antigen test. The interim results show promise that transmissible infection in airline passengers departing from YVR is likely to be extremely low (<1%).
Test was comfortable, efficient
Participant feedback was resoundingly positive with many saying that the procedure was more comfortable than expected. Participants also appreciated the timeliness and efficiency of the process. The research team found that the test itself takes around 15 to 20 minutes, which means minimal disruption to the passenger's travel journey.
The interim results indicate that a rapid antigen testing approach is feasible for use in departing air travellers, especially for domestic or short international flights. We will further validate this through the remainder of the study.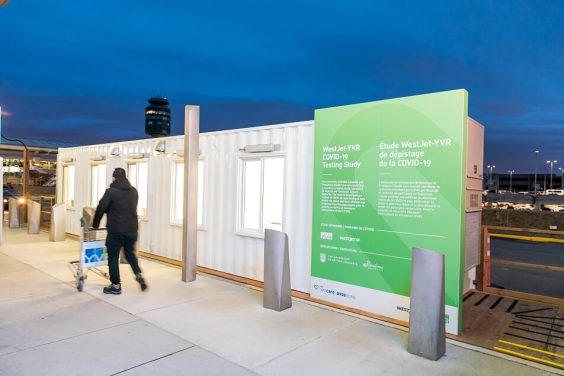 As part of the next stage of the testing study, the eligibility criteria are being expanded to include those whose primary residence is Canada (not B.C.) and those over the age of 80 years (up to 90 years). Researchers will continue to move forward to achieve a desired sample size of 1,000 participants. The results will be shared with public health and other stakeholders, then submitted for peer review in an effort to contribute to a future testing framework for the aviation industry.
The study is currently operating on Mondays and Wednesdays through Saturdays during peak morning hours at the WestJet domestic check-in area. For more information on the study, visit westjet.com/covidtesting. WestJet guests who meet the criteria can register for the study at testingyvr.ca.
Another layer of safety
Testing adds another important layer to the strict health and safety protocols already underway at Canada's airports, and a clear and consistent testing regime will help to rebuild traveller confidence and provide peace of mind for travellers, airport workers and our community.
The original version of this story was published on the YVR website.