Practising self-care, taking time to grieve, learning more about the palliative approach – these are all strategies researchers have identified to help long-term care staff cope with death.
The research team, led by a group of interdisciplinary frontline Providence Health Care staff, recently published a study that recommends practice changes and practical strategies to help reduce and prevent workplace stress and burnout among interdisciplinary long-term care staff who care for dying residents.
Although they conducted their research before the COVID-19 pandemic, the team says their findings are now even more relevant and support for long-term care staff is more urgent than ever. Any discussion about the implementation of these supportive strategies must now take into account the even greater challenges staff are now experiencing due to the COVID-19 crisis.
Half of long-term care staff exhibit signs of burnout
In 2019, the same research team published a study that showed almost half of interdisciplinary care staff at Providence's five long-term care facilities exhibit signs of burnout. This earlier Phase 1 study pointed to data showing deaths in long-term care facilities in Canada have increased over the years and residents are moving into long-term care with complex health conditions. While long-term care facilities are striving to meet the increasing need for comprehensive end-of-life care, the study noted they are not always adequately staffed or resourced to do so.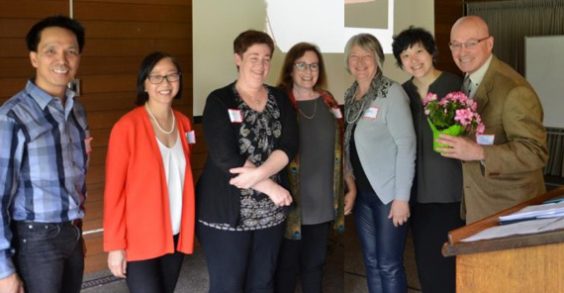 Concerns about staff burnout prompted the more recent Phase 2 study. Through focus groups and interviews, the researchers heard from a range of interdisciplinary long-term care staff about the challenges dealing with dying and death and what might help reduce the risk of staff burnout.
Participants described the challenges and complexities involved in caring for dying residents. These included difficulty negotiating relationships with families, different expectations around care, and intense thoughts and emotions associated with grief.
"In light of these challenges, participants were then asked 'What would help them cope?'" says Karen Pott, Occupational Therapist at St. Vincent's: Langara, and a member of the study team.
Policy and system changes are needed to support staff
At the individual level, the importance of self-care was emphasized. Participants recommended that long-term care interdisciplinary staff should consider self-care essential. Time and space to say goodbye to residents and to grieve was identified as an important element of self-care that should be built into the working day (as it is on palliative units and within hospice care).
On an organizational level, participants recommended increased resources, consistent workplace programs, and initiatives aimed at staff psychological and physical well-being.
Other suggestions highlighted the need for more end-of life education for staff and families as well as the need for emotional preparation/ resilience education as part of healthcare training.
As part of knowledge translation for this study, the findings were shared with the Minister of Labour for BC as well as the Premier's Office. The findings were acknowledged by both with assurances that staff voices have been heard:
"Please be assured that your findings and recommendations will be included in any of the Minister's related discussions going forward."

Letter from BC Premier's Office, January 2021
The research team was one of the seven recipients of the WorkSafeBC Innovation at Work competition research grants for 2020 and intends to use this grant support to conduct Phase 3 research in April 2021. Based on findings from Phase 1 and Phase 2, the aim of this Phase 3 research is to develop, implement and assess the short-term impacts of a package of communication and care strategies across five Providence long-term care sites.
The researchers conclude that policy and system changes are needed to support interdisciplinary care staff and provide them with tools, resources, and supports to prevent burnout and cope with the increasing stress of working in long-term care.
"The excellent care long-term care staff offer to frail residents, especially through the dying process, depends so much on their own emotional, physical, and spiritual health." (Pott, Chan et al, 2020).
---
This research project was led by Providence Health Care long-term care team members Karen Pott, Kit Chan, Anne Leclerc, Chris Bernard and Annes Song. Dr. Paddy Rodney and Dr. Joseph Puyat were mentors for the project.