When Jenny Bailey learned she was next in line to get the COVID-19 vaccine, she could hardly contain herself.
"I was so excited when I found out we were getting it. I was just stopping myself from doing cartwheels," she says with a laugh. "I was thrilled."
As a member of a priority population, Bailey, who has lived at St. Vincent's: Honoria Conway assisted living residence for five years, received her first dose of the vaccine in mid-January. Shortly before getting her shot, she agreed to take part in a study to help researchers understand how effective COVID-19 vaccines are among residents of long-term care and assisted living facilities operated by Providence Health Care, as well as the staff who care for them. The study has recently further expanded to recruit all health care workers at Providence who provide direct patient care, as well as elderly people living in the community.
The objective of the study, which is being conducted by a team from Providence, the University of British Columbia, Simon Fraser University, and the BC Centre for Excellence in HIV/AIDS, is to better understand how elderly peoples' immune systems respond to COVID-19 vaccines. The researchers will also assess the viral, immunological and social factors that have contributed to COVID-19 outbreaks in long-term care facilities, studying why the disease was fatal to so many residents.
Blood drawn before and after vaccination
For Bailey, volunteering to participate in the study was an easy decision that she says she made for the sake of humanity. "I thought, just in general, it would be a public-spirited thing to do," she says.
At nearby St. Vincent's: Brock Fahrni, resident Alfred Best was also quick to volunteer for the study in order to "help the cause," he says. The 95-year-old, who has been living at Brock Fahrni for five years, received his first dose of the COVID-19 vaccine in early January, and says he hopes his participation in the research study will help protect others.
Study participants are asked to complete five visits with a member of the research team over the course of one year. Each visit involves survey questions and a small blood draw.
"We'll be collecting blood samples from participants before vaccination, when possible, and then we'll be collecting more blood samples periodically after vaccination," explains one of the study's co-Principal Investigators, Dr. Marc Romney, Medical Leader for Medical Microbiology and Virology at St. Paul's Hospital and Clinical Associate Professor at UBC.
"We will use innovative and emerging laboratory tests to assess vaccine-induced immunity over time," adds Dr. Zabrina Brumme, Laboratory Director at the BC Centre for Excellence in HIV/AIDS and Professor in the Faculty of Health Sciences at SFU, who is also one of the study's co-Principal Investigators.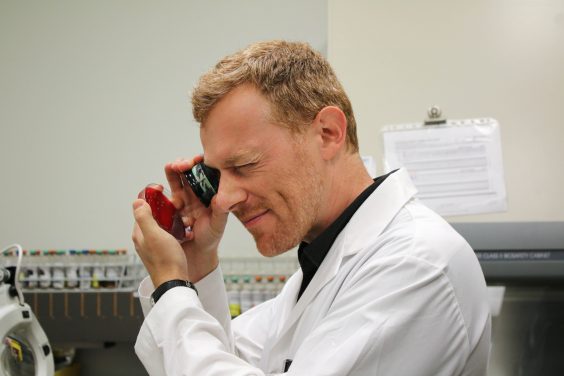 "Ultimately, the learnings from this research study will inform stakeholders on how to protect individuals who live and work in long-term care from COVID-19, not only improving the management of outbreaks in Canadian long-term care facilities, but also possibly saving lives," adds Dr. Romney.
Study funded by COVID Immunity Task Force
With BC's COVID-19 immunization program underway, Jenny Bailey is starting to look forward to the day she can resume some of the activities she's had to put on hold due to pandemic-related restrictions. Number one on her post-pandemic to-do list? "Hug my daughter, which I haven't been able to do for 10 months," she says, explaining the two have had outdoor patio visits, but no physical contact.
Likewise, Alfred Best looks forward to in-person visits with his son, who he's mostly kept in touch with via window visits and frequent phone calls. Despite everything, Best says he has maintained a positive attitude throughout the pandemic.
"I'm about one of the happiest people," he remarks cheerfully, adding he feels lucky to live at Brock Fahrni. "I'm very happy here, the care is outstanding. To me, it's the best."
This is one of a number of studies across Canada that are sponsored by Canada's COVID Immunity Task Force (CITF), a national initiative established by the Government of Canada to advance our understanding of COVID-19. On February 10, the CITF announced it had provided over $2 million combined funding to support two studies: Dr. Romney's COVID-19 Infection and Immunity Study, and a University of Alberta-based long-term care study. Read the announcement here.