Before COVID-19 struck last year, Mount Saint Joseph Hospital's gift shop was a thriving place, providing patients, families, residents and staff with gifts and comfort items like flowers, books, magazines, and stuffed animals.
The shop, completely staffed by volunteers, also served as a valuable source of fundraising for the East Vancouver hospital, operated by Providence Health Care.
Things changed last March when the pandemic forced the shop to close for five months, then, on reopening in the summer, to drastically slash hours of operation and staffing. Only a single customer was permitted in the store at a time.
A $20,000 donation from gift-shop funds
Despite these obstacles, and through prudent management of resources in previous years, this year the shop was able to spend $20,000 on a vital piece of technology for its pathology department: a digital cassette printer to house tissue specimens for pathologists to analyze for disease.
The cassette printer is a critical tool for pathologists who examine biopsied specimens and other types of tissues. The Providence Breast Centre at Mount Saint Joseph serves the Vancouver Coastal Health region, so the majority of its pathology specimens are from breast surgeries.
The new device, already up and running, spits out Lego-sized cassettes that will store tissues specially prepared for examination. Each cassette is labelled with a patient's unique identification number. All samples gathered at Mount Saint Joseph ultimately head to St. Paul's Hospital for more test, but thanks to the printer they can now be stored at MSJ.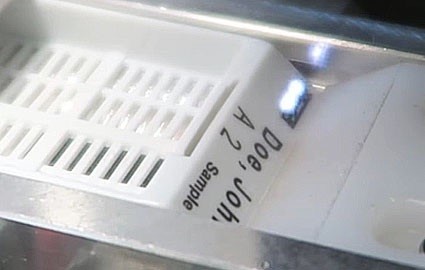 Increased surgeries prompted need for printer
The growth of MSJ's surgical program has led to a big increase in the number of complicated specimens for diagnosis. Six thousand specimens a year are processed at the hospital. So it needed a robust, efficient printer – and got one, in the new equipment.
Improved efficiency and patient safety
Typically, a unique ID number is the only information on the cassette. With the new printer, Mount Saint Joseph teams can see not only the ID, but the name of the patient and a 2D barcode that contains a lot more patient information. This 2D barcode can also be used for specimen tracking in the future. This feature can ensure patient safety and eliminate cassette/patient mismatching.
Volunteers "really made their mark"
Gallop says the printer heralds in a new era in technology at the hospital. "The purchase means we're really looking into the future and building a pathology program that keeps up with the most modern technology," says Gallop. With this purchase, she adds, "the volunteers feel they've really made their mark."
She adds: "I couldn't operate without them – there's such camaraderie. It's like a family."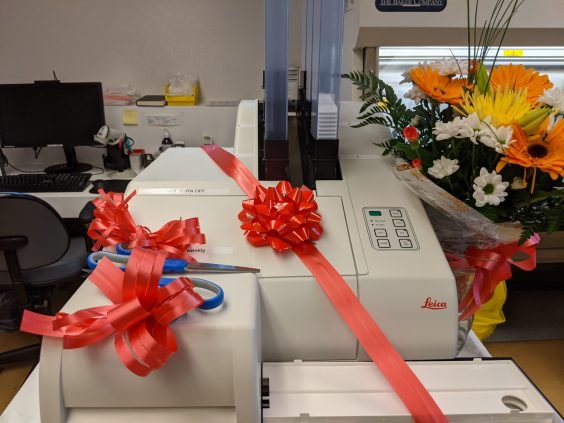 National Volunteer Week runs from April 18-24. At Providence Health Care, volunteers generously give their time and energy to serve patients, families and residents to support them as they receive health care. As well as helping out at sites, they, like the MSJ gift-shop volunteers, serve as important fundraisers. Before COVID, the 900 volunteers across the organization provided a collective 100,000 hours of volunteer time each year.
---