Anyone who believes the saying "you can't teach an old dog new tricks" hasn't met Jack Roche.
Born at the beginning of the Great Depression, he learned at an early age to be resilient and resourceful, reinventing himself numerous times over the years. Now at 91, he's continuing that trend by writing his first song. What makes his accomplishment even more remarkable is that he's currently living in Providence Health Care's St. John Hospice, receiving palliative care for pulmonary fibrosis.
An adventurer with a love of music
Born in Montreal in 1930, Jack has spent time as a dairy farmer, tobacco picker, logger, fisherman and diamond driller. His work took him as far north as Inuvik and as far south as Trinidad and Tobago. He spent most of career as a plumber and pipefitter, working on construction sites across the country. He lived in Quebec and Ontario before settling in Vancouver in 1959.
While he isn't a musician himself, Jack has always loved all types of music. "I love opera, especially Pavarotti and the Three Tenors. I used to listen to the weekly opera show on the Knowledge Network," he remembers. He counts blues musician Muddy Waters and jazz vocalist Diana Krall among his favorites.
Lately, he's been listening to "New York, New York", and "Don't Cry for me Argentina" to help him fall asleep. These songs about places inspired him to write his piece, "My Beautiful Vancouver." The city has always held a special place in his heart. It was where he married his wife Gail 54 years ago and where they raised their two children, Jenny and Tom.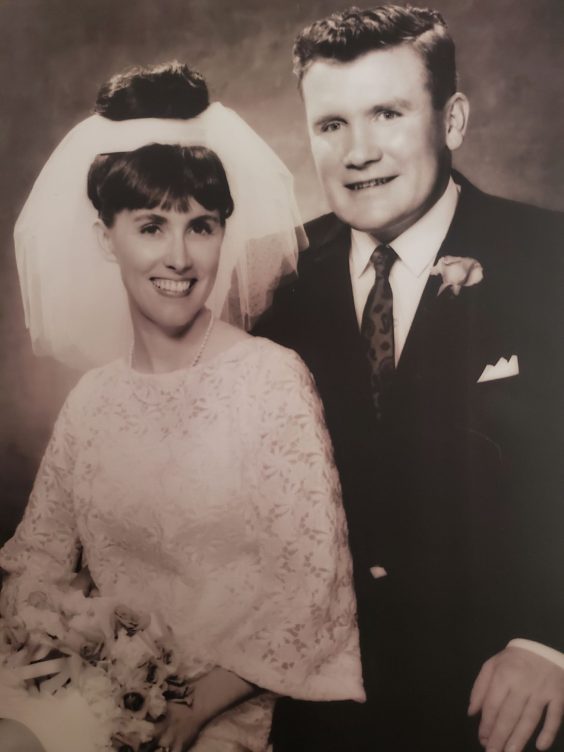 "I just woke up one day a couple of weeks ago and scratched the lyrics out on a piece of paper," says Jack. "I wanted to write something to thank everyone at St. John Hospice for all they have done for me these past few months."
With the help of his son Tom and his daughter-in-law, Naz, Jack refined his notes into song lyrics.
Jack's music therapist easily composed the melody in half an hour
When the staff at St. John Hospice read the lyrics, they knew Jack had created something special. Nurse Kelly Konyk, site co-ordinator at the hospice, contacted Joshua (Josh) Denny-Keys, a music therapist with Providence to help set the words to music.
"Jack showed me a piece of paper with the lyrics on it and I asked him what he wanted his song to sound like," says Josh. "He just left it with me to write the melody. With Jack's lyrics, the music came together quickly, in just about half an hour."
Josh took his arrangement and recorded it in his home studio, keeping in mind Jack's admonition that the song shouldn't be too sentimental. He made sure to include Jack's voice saying "I'm back to my city by the sea" at the beginning of the song.
His song is already gaining fans in the care staff and doctors at St. John Hospice. Hs family is grateful to have such a special legacy of him.
Hospice care "misunderstood"
For Jack, being in hospice has been a positive experience. When he arrived last November, he was extremely ill and wasn't expected to live long. His illness had left him weak, and Gail, Jenny, Tom, Naz and the family prepared for the worst. But with the care and attention of the staff at the hospice, he has stabilized and looks forward to each day.
"I have been so well cared for here at St. John Hospice, it's like living in a five-star resort," says Jack.
"Hospice care is often misunderstood. It can actually be an energizing, positive experience for some people," says Josh, who works with patients in hospice or receiving palliative care. "I like the legacy aspect of hospice work. It's a privilege to be with people at this stage of their lives."
As for Jack, he's already planning his next song, a tribute to nursing staff at the hospice. 
Jack's Song – My Beautiful Vancouver
Listen to it here.
Lyrics:
Chorus
Vancouver, I'm back to my city by the sea
With its great parks and high mountains
With their ski lifts that reach into the sky
Vancouver, I'm back to my city by the sea
I am back, I am back
This is where I'm meant to be.
The mighty Fraser it is calling me
Back to my city by the sea
To its beautiful parks and gardens by the sea
They wait for me
Chorus
Here I sit
Watching the mighty Fraser meet the deep blue sea
And the blue sky of Vancouver
This is where I am meant to be
Chorus