Editor's note: As of Jan. 6, 2022 this study is closed and is no longer recruiting participants.
COVID-19 immunizations are the foundation of stopping the spread of the virus, keeping us safe and getting back to normal, but even as vaccines roll out and cases plummet across the province, research into treatment options remains a crucial element in the global fight against COVID-19.
At the St. Paul's Sinus Centre, a team of researchers is investigating whether an inexpensive and widely available over-the-counter medication could be used to stop COVID-19 in its tracks.
Povidone iodine, known by the brand name Betadine, is a topical antiseptic – a substance that kills and prevents the growth of microorganisms. It is commonly used to help heal wounds and disinfect skin before and after surgery. It has also been used with success at the St. Paul's Sinus Centre as a nasal rinse to treat chronic inflammation diseases of the nasal cavity.
The purpose of this new study is to determine if povidone-iodine used in a sinus rinse and throat gargles or gel nasal spray are effective treatments for patients diagnosed with COVID-19.
Stopping the disease early
"We believe that this treatment will be a game-changer for COVID-19," says Principal Investigator Dr. Amin Javer, Director and Head of the St. Paul's Sinus Centre. "While most groups are working on developing a vaccine or treatments for hospitalized and severe patients, we are working on stopping the disease in an early stage, when the symptoms are mild and we can delay the spread of the virus to the lungs."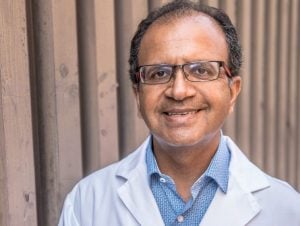 The study is currently recruiting patients diagnosed with COVID-19 who are isolating at home. Participants will be sent a kit containing saliva sample collection cups, treatment, and questionnaires. The treatment will be randomly assigned (either povidone iodine rinses and gargles, placebo rinses and gargles, or povidone iodine gel forming nasal spray). Participant are asked to perform the treatment twice a day for 14 days. At the end of the study, the research team will determine if povidone iodine reduces the concentration of the virus in saliva samples compared to a placebo.
"It may reduce the concentration of the virus in the mucus to the point where transmission to health care workers, family, and community members could be minimized, if not interrupted," Dr. Javer says, pointing to data from the Canadian Institute for Health Information that shows COVID-19-related hospitalizations in Canada cost $23,000 per stay, about four times as much as the average. "We need to focus on developing treatments that stop the symptoms in a mild phase of the disease and avoid severe cases and hospitalizations."
Protection from future waves
The safety and tolerability of povidone iodine has been studied for the last 150 years. It has already shown efficacy against other coronaviruses, such as severe acute respiratory syndrome (SARS) and Middle East respiratory syndrome (MERS), as well as influenza A virus.
Promising results from this study would mean people could be protected from getting infected with the virus that causes COVID-19 by simply rinsing their nose and gargling with povidone iodine.
"We could essentially be protected from future waves of COVID-19 to come. This treatment might also be effective against new variants that are more contagious and are spreading rapidly worldwide," says Dr. Javer.