"It felt like we were leaving friends and family behind and that our baby had a dozen new aunts," recalls Gregory Shaw of the care he experienced at St. Paul's Hospital. He and his husband, Allen Penny, spent two and a half weeks in the Neonatal Intensive Care Unit (NICU). after their son, Yukon Shaw-Penny, was born prematurely and required specialized care.
Birth plans abruptly changed
Shaw and Penny live in Whitehorse, Yukon but suddenly had to fly to Vancouver on April 16 when the birth mother to their child discovered her water had broken at around 33 weeks' gestation. The original plan was for Yukon to be born at Whitehorse General Hospital, but that facility was not equipped to support babies born that early. The hospital arranged for the birth mother to be sent by air ambulance to the Lower Mainland. Shaw and Penny booked themselves on the next available flight.
"It was a hugely stressful time. At that point, we weren't even sure which hospital we were going to. We knew the incidence of COVID-19 was higher in BC, and we were nervous to have to come to a larger urban centre," says Penny. "But we are so grateful we ended up at St. Paul's. We don't even have the words to express how wonderful the care was."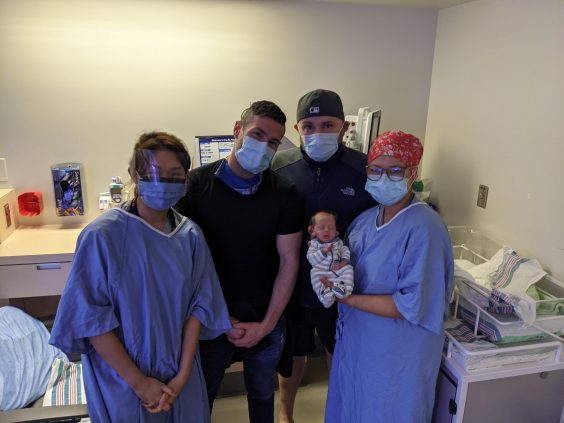 While still in the womb, baby Yukon was being monitored by the family's physician in Whitehorse for intrauterine growth restriction, a condition where a fetus doesn't grow as quickly as it should. Once at St. Paul's, staff administered medication to slow down the contractions to give Yukon more time to grow and develop.
After three days, they compared ultrasounds to ones taken in Whitehorse and they realized Yukon wasn't growing as quickly as they would have expected. They decided to induce labour to get him out in the world so they could give him what he needed to help him thrive.
For Yukon, this meant an incubator to help regulate his body temperature, a feeding tube because he hadn't yet developed a sucking response and phototherapy to help with jaundice, a common condition in newborns where the skin and whites of the eyes take on a yellow hue due to high level of bilirubin in their system. His birth mother, supported by the care team post-delivery, was able to pump breast milk for Yukon's feeding tube while he was in the NICU.
St. Paul's social worker helped with practical details of birth
From the outset, the team at St. Paul's made sure both dads were involved in their son's birth and care. When Shaw and Penny realized that COVID-19 protocols meant that the birth mom was only allowed one support person, Lana Needer, a social worker and 26 year veteran with the NICU, intervened to secure special permission for both of them to be there when their son was born. She also helped the couple with the practical details of registering their son's birth and liaising with officials in the Yukon government to get funding for them to stay in Vancouver until their son was able to go home.
"When families arrive at St. Paul's from out of town or out of province. I help them find accommodation, arrange flights and access other services. It's hard on them; they don't know the city and they're cut off from their usual support networks," says Needer. "I do what I can to provide practical and emotional support."
"Greg and Allen bonded so quickly with their son and participated fully in his care. They just were so happy to have this little baby. It was such a rewarding experience to support this family with their journey," she adds.
Kangaroo care important in St. Paul's Maternity
That included giving Yukon hours and hours of kangaroo care. This type of skin to skin contact between parent and baby helps regulate the baby's temperature, improves feeding and sleep cycles, and helps decrease pain and stress. It also helps the parent bond with their infant.
Feeding a big challenge for preemies
"The NICU nurses taught Greg and Allen how to bottle feed Yukon. This can be challenging for premature babies who have to be taught how to breathe while feeding," says Teaghan Evans, the NICU's clinical nurse educator. "We also taught them how to change his diaper, hold and comfort him, and give him a bath."
"We felt so well supported by the staff in the NICU," says Shaw, highlighting their compassion and skill. "They gave us so much information about how to care for Yukon and what to expect when we get home."
"Amazing fathers"
"They are a beautiful family and amazing fathers," says Evans. "The one thing that stands out for me was how they played fun, upbeat music for Yukon every day. They wanted to make sure Yukon developed a taste for pop music."
Father's Day this year will be an extra special celebration for these two new dads as they settle into life back home in Whitehorse with their son. One thing is for certain, the celebrations will probably involve some Taylor Swift or Carly Rae-Jepsen.