BC Seniors' Week takes place from June 6-12 to celebrate older citizens and their many contributions to the province.
This spring, after the nightly banging of pots and pans for frontline health workers had faded, Providence Health Care felt a morale boost was needed like never before.
The tributes had subsided, but the pandemic certainly had not, and the organization's critical-care workers were struggling with an alarming third wave of cases.
Realizing the healing power of music, Providence asked St. Vincent's: Langara's music therapists to create a music video, on behalf of all its long-term care sites, to honour the workers.
"We said, 'Let's do it,'" says Lucy Thomas, a certified music therapist with the long-term care home. And in less than a month, residents and staff came up with the lyrics, set it to a melody, created artwork for it and recorded and edited it. All this in in the midst of a pandemic and its many COVID-19 safety rules and protocols.
Music's therapeutic value
The result is this video, titled Don't Give up the Ship. It has benefitted not only its audience of front line workers but the residents themselves.
"The therapeutic value of this project for the residents has been huge," says Thomas.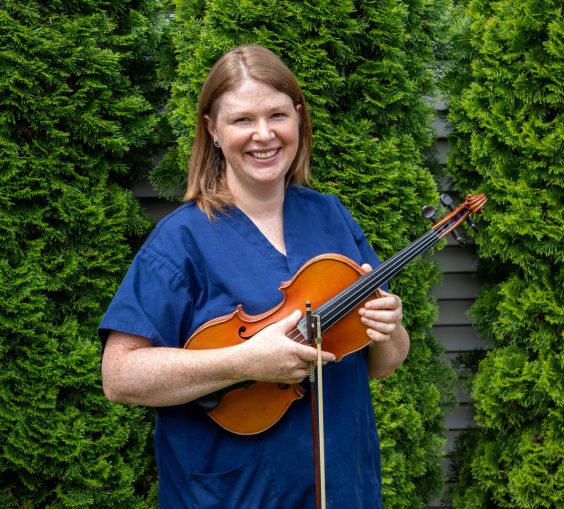 The team decided to write an original piece of music, as song writing is a powerful intervention often used in music therapy. She and her fellow music therapists started by canvassing residents for an inspirational title. One resident, a former nurse named Joyce Kruger, came up with the title and some of the lyrics for the chorus.
The residents came up with other lyrics too. They were asked questions such as "If I sang, 'Don't Give up the Ship', can you think of a line that might follow?" or "What messages would you like to send to our health care workers?"
Thus, the creative process was sparked, with residents, music therapists, and three registered care aides contributing their ideas.
Resident and former jazz musician helped with lyrics
One resident who helped write the lyrics was Eve Duke, a former professional jazz singer herself, whose remarkable career included singing in jazz legend Duke Ellington's band. Striking in her trademark yellow headscarf, she opens the video with a tribute to acute-care workers.
Thomas and fellow music therapists Rhiannon Weiman and Wendy Solloway composed the melody. Weiman recorded on piano, with Thomas on the violin and Solloway on the stand-up bass. One of the residents also recorded a percussion part on the hi-hat (part of a drum kit) and another recorded a maraca line.
Recording vocal parts during COVID – a complex task
Next came the complex task of recording the participants' voices. Each singer had to record their part separately, since COVID physical-distancing rules meant they could not share the same singing space. Everything had to be sanitized between each singer's session.
Staff demonstrate their multiple talents
Thomas used the GarageBand app, a kind of digital recording studio, to lay down multiple tracks of music and voices. Eleven separate voice tracks were recorded, including those of the residents, music therapists, spiritual health practitioner Carrie Warkentin, health care support worker Piolo Adlawan, and the care home's receptionist, Sarah McKnight.
Clinical Nurse Leader Lourdes Lagayan and her husband edited all the video while Nato Wilson, also a spiritual health practitioner, worked the camera. Another Montreal music therapist whom Thomas knows, Bryan Butler, polished the video with final edits.
Working within COVID limitations
It was a labour of love for many and a testament to the resourcefulness of all involved to work within COVID's limitations.
The creativity and enthusiasm shown by residents, along with staff in creating this video demonstrates the interconnectedness that is so important to us all," says Sutinder Kaba, Director Resident Experience for Seniors Care at Providence. "It helped us get through the toughest times together, across our Long Term Care Homes and Assisting Living Residence. Our residents are inspiring."
Don't underestimate the elderly
Most importantly, the video's therapeutic value for the residents was huge. "They were so proud of themselves when they saw it," says Thomas. "They expressed such a sense of pride and accomplishment."
With BC Seniors' Week underway, the video is an important reminder never to underestimate people, no matter their age. "Despite cognitive impairment, seniors can contribute to projects like this in so many different ways," says Thomas. "It's all about presenting things in an accessible way to them. You find people's individual strengths and work with them to facilitate success. It's amazing what people can achieve when opportunities like this are presented."