September is World Alzheimer's month and September 21 marks World Alzheimer's Day. This global campaign, led by Alzheimer's Disease International, is aimed at raising awareness about the disease, which is the most common form of dementia. In recognition, we're sharing a story from Promise magazine (a St. Paul's Foundation publication) about the Home for Us initiative, which represents a transformation in seniors' care.
---
Val Brugge says that it's in the detours that we find our real life. Val speaks from experience after several "massive detours" in her 80-some years. Val lives in The Views at St. Joseph's, a long-term care home in Comox. One of her many projects has been writing down her memories. Reading them is like looking through a photo album, each memory a snapshot of a moment along the winding road of life….
Playing the piano. Wearing a crisp Catholic school uniform. Hearing air raid sirens. Sailing the "wild Atlantic" to Canada. Working with those less fortunate. Raising a family of four. Becoming paralyzed before the age of 60. Welcoming 10 grandkids and 12 great grands. Transitioning to long-term care. Sharing stories. Clasping hands…
Val's stories are a reminder that residents in long-term care come to us with a lifetime of experiences. And that we are entrusted not just with their care, but with their memories.
Home for us
Right now, all six of the long-term care homes run by Providence Health Care (PHC) are in the midst of a transformation in seniors' care – called Home for Us – a unique, holistic approach underpinned by a wholesale shift in what it really means to live in long-term care. It's an approach deeply rooted in both compassion and science.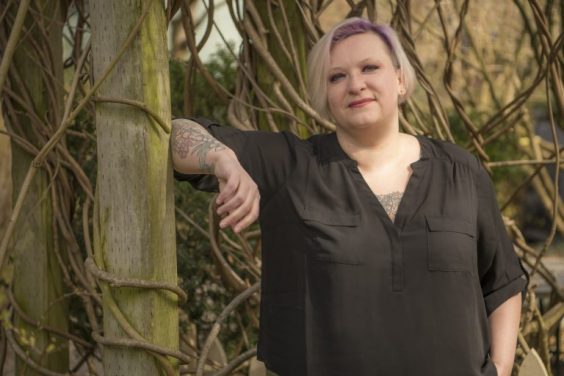 Dr. Amy Salmon and her research team support the Home for Us initiative with real-time research carried out alongside their clinical-care colleagues. It's an unusual collaboration that's having a rapid, life-changing impact on our homes and the people who live and work in them.
"We're shifting the focus to move away from a task-driven approach, to one that really puts residents at the centre," says Salmon.
The goal is to create the same comfortable spaces and genuine interactions you would have in your own home. A place where you eat when you're hungry, sleep when you're tired, and experience as much (or as little) independence as you want.
It's an ambitious project that starts with the residents, families, and caregivers. For Salmon, the process starts by asking the underlying questions. "How do we create joy in someone's day? How do we truly support the dignity and autonomy of residents in long-term care homes? How do we demonstrate how much we value the contributions they bring to their communities?"
Mark Blandford, Providence Living's vice president, seniors care, clinical & operations, couldn't agree more. "This is not about superficial change but deep and lasting change," he says. "It honours emotional connections. It's a place where our residents' families, children, and grandchildren will feel welcome. No, it's not the home they built themselves or grew up in. But we can recreate that feeling of home."
The Views
With the success of the ongoing Home for Us initiatives across PHC, we are proud to be applying those principles to our newest transformative project: The Views at St. Joseph's redevelopment in Comox.
The Comox village is taking shape under the auspices of Providence Living, a non-profit health care organization created by PHC to redefine seniors' care in British Columbia. Providence Living has a sweeping mandate to completely reimagine the experience of long-term care.
Inspired by the dementia village developed by the De Hogeweyk organization in the Netherlands, the Comox village will deconstruct the traditional model of long-term care. It will bring to life a care philosophy that supports integration with community, freedom of movement, access to the outdoors, opportunities for intergenerational connections, and cultural sensitivity. "It puts the focus on living rather than on care," says Blandford.
The village will pioneer a "household" model where each resident has a private room and bathroom with a shared common living space. Each household will have 12 suites supported by a staffing model that aims to provide a consistent team for each household. This will enrich the bonds between the staff and their residents. Importantly, it will also help minimize potential exposure to infection.
"Emotional connections matter so much," says Blandford. "And with these smaller neighbourhoods, residents and staff have the opportunity to become like family to each other."
Residents will engage in comforting tasks of daily life, whether it's cooking, doing laundry, or gardening. Those living with dementia will be able to move about freely and safely within the village setting. On-site amenities will include an art studio, bistro, and chapel. And in keeping with the spirit of a vibrant community, the grounds are slated to also include a children's daycare, thrift shop, youth music camp, and a general store.
Building communities and resiliency
The Comox village is the first of Providence Living's anticipated care communities and it's the first publicly funded home of its kind in BC. With a target completion date just three years from now, pre-planning is in full swing.
Construction will take place on the site of The Views (the former St. Joseph's General Hospital). Once completed, current residents, like Val, will be the first to move out of The Views and into their new homes.
Val's words sum it up best. "We all need purpose in our lives, no matter what age. My life wasn't what I had planned. But I feel like I have made a difference. If we embrace the obstacles put in our path, we ourselves become the treasure. And when I look back, I see nothing but treasures."
This story originally appeared in Promise magazine, a publication of St. Paul's Foundation.