September 9 marks International Fetal Alcohol Spectrum Disorder Day. First celebrated in 1999, the day supports raising awareness of fetal alcohol spectrum disorder (FASD) to improve prevention of FASD and diagnosis and support for individuals with the disorder.
"Being informed helps people understand and accept their condition so they can understand and accept themselves," said Myles Himmelreich, who leads the CLUE FASD Society, a newly launched organization by and for individuals with fetal alcohol spectrum disorder (FASD).
CLUE stands for "Changing, Learning, Understanding, Empowering" and is a place for mentoring and self-advocacy, where people with lived experience can help others navigate their lives.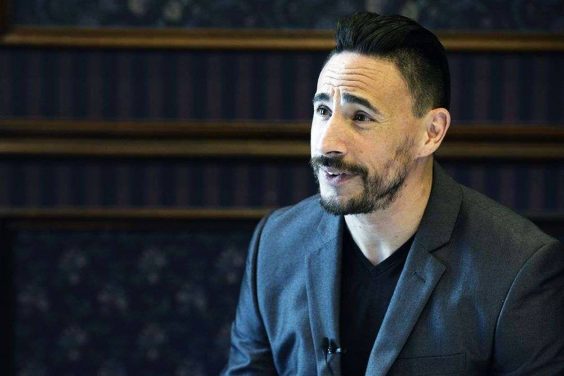 Myles Himmelreich (R) is leading CLUE FASD, a group focused on providing support, collaborating with researchers, and connecting with policy-makers.
Prenatal exposure to alcohol can cause range of health issues
"There is a lot of stigma around FASD because of misinformation and a lack of understanding," said Himmelreich. "One of the things has always been 'This is what they should do.' Why are you talking about me, but not with me?"
FASD is caused by prenatal exposure to alcohol. Because alcohol can affect all stages of fetal development, the consequences of that exposure vary from person to person. Individuals with FASD can experience problems with learning, regulation, speech, and sensory processing, as well as a wide range of physical and mental health challenges.
Although FASD can be diagnosed in early childhood, many people do not receive a diagnosis until much later, due to barriers to accessing appropriate diagnostic services. Often, people are misdiagnosed before receiving an FASD diagnosis, compounding these challenges through others' lack of awareness or misunderstanding.
People are not alone
"Many people are not aware of how sensory experiences related to FASD can affect behaviour. I can get up on a stage and talk to hundreds of people, but struggle to go grocery shopping," explained Himmelreich, who has worked in the field for over 15 years, presenting at conferences and working with community groups and policy-makers.
CLUE's mission is to provide a place for individuals with FASD to learn that they are not alone, share their experiences, and recognize that they have something valuable and important to offer others in their communities.
"Being able to talk to someone with FASD about these shared experiences can empower people to help and mentor others," he added. "We are also aiming to build relationships in the community so we can help people get involved in areas they want to work in."
Research: A stage to be heard from
The organization is also involved in research through UBC, currently focusing on health equity. "We are able to connect to and collaborate with researchers that might not have an 'in' with people with lived experience," said Himmelreich. "Research likes this offers us a stage to be heard from."
CHÉOS Associate Director Dr. Amy Salmon has collaborated with Himmelreich over the past several years and was brought in at the early stages of CLUE's development.
Dr. Salmon, whose dissertation focused on anti-racist and anti-colonial approaches to FASD prevention and education has spent years working in trauma-informed harm reduction with people who have addictions.
"FASD is unlike other developmental disabilities, because when someone is identified as having FASD there remains a strong belief that this diagnosis means someone is to 'blame'. FASD has historically been about somebody — usually pregnant women and mothers — being seen as doing something wrong, and something that needs to be stopped," explained Dr. Salmon. "People rarely consider the responsibility societies have toward helping people to have healthy pregnancies, and helping individuals with FASD to live well. My research has been about moving away from shaming, blaming, and pathologizing and towards empowerment and challenging stigma and discrimination."
Most of Dr. Salmon's research has been in the prevention of FASD, a complex social-justice and health equity issue at the intersection of bodily autonomy, access to information, and access to resources needed for optimal reproductive health.
"When I began in this field nearly 20 years ago, we were starting to talk about FASD prevention from a social determinants of health perspective; moving away from practices that lay blame and shame on pregnant people for the outcomes of their pregnancies, and to instead look at what services, systems, and societies can do to help pregnant people to be well," noted Dr. Salmon.
Seeing those with FASD in a new light
She says that the emphasis should be on collective action to support individuals with FASD, embracing the strengths, skills, expertise and perspectives of all, and the valuable contributions they make to their communities. "It is time to stop seeing individuals with FASD as burdens and drains on systems, and as people destined to have poor outcomes," she added.
Dr. Salmon is a CLUE board member and she will provide support with things like evaluation and partnerships with clinicians to offer services using a non-traditional model, focusing on strengths rather than weaknesses. Often, newly diagnosed people are inundated with messages about the struggles and risks they can expect. Dr. Salmon says that this type of thinking can show up in research as well.
"Imagine what a difference it could make in a person's life if, early in their journey, they could meet and work with someone like Myles, who can offer a healthy, positive, informed view of their future?" said Dr. Salmon. "These are the sorts of things CLUE is thinking about. It is an exciting partnership to be part of."
Sharing with policy-makers: What services do people with FASD need?
Both Himmelreich and Salmon note that the expansion of services for individuals with FASD is vitally important.
"FASD is one of the only disabilities where there are no private or public supports, services, and funding," said Himmelreich. The problem is that FASD doesn't fall into a specific area of disability and it can be hard to get resources through existing programs.
Dr. Salmon The same has been true of FASD research," noted Dr. Salmon, "there has been considerably more funding available for research that looks at the biological effects of prenatal alcohol exposure and that describes the "deficits" associated with the diagnosis than there has been for research on things that help individuals with FASD to succeed"
Himmelreich was Co-lead Researcher on a recent report from the Representative for Children and Youth, which advocates for, monitors, and reviews services for children, youth, and young adults. The report found that "families with children with FASD receive meagre supports and services compared to those whose children have other special needs."
While this report was focused on youth and young adults, Himmelreich notes that as people age out of these youth-focused services, the offerings become even more sparse. The issue, he says, is that a person with FASD may have a younger developmental age than their chronological age.
"Developmental age doesn't change, but expectations and laws do," he said. "Some individuals with FASD need support for longer so they can learn to self-advocate and get by."
Himmelreich sees CLUE as an advocacy group as well, lobbying policy-makers for expanded services for individuals with FASD and their caregivers. "Often, it's things like housing, employment, or just help with things like shopping. It's not always overly complex," he commented.
"CLUE is a group of people with a like mindset and vision for what an organization like this could be," he summarized. "It's about helping people find their strengths and purpose, educating the rest of society, and connecting people with services."
In its first year, CLUE will focus on delivering mentoring supports by and for individuals with FASD, and continuing to educate family caregivers and professionals about FASD from the perspective of people with lived experience. Individuals with FASD will also set priorities for future research, training curriculum development, and service provision, as well as taking leadership roles in evaluating CLUE's work.
This story originally ran on CHEOS. Visit here.