Is there anything that brings us more comfort than sharing a meal? It's a simple ritual that nourishes body and soul. For residents in long-term care, meals are an important way to feel connected and engaged. And yet, institutional food has a longstanding – often well-deserved – reputation for disappointment.
As a medical coordinator in the long-term care residence at Holy Family Hospital, Dr. Eileen Wong has seen it first-hand. "During team conferences with long-term care residents and their families, food was a frequent topic of concern," she says.
What causes food complaints?
She set up a study to look at what was causing the issues and what could be done to fix them. She enlisted the help of Holy Family's long-term care aides, dietitians, nurses, and volunteers and set a goal to reduce residents' food-related complaints by 20%.
To gauge satisfaction she used three indicators: the number of times dietitians received referrals related to food preferences or complaints; an audit of how much uneaten food was thrown out; and a patient food-experience survey. The results were intriguing.
A simple, elegant solution
After collecting the initial data, they introduced two simple changes.
First, they switch to lipped plates for residents struggling to move food from their plates to their mouths. Adaptive plates are designed for people with cognitive challenges or limited mobility. They make it easier to scoop the food and to prevent it from landing on the table or lap.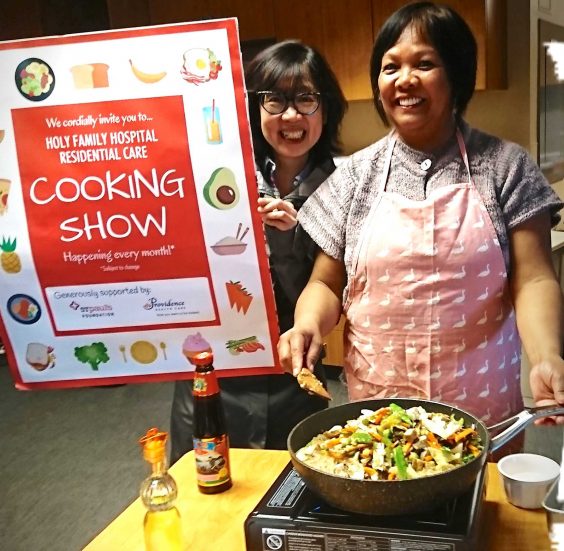 They also switched the portion sizes at lunch and dinner. Wong discovered that 38% of lunch entrées went uneaten. In talking with the care aides, she learned that this was likely a simple timing issue: lunch was served shortly after breakfast, so the residents weren't hungry.
The results were dramatic: in some cases, wasted entrées went down by 50%. Interestingly, the number of food-related referrals to the dietitians went up – contrary to Wong's initial goal. But even this was good news. It signalled that residents were becoming empowered and more aware of how to give feedback and advocate for change.
For Wong, the results also showed that tasty, appetizing food and the opportunity to eat communally are an essential patient need. "The experience of eating is increasingly important to frail seniors' quality of life. I hope our results will inspire other health care providers."
This story was contributed by Kris Wallace, St. Paul's Foundation. It originally appeared here.