Woody B. has been a patient at Providence Health Care's Crosstown Clinic for five years, visiting the Downtown Eastside medical clinic for his injectable vials of diacetylmorphine (medical-grade heroin) twice daily, seven days a week, like clockwork.
Woody B. (that's his nickname – he didn't want his real name used for privacy reasons) is deeply grateful to be part of the clinic, the first of its kind in North America to offer medical heroin or hydromorphone to about 130 people with chronic substance-use disorder.
It rescued him from a chaotic, unstable life on street drugs where people around him were overdosing and dying at an alarming rate.
The only downside is that those scheduled clinic visits made it hard for the 66-year-old film-industry worker to do other things, like work steadily, visit friends and family or attend important union meetings where he would learn of potential film-set jobs.
Carries create more flexibility to work, socialize
Now, a new Crosstown program called "carries" lets patients carry their second dose (or third, depending on the number of daily doses they have been prescribed) to self-administer at home.
It is the first time in Canada and North America that patients have been able to carry home their syringes of diacetylmorphine and it is improving patients' quality of life.
"For some folks who are stable, ready to work or care for their families, we're allowing carries as a way to get on with their lives," says Dr. Scott MacDonald, lead physician at the clinic. "It's a huge commitment to come into the clinic three times a day. The carries program gives our patients the extra freedom to live more normal lives."
Strict rules ensure safety
Crosstown is rolling out the program cautiously and slowly, with safety top of mind. Only 12 of the patients are part of it and they must be in a stable living situation – generally speaking, housed, working or attending classes.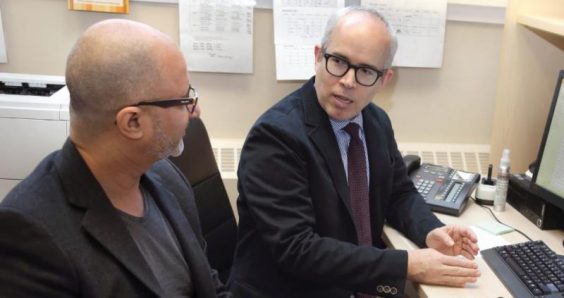 "Virtually everyone using carries is employed," notes Dr. MacDonald.
Those who receive carries visit the clinic in the morning for their first dose, then receive one or two syringes, depending on their course of therapy, to take home and self-administer during the rest of the day.
There are rules to follow. If a carry is lost or stolen, it is not replaced for the same day. Patients must be able to transport, administer and store their carries and medical supplies (needle tips, alcohol swabs and naloxone kits) safely. Crosstown provides lock boxes if the patient doesn't have secure places for these items.
So far, there have been no thefts or illegal sales of the carries, says Dr. MacDonald. "Patients are committed to their health care, and Crosstown has been a life saver for them. They want to ensure the continued success of the clinic, so they are very careful with their carries."
Pandemic spurred the program's launch
Carries programs are not new elsewhere in the world. The United Kingdom has provided carries of diacetylmorphine for a century, while Switzerland has allowed up to seven days' worth of injectable carries and 30 days' for orals) since March 2020 when the pandemic hit, in order to reduce contact with others.
In fact, the pandemic actually helped launch the carries program. "We had flow and physical distancing issues at the clinic so we were delivering carries to some patients, witnessed by one of our pharmacists. This helped us show doses could be safely provided." The program also helped patients with acute COVID and had to self isolate.
Crosstown could expand the carries program, depending on the results of the carries. Dr. Eugenia Oviedo-Joekes, who was lead researcher on the ground-breaking SALOME study of 2016, is conducting an evaluation of carries and their impact on patients' quality of life and continuity of care. The evaluation will continue through 2022.
Another Crosstown patient in the carries program, Donnie Cinnamon, is also experiencing its benefits.
"I just completed a course to work for Raincity Housing," he says. "I couldn't have done this before, because you're tied to the clinic."
He describes his life as "pretty messed up" before Crosstown. The clinic turned it around. The carries program is making life even better since he began it about six weeks ago.
Program helps patients with other health issues
"Dr. MacDonald knew I was leading a stable life, and that I don't use street drugs. I haven't used street dope for 14 years."
Cinnamon, who is 62, broke his back and hip seven months ago. He's better, but says the carries make it easier as he doesn't have to get to the clinic three times a day.
Excited for the future
For now, he and Woody B. are immensely grateful.
"It gives me opportunity to be farther than 20 minutes from home," says Woody B. "My housing's good, my relationship with my sister is better than ever."
"I'm excited to see what the future brings," he adds. "It seems like I've got one now."