Opened on September 26, 2016, in the height of the City's opioid crisis, Providence Health Care's Rapid Access Addiction Clinic (RAAC) has proven to be a beacon of hope and help to the more than 11,000 people who have sought its services and support.
Mark Haggerty has been a Peer Navigator with the clinic since it opened, sharing his lived experience and acting as a bridge between patients and the clinical team there for the past five years.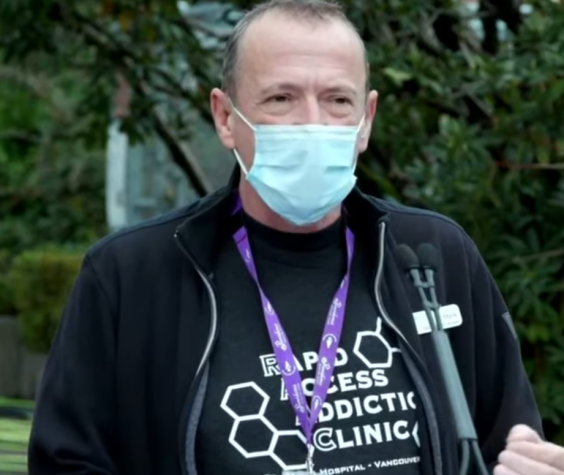 "Only an addict can understand an addict," says Haggerty. "People are apprehensive for a number of reasons when they come to the hospital to seek help. Seeing someone who looks like you or has been where you've been immediately puts someone at ease."
Patient-led treatment
Depending on where a person is at in their substance, alcohol or stimulant-use is what leads how a Peer, and the clinical team at the RAAC, support and treat a patient.
"It's not about abstinence, it's about harm reduction," says Haggerty. "They're caught up in their addiction; most are good people and it's a hard cycle to break."
In its five years since opening, the RAAC has seen more than 11,000 patients and averages 43 new patients a week. That represents a lot of stories and treatments and lives changed and people stabilized.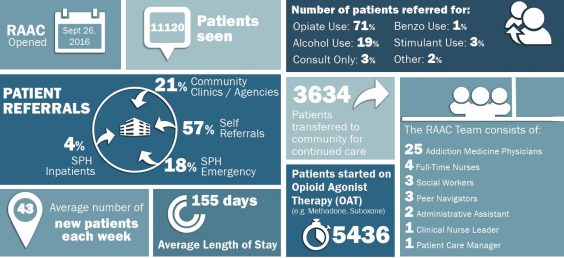 "I think that the most rewarding part of being a Peer Navigator is seeing people down the road, how well they've come along and how their lives have changed," says Haggerty. "The connection with our patients that we build up over the time is really meaningful."
The role of a Peer Navigator is an integral one in treatment and recovery, helping people to feel more at ease, to better understand a treatment plan or a course of treatment, to feel more seen, to decrease stigma.
"Peers support patients in anything they decide to do," says Haggerty. "So we might go and see someone before they're about to be discharged to give them information about community supports, or we give someone safe supplies, or sit in on an appointment if that's what the patient wants."
Breaking down barriers
"People feel safe here. There's still a lot of stigma when someone is getting help, and you hear a lot of horror stories of people being called drug addicts, or being accused of being drug seeking," says Haggerty. "It's our job – as Peers and at the RAAC – to show our patients that they are important, that we understand addiction is a disease, and to treat everyone with respect and dignity."
Haggerty understands the necessity of this very well.
"When I was deep in my addiction, I could identify anyone's shoes but I didn't know what anybody's face looked like. I had such deep shame, so much hate and disgust for myself. I couldn't look anyone in the eye," says Haggerty. "Once I started getting better and had purpose, my confidence slowly started to come back and I could lift my head again."
Strength in Team
"There's a lot of mistrust when people first come in," says Haggerty. "A lot of times, patients will be more honest with us than they are with their doctor or nurse. We can be that bridge for our patients, and break down those barriers."
A Peers' ability to be this connective tissue, Haggerty contributes to the larger team at the RAAC.
"The team here is the best I have worked with," says Haggerty. "The Peers are thought of and included, and respected by the doctors, nurses and social workers."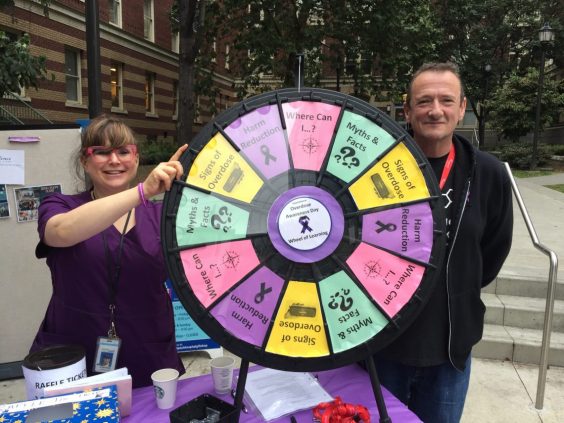 And while there are so many benefits that come from Peer involvement, Haggerty is quick to say that he feels like as much of a beneficiary.
"Every day I know that it's a choice, and every day helping support the people that I do at the RAAC, I am reminded of the choice that I'm making for my own life. It doesn't make me better or worse than anyone; I'm always just so grateful for the daily reminder of what my life could be and how far I come – because I choose this life every day."