October 24 – 30, 2021 is Respiratory Therapy Week in Canada.
In the movies, the Disney princess usually marries the prince and lives happily ever.
For Alyx Lyutin, skating as a princess (among other characters) for five years with Disney on Ice put her on an unexpected path to a career in health care, helping patients during a global pandemic.
Lyutin skated in front of sold-out crowds before beginning her career as a respiratory therapist (RT) at St. Paul's Hospital – just as the pandemic was declared.
She credits her time with Disney on Ice with opening the door to her current role – particularly her experiences visiting children's hospitals dressed as a Disney princess to meet the young patients.
Undertaking some of the highest-risk procedures
As an RT, each day is different for Lyutin at St. Paul's, particularly given the importance of the job right now. "There's never a dull moment."
She works shifts throughout the hospital, including the critical care units, the emergency department, and the hospital's wards as a member of the critical care outreach team, as well as a member of the "code team" that rushes to urgent situations around the hospital as needed.
She is also involved in some of the highest-risk procedures in the COVID-era, since procedures like intubation can generate aerosols that make the coronavirus airborne.
Despite the risks, the role is fulfilling.
"It definitely makes you feel better for helping – it's been a way to be actively involved," Lyutin says.
Once upon a time
How did Lyutin make the move from ice rinks to an acute-care hospital in the middle of COVID?
Given her first pair of skates at the age of two, Lyutin picked up the sport with the help of her mother, a skating coach. Growing up in Winnipeg, she spent her school years skating competitively across Canada.
She was unsure what to do after high school and credits a chance encounter with her figure-skating role models with helping her focus on skating. Next came an audition with Disney on Ice , which happened to be travelling through town. She was offered a starring role and travel around the world.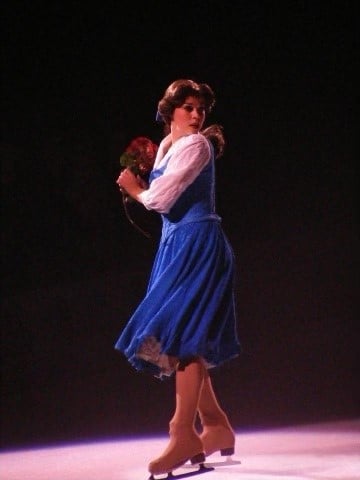 Belle of the rink
Lyutin's years of as a skater opened a whole new world. She spent five years traveling across continents with Disney on Ice. Highlights included Scandinavia, Brazil and visiting Vancouver for the first time.
She performed as iconic characters. Her favourite was Belle, from Beauty and the Beast. "I was a bit of a bookworm growing up, so she was always my favourite and a good fit," Lyutin says.
On the Peter Pan show – in her fifth year – she even met her now-husband. She was Wendy, he was Pan. After that show, she stopped travelling and settled down in Vancouver with him.
Hospital meet-and-greets sparked a move into health care
As rewarding as her travels and skating career were, Lyutin wanted something more. She liked her time with Disney – especially when she would play the princess role to do meet and greets at children's hospitals. That helped spark her transition into health care.
"I think that's where the urge started. I loved meeting children and I wanted to get in there and help more directly," Lyutin says.
She knew that she wanted to do something with patient education and public outreach but was unsure which specialty to pursue. An inspiration was thinking back to her childhood with asthma, and how much the health care she received helped her. Training as an RT seemed like the perfect way to marry her interests.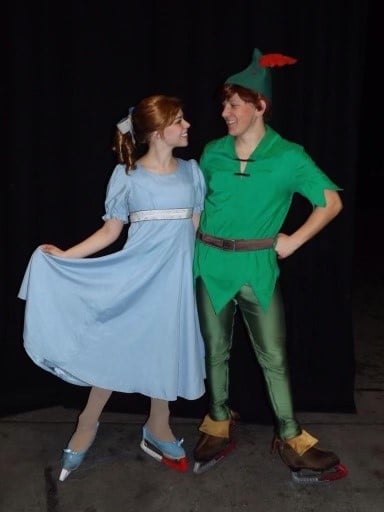 After leaving the tour and settling down in Vancouver, she began specializing in RT after completing her Bachelor of Science at SFU, followed by the three-year RT program at Thompson Rivers University in Kamloops.
Helping when needed most
She graduated in spring 2020, the start of the global pandemic, which had made its way to Vancouver, and St. Paul's Hospital. And St. Paul's offered her her first job as an RT.
"Time has flown by, but it's hard to reflect because we're still very much in (the pandemic)," Lyutin says.
Throughout the tough times of the last 20 months, she thanks her fellow St. Paul's Hospital RTs. "We're a close knit group," says Lyutin of the over 50 RTs she has bonded with over the course of the pandemic, "and that has helped."