For most of us, brushing our teeth is an integral part of our daily routine. It helps prevent tooth decay and gum disease. And a clean mouth helps us feel good about ourselves.
That simple ritual isn't always available for elders in hospital, especially if they aren't capable of brushing their own teeth.
Kathy Le, a nurse at St. Paul's Hospital who often works on the Acute Care for Elders (ACE) unit, saw first-hand the impact of poor dental hygiene on many of her patients.
Oral care can get overlooked
"The ACE unit is very busy and the nurses are stretched quite thin. They know oral care is important, but it often moves down the list as nurses prioritize assessments, medications, toileting and other patient care needs," says Le. "Research has shown the negative impact of poor oral care on patients and I wanted to do something to make it easier for nurses to prioritize it."
With that in mind, Le brought together a multidisciplinary team to apply for a Providence Health Care Research Challenge award. They were successful, receiving funding for a project aimed at improving oral care on the ACE unit, decreasing the risk for adverse health-care events, and improving patient health outcomes, satisfaction, and quality of life. The team is made up of two nurses, a speech language pathologist, a dietician, two staff from the UBC Geriatric Dentistry Program and a patient partner.
Oral bacteria can cause other health problems in hospitalized elders
"In a hospital setting, the mouth can become home to disease-causing bacteria," says Julie Carleton, registered nurse, professional practice leader and research team member. "These bacteria can cause inflammation, mouth sores and discomfort that may lead to an elderly person not eating or drinking. They also may have more difficulty speaking which can reduce their interactions with others. If the bacteria end up in the lungs, they can cause pneumonia and if they are swallowed, they can cause gastrointestinal infections."
Oral bacteria are one of main causes of hospital-acquired pneumonia (HAP), a condition that can be prevented through more consistent and thorough oral care. HAP can increase a patient's length of stay by 15 days and increase mortality rates by more than 18 per cent. In addition to pneumonia, bacteria in the mouth have also been linked to cardiovascular disease and chronic obstructive pulmonary disorder.
Feeling like a person, not just a disease
Le and her team knew that better oral care would lead not only to improved health outcomes, but it would also help patients feel better and have a better experience in hospital. To make sure the patient perspective was represented on the project, Le reached out to Melanie Reid, a Vancouver woman with lived experience of long-term hospital stays, and an active patient partner at St. Paul's Hospital.
"Having someone wash your face, brush your teeth and comb your hair makes you feel like a person again and not just a disease," says Reid. "These familiar routines are really comforting and supportive. They tell me the nurse thinks I will get better; they believe I am worth keeping clean and ready for the next day."
The team is approaching the project from two perspectives. First, they are developing an oral care program for the ACE unit. They have surveyed staff to understand what they know about oral care and have offered initial education sessions to address gaps in knowledge. Next February, the team will launch a more robust education program, working in partnership with UBC Geriatric Dentistry. Andrea Lau, a speech language pathologist at St. Paul's has been leading the sessions to date.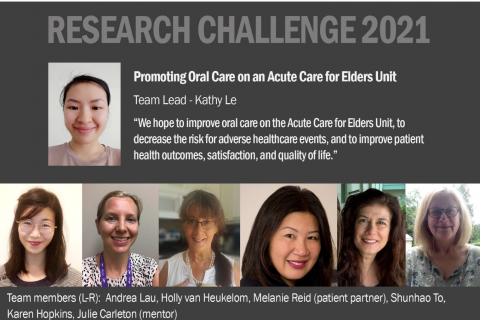 "Often, my colleagues and I are brought in when patients develop problems speaking or swallowing," says Lau. "Sometimes those problems are caused by excess bacteria in the mouth that end up in the throat or lungs. That's why I was thrilled to have this opportunity to work with Kathy and the rest of the team to help minimize hospital-acquired pneumonia and other negative health outcomes."
Stocking oral-care supplies on units: a simple change
"One simple change we will implement is stocking the supply cupboards on the unit with flossing picks, larger-sized tubes of toothpaste, bite blocks and other tools necessary for oral care," notes Le.
The second part of the project will look at oral care from the patient's point of view. This December, the team will interview patients about their experience of oral care while in hospital. They will survey patients again next summer, after the new oral care program has been implemented, to see if there are any changes in how patients perceive the oral care they've received.
"Kathy knows science and medicine behind a healthy mouth," says Reid. "What I can contribute is how it feels as a patient. It's uncomfortable to sit there with unbrushed teeth and bad breath. Most of the time, you're apprehensive when someone is poking around in your mouth with tubes or scopes, but not when you get your teeth cleaned. It's nice to feel clean."
The team will also teach staff how, where and when to document oral care. Right now, less than 20 per cent of oral care is documented and the team wants to see that number increase.
Feeling normal and valued
"At the conclusion of our project, we hope that our patients receive more regular oral care and that they have a better experience while in hospital. We also want our nurses to feel confident and supported in providing oral care," says Le.
Reid couldn't agree more. "I believe it is important to encourage nurses to do research, they have a different perspective on care than doctors," she says. "Good nursing makes you feel like a normal and valued person again."