The first time Faris was rushed to hospital, he had an almost impossible decision to make.
"I was picked up by an ambulance, but I had my little dog, Lucky, with me," says Faris. "I was living at a place with the cheapest rent possible and not great neighbours. I was scared for my own health and I was scared for Lucky. It was not a good situation."
Faris asked the ambulance attendant if Lucky could ride to the hospital with them. They were taken to Vancouver General Hospital, but because Faris had Lucky, they would not admit him for specialized care. Lucky spent 23 hours on Faris' bed while Faris tried to find someone to take his dog. "Lucky was so good and calm. Everyone thought he was a service dog. But it was stressful. You can't focus on getting better when you're worried about your pet all the time. And you want to leave as soon as possible, because you're worried about your pet."
Is pet ownership a barrier to health care?
"Anecdotally, we hear stories like this often," says Wes Killen, a surgical nurse at St. Paul's Hospital, who volunteers at Community Vet Outreach (CVO), a Canada-based charity that started in 2003 at Ottawa Mission and has expanded across the country, providing veterinary, health care and social services to pets and their owners experiencing homelessness or who are vulnerably-housed. Killen, together with Kelsi Jessamine, a nurse who works in the downtown eastside, and with help from Dr. Doris Leung, a veterinarian, applied for and were awarded a grant through PHC's Research Challenge to collect data to determine if pet ownership is a barrier to health care services.
"Community Vet Outreach recognizes the One Health approach," says Dr. Leung. "By improving an animal's health and well being, you can improve the pet owner's health and well being. We hold these clinics around the Downtown Eastside. If, for example, someone brings in their cat for a dental check, while we're cleaning their cat's teeth, they often open up about their own health issues. We also have nurses and social workers at these clinics, so pets and their people can both receive care."
A study from a professor at the University of Windsor found as many as a quarter of Canadians who are homeless have a pet. A recent poll from the Canadian Pet Connection discovered 90 per cent of people who are currently homeless would rather sleep on the streets than abandon their pet for a night in a homeless shelter. A recent study in the U.S., published in the Science Direct Journal, found that one in 10 middle class families would ignore or delay testing or treatment for COVID-19 because of concern for their pets.
"We need to understand how big a barrier pet ownership is for people who are currently homeless or in vulnerable housing," says Kelsi Jessamine. "It's well documented that having a pet can positively affect owners' motivation and resiliency during homelessness. We find their pets are incredibly well loved and taken care of. By extension, those same people have told us they ignore their own health, or leave treatment too soon, because they're worried about their pets."
"The overall goal of our research proposal is to better understand the experiences of homeless pet owners around accessing health care, whether it's going to the emergency department or being admitted to hospital," says Killen. "Through semi-structured interviews with pet owners we'll identify key themes. These themes will be used to inform and develop supports and services that will address the challenges of accessing health care for pet owners among the homeless population. At this point in time we need to submit and have approval of our ethics application before we start the process of recruiting participants."
Pets help keep people healthier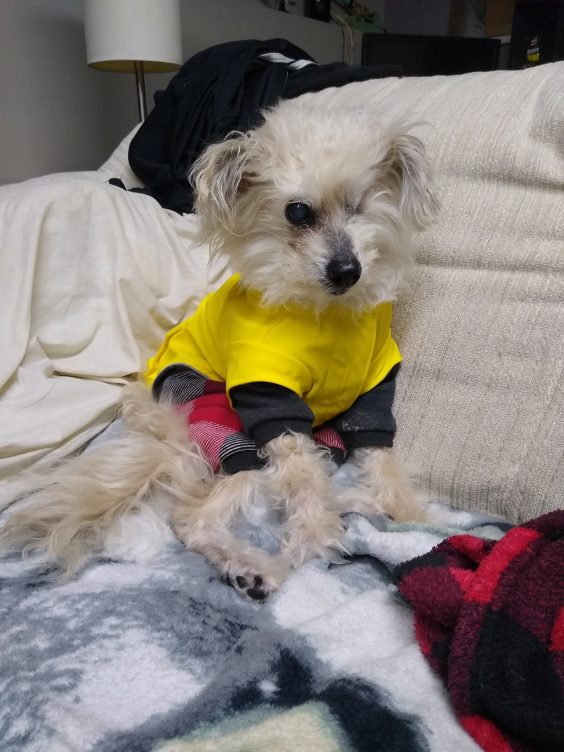 Faris knows all too well about the barriers pet owners face when it comes to health care. To get into specialized care, he was forced to ask a friend to sneak Lucky into his apartment that did not allow pets. It was only when his psychiatrist told him about a compassionate boarding program through the BC SPCA that Faris ended up finding a place for Lucky with their assistance. The boarding facility kept Lucky for two weeks while Faris got the treatment he needed.
Faris believes part of the solution is consistent and well-publicized policies. "Some places will let your pet visit during the day, but only on the balcony. Others only allow a pet to visit during certain hours. And other services, like compassionate boarding, aren't well publicized. It's very inconsistent and the rules vary between departments and places. At least if I know the rules beforehand I can try to plan."
It's well established that pets help keep people healthier. "I've had clients who've admitted that they have had thoughts of suicide ideation, but their pets are keeping them alive," says Dr. Leung. "I've had clients tell me that they've stopped using hard drugs because of their cat. We know that improving animal health will improve people health and ecosystem health. What we want to establish with this research challenge is how often and when pet owners face barriers to health care, and how to change that."
Sadly, Lucky passed away this past July. He was 15 years old. "For the last year or so, Lucky was slowly getting sicker. The Community Vet Outreach clinic helped diagnose him and get him the help I could never afford. By the end, he was blind, deaf and in renal failure. I knew it was time when he stopped eating his favourite treats," says Faris. "Lucky was always there when I needed him. He got me out of bed in the morning and kept me going. I'm grateful I could be there for him when he needed me. I'm in a better housing situation now. And I was able to bury Lucky in a nice spot nearby on a farm so I say hello all the time."