November is Fall Prevention Month in Canada. A Providence Health Care physiotherapist offers tips on how to prevent potentially life-threatening spills in a high-risk group for falls – the elderly.
Did you know a third of adults over age 65 will fall at least once a year?
Or that 90 per cent of hip fractures in seniors are caused by a fall?
These are sobering reminders that the risk of falls among seniors can have grim and even deadly consequences.
"Falls in the elderly are a major cause of injury, hospitalization and subsequent loss of independence," says PJ Lynd, a physiotherapist at the Providence Health Care Elder Care Clinic at Mount Saint Joseph Hospital. "But the good news is, they do not need to be a normal part of aging."
Research indicates that half of elderly fall victims never regain their former mobility.
"Injury due to fall often results in admission to hospital and if the falls happen frequently, to care home," says Lynd.
 "As well, the loss of independence that seniors suffer after a fall can have a lasting impact not only on them, but also on their families who fear that the senior could fall again."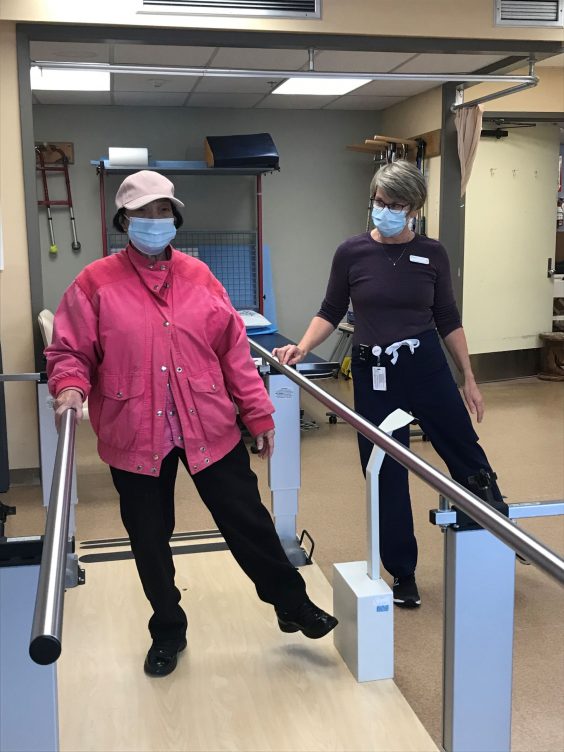 Assessing four areas of a senior's life
Many falls, and the injuries they cause, are preventable.
Lynd says there are four main ways for seniors to reduce their risk of a fall.
Medications – seniors should review their medications with their pharmacist or family doctors to determine if they are taking anything that may increase their risk of falling.
"The most important thing is the awareness that some types of medications can increase the risk of falls," says Lynd. "A pharmacist or family physician is an important resource to answer any questions around this topic."
Exercise– regular activity is key to maintaining and improving balance and strength and plays an important role in minimizing falls and injury. Aerobic exercise and ,strength and balance exercises should be a regular part of an older person's life.
"Unfortunately, COVID restrictions have reduced the ability for many seniors to participate in community programs and maintain their regular activity," says Lynd.
However, the Elder Care Clinic at St. Paul's Hospital has been successful in moving some of its physiotherapy sessions to outdoor parks so patients could continue to benefit from these targeted exercise programs and stay safe from the virus.
Vision and hearing care – regular vision screening and assessment in both these areas is important. It's easy to lose your footing if you can't see clearly. As well, the sense of hearing is important in maintaining balance. It is important to follow recommendations on the best type of glasses for fall prevention, and see a doctor for a hearing check-up.
Environmental adaptations – a senior's home or living area can be hazardous. Be sure safety is maximized to minimize falls by reviewing a home safety checklist and considering modifications:
Among the things that can be done:
Remove scatter rugs.
Install grab bars inside the bathtub and near the toilet to minimize slipping.
Add stair railings.
Check on the condition of stairs to make sure they're sturdy and safe.
Make sure the home is well lit.
Equipping the senior with a wearable alert device.
Not all falls can be avoided. But knowing some strategies to prevent falls and injuries can help maintain a senior's physical and mental health and overall quality of life.
For a full checklist, visit this BC Government link.
For more information on falls prevention, view this resource.