At St. Vincent's: Langara, residents gather around a table and reach out to pet a cat – not a real cat, mind you, but a very convincing likeness.
They exclaim and laugh as the contented kitty changes colour where it has been touched.
The feline figure is being beamed onto the table from above by a Tovertafel – a device that uses overhead light displays and motion sensors to project interactive games and vibrant images onto a surface. Created in the Netherlands, the Tovertafel (which is Dutch for "magic table") was developed for people with cognitive challenges, including seniors living with dementia. Besides providing pleasure and entertainment, the games are also meant to conquer apathy, reduce restless and tense behaviour, and increase positive emotions.
Play with purpose
"So far the residents do really enjoy it," says Anna Nguyen, Research, Education and Practice Coordinator, Occupational Therapy, Providence Health Care.
Meanwhile, the rehab assistants who have been facilitating the Tovertafel are also finding value in it, Anna adds. "The staff have found the device to be a very interactive option for meaningful engagement, and it's easier for them to engage residents who might not otherwise participate in group programming."
The Tovertafel offers different activity levels for different cognitive abilities. Motion sensors respond to the movement of the players, allowing them to manipulate the projected objects and do things like polish and sort silverware, pop soap bubbles, or wipe swirling leaves off the table. Corresponding sounds and music accompany the games.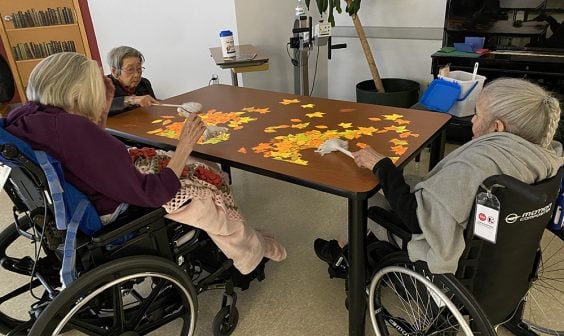 Anna and fellow occupational therapist Faye Arnaly first saw the Tovertafel in action at a rehab expo before the pandemic. Another colleague, Sheralyn Manning, suggested that the occupational therapist group look into purchasing one. Sheralyn and Anna set up meetings with the Canadian company that sells the Tovertafel to explore its benefits and ensure it would be a good fit for the resident population at Providence. The OT group then applied for, and received, an Enhanced Patient Care grant that allowed them to purchase one. Funded by donations to St. Paul's Foundation, EPC grants are for initiatives, programs, items and equipment that will directly enhance patient and resident care at sites operated by Providence.
Bringing technology into our homes
More than a tool for purposeful play, the Tovertafel is also a step toward incorporating more technology into the long-term care setting.
"Prior to the COVID-19 pandemic, we were using traditional paper-and-pen-type activities, but because of the pandemic we had to change our way of providing meaningful engagement to the residents," Anna said.
For example, iPads have been used heavily over the last two years for virtual visits.
"The pandemic really pushed our boundaries and made us explore the innovative technology that's out there. The Tovertafel is simple enough that it will hopefully make residents, family members and staff more comfortable with the idea of using technology," Anna says.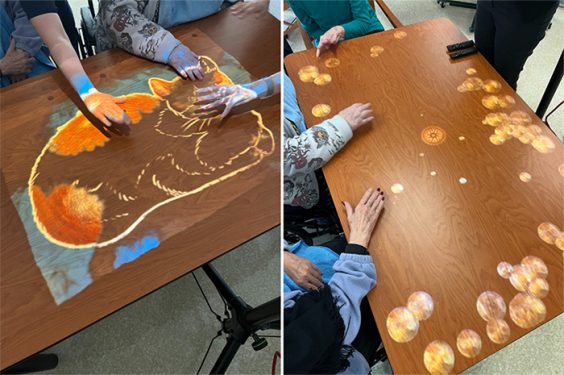 The device is currently installed at Langara, but the rehab team has identified high-traffic areas at all five Providence long-term care sites where they plan to install ceiling mounts. This will allow the Tovertafel to rotate between homes so residents, family members and staff across the organization can enjoy it.
"The rehab team at Langara has constantly asked how much longer they have with the Tovertafel and questions are being raised about whether each site will get one as they see the value in it for the residents," Anna says. "So as it stands, I would still say the device is a success and there is interest in potentially applying for grants for more devices in the future."