It is not too often that one can safely go kitesurfing only days after surgery. But thanks to ground-breaking research by Centre for Health Evaluation and Outcome Sciences (CHÉOS) Scientist Dr. Carl Brown and his collaborators, Richard Andrew, who had been diagnosed with colorectal cancer, certainly did. For patients diagnosed with colorectal cancer, interventions including radiation, chemotherapy, and surgery can impact their treatment experience and quality of life.
Combined chemo- and radiotherapy is typically used in advanced rectal cancers before surgery, whereas early cancers are treated by removing the rectum and all affiliated lymph nodes without preoperative treatment.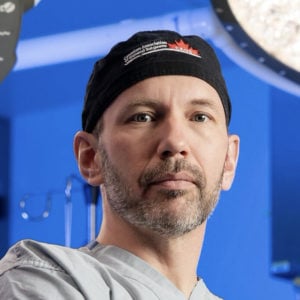 In European studies, patients with early rectal cancer have been treated with radiation and simple excision of the small cancer using minimally invasive techniques. But radiation treatment can have serious side effects, leading Dr. Brown to search for alternatives for patients with early-stage colorectal cancer.
"Treatment with radiation can impair healing which may lead to functional issues and prolonged pain. Our idea was to use chemotherapy prior to surgery to remove the tumour, which would cause less damage to the pelvic floor muscles than radiation," said Dr. Brown. "It's quite unusual to give chemo to a patient with an early rectal cancer, but so far the results have been quite impressive."
Replacing radiation with chemotherapy
Dr. Brown's idea came from the results of an earlier clinical trial, called PROSPECT. The trial looked at advanced colorectal cancer and showed that they had excellent responses to chemotherapy while sparing radiation. Dr. Brown, along with his colleagues Drs. John Loree at BC Cancer in Vancouver and Dr. Kennecke at Providence Cancer Institute in Portland, then had the idea to replace radiation with chemotherapy to treat patients with early-stage rectal cancer. Combined with transanal endoscopic microsurgery to remove the tumour but leave the rectum in place, patients experience fewer complications from the operation and a better quality of life.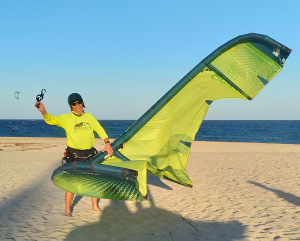 To test this new approach, the group launched the NEO (Neoadjuvant chemotherapy, Excision and Observation for early rectal cancer) trial. They enrolled 58 patients, among which St. Paul's Hospital recruited 21 — the most out of the participating centres. In an abstract recently published from American Society of Clinical Oncology 2021 meeting, Dr. Brown and his colleagues found that standard chemotherapy treatment followed by surgery to remove the remaining tumour led to successful treatment of early-stage colorectal cancer with minimal impact on organ function.
In the words of NEO trial participant, Mr. Andrew, "This treatment saved my life, and saved my quality of life. It was not invasive with basically no negative impact to my day-to-day activities and well-being."
The patient experience
This trial used a standard chemotherapy regimen to treat an early-stage cancer, which is uncommon in the treatment of early-stage colorectal cancer. This meant that patients underwent three rounds of chemotherapy treatment, once per month, prior to their surgery.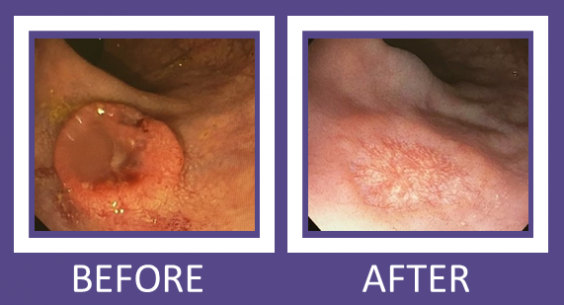 For Mr. Andrew, a retiree living in Courtney at the time of his diagnosis, Dr. Brown and the staff at the BC Cancer Agency where he was receiving the chemotherapy, made it as simple as possible for Mr. Andrew to access his treatment. "I would travel to the BC Cancer centre in Vancouver and with the coordination of my local doctor, my surgeon, and my oncologist with his staff at BC Cancer Agency, they all made it really easy for me to go back and forth during my treatment. There was a 21-day cycle for chemo which started BC Cancer Agency with an IV. Then I took the remaining doses I needed at home for the rest of the 21 days, after which I had a week off of medication before I would come in to start the cycle again. After the third month, Dr. Brown performed the laparoscopic surgery and my follow-up sigmoidoscopy showed that the cancer had been eradicated!"
"In our carefully monitored patient group, there were minimal complications from either the chemotherapy or the surgery," adds Dr. Brown. "In fact, overall bowel function was better than in comparable groups where radiation was used instead of chemotherapy. I can't think of a patient who was negatively impacted by the study. All of them had effective rectal cancer surgery, and there has been no cancer recurrence in patients treated at St Paul's up to three years later."
WHAT IS?
Laparoscopic surgery: Minimally-invasive surgery using small incisions, thin instruments, and a camera as a visual aid.
Sigmoidoscopy: Camera-aided medical examination of the rectum and colon (used to capture images above).
"As something who had zero familiarity with colorectal cancer prior to my diagnosis, I was glad that I was contacted by Dr. Brown and his research team," shares Mr. Andrew. "Throughout the study, all my questions were answered immediately and everyone involved was so personable and helpful. I felt genuinely cared for and would highly, highly recommend any patient with the same diagnosis to take the same path. Not only did Dr. Brown and those involved in this clinical trial save my life, they saved my quality of life. I will be eternally grateful for the amazing work they did."
World-class colorectal cancer treatment
Dr. Brown is part of a team consisting of five colorectal surgeons that work together and run BC's biggest colorectal cancer treatment centre at St. Paul's Hospital. In fact, both the PROSPECT and the NEO clinical trials have recruited patients from St. Paul's, in addition to several other trials aiming to improve colorectal cancer treatment, surgery, and outcomes. The team have become international leaders in this field as a result of constantly honing their expertise and having access to exceptional equipment that has been donated by funding via the St. Paul's Foundation.
Although this current clinical trial has finished recruiting, Dr. Brown and his team are looking to expand this work by running a larger study aiming to recruit many more patients. "We are working on a much bigger study which involves recruiting hundreds more patients to further substantiate our work that shows excellent outcomes when using chemotherapy instead of radiation to reduce colorectal tumour size prior to surgery." The protocol for this larger study is currently in the approval process and should be approved within the year.
This story originally appeared on the CHEOS website.