This week is Social Work Week in BC, an opportunity to honour and celebrate the tremendous contribution that social workers make every day.
---
Discharging patients from the hospital isn't as simple as just sending them home.
In some cases, a patient may not have a home to go to. In other cases, the place they call home might not meet their complex health care or social welfare needs.
At St. Paul's Hospital, patient discharge often requires a huge amount of planning by interprofessional health care teams who work closely with each other, and with community-based services, to prepare patients for discharge with the intent of breaking the hospital readmission cycle.
"Housing is such an important social determinant of health. We know that it's integral for people's health and wellbeing," says St. Paul's Hospital continuity of care social worker Sarah Eisler. "We do a lot of advocacy and try to make longer term plans because we want to continue to support people when they do leave the hospital."
Social workers like Eisler play an integral role in hospital discharge. They liaise with patients and their families and community services. They act as advocates, counsellors, administrators, facilitators, mediators, organizers and researchers who help to ensure patients have a smooth hospital stay, discharge and recovery.
New BC Housing liaison brings extensive expertise
St. Paul's Hospital is unique in terms of the number of patients it serves who have no fixed address. To help respond to housing needs, the hospital has a new resource thanks to a collaboration with BC Housing.
Christie Knodel is the first-ever BC Housing liaison for St. Paul's Hospital. Since last fall, she's been working closely with the social work team to facilitate some of the most complex patient discharges.
"We're trying to break that consistent cycle of vulnerability when it comes to health," says Knodel, a former DTES shelter manager who has extensive knowledge of supportive housing. "Someone will spend time in hospital and if they get discharged to nowhere it can be very difficult for them to follow up with appointments, medications and things like that."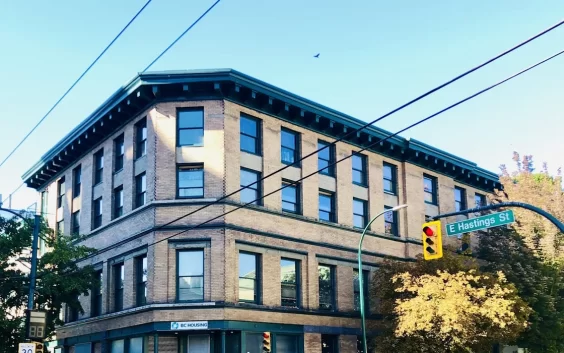 An "incredible" collaboration
Teresa Robitaille, Professional Practice Leader, Social Work, at PHC has seen many tragic discharges in her career. A 50-year-old discharged to long-term care for lack of any other option, for example.
"There's huge consequences for our patients, and then there's huge moral distress for our staff. It's really hard to see this suffering every day and not be able to do anything," she says. "Building partnerships is really our only hope, because we can't create housing."
So far, Robitaille says, the addition of a BC Housing liaison at St. Paul's Hospital has been "incredible." The social work team meets with Knodel monthly to discuss the patients they are most concerned for: those who end up in hospital frequently, those who have multiple chronic health conditions, mobility issues, or no family support. Knodel learns their stories, actively searches for appropriate housing matches, and does follow-up.
Already, there have been quite a few success stories.
"We had a patient who had been homeless for a decade and living in the Downtown Eastside in a shelter and she was really not doing very well. She didn't have stable housing," says Eisler. "We talked with Christie and she was able to get the patient housed pretty quickly and she's been doing so well. It just shows that when someone has that stable housing and that safety, it really does impact their health."