A St. Paul's Hospital cardiac surgeon has pioneered and performed a minimally invasive surgery on patients with serious heart-valve issues, eliminating the need for open-heart surgery and leading to quicker recuperation.
Over two days in mid-January, Dr. Cheung successfully implanted a device known as a transcatheter tricuspid valve into four elderly, high-risk patients with tricuspid regurgitation (TR) – the first people in the world to undergo the surgery.
Dr. Cheung inserted the valve, guided into position with a tube, or catheter, through the jugular vein on the right side of the neck. Each procedure lasted under two hours, with the implant itself taking less than 15 minutes.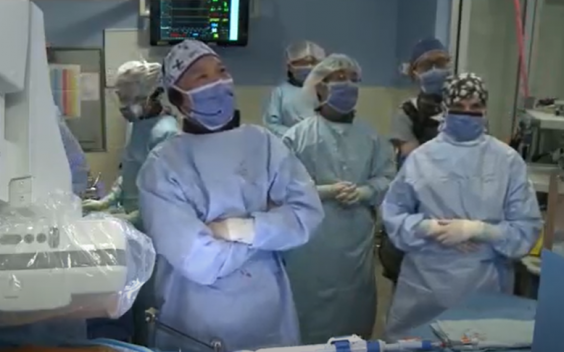 All surgeries were successful and all patients went home the next morning.
Open-heart surgery typically takes four hours and requires a hospital stay of five to seven days.
"The procedure effectively and completely treated the condition in all of them," says Dr. Cheung.
Tricuspid regurgitation limits the right heart valve's ability to close effectively. Blood flows backwards, or "leaks," into the right atrium, one of the heart's four chambers. Over time, the condition can contribute to heart failure or even death.
TR tends to occur in patients with previous left-side valve problems or heart failure. "Those problems put more pressure on the patient's right heart, making that valve fail," he explains.
One patient had lifetime of heart problems
The four patients ranged in age from 69 to 89. One is Gordon Allan, a 69-year-old Vancouver man whose congenital heart defect has caused a lifetime of health problems and surgeries – including valve surgeries and a heart transplant done in the United States two decades ago. "I've had my chest opened three times," he says.
Last year, it was clear he needed the valve surgery, and even though he was high risk, "I wasn't prepared to die." He was eager to be one of the first patients for this new surgery.
Visiting the dentist more stressful
Mere weeks later, he can go for long walks and is eager to hit the golf links soon – something unthinkable in the days leading up to the operation.
Allan can't get over how uncomplicated everything was. "It was barely invasive, certainly compared to my previous operations. I went to St. Paul's at 6:15 am, did the paperwork and prep, was wheeled into the OR."
"I've had dentist's appointments that were more stressful."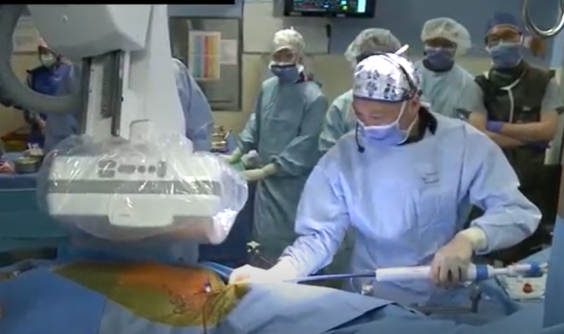 Procedure builds on another St. Paul's cardiac innovation
This innovative surgical technique is in the tradition of other minimally invasive cardiac procedures to emerge out of St. Paul's, including the transcatheter aortic valve implantation (TAVI), developed under the leadership of cardiologist Dr. John Webb. That valve, inserted via a large blood vessel in the groin, treats aortic stenosis, a narrowing of the aortic valve opening.
Dr. Cheung first learned about the Chinese engineered valve three years ago, when it was first implanted in a patient through a chest incision. He contacted the company and traveled to China in 2019 to learn how to implant it with open-heart surgery.
Then COVID hit. He couldn't do more surgeries here, but worked with the company to develop a less-invasive way of inserting the device and landed on the idea of insertion via the jugular.
Research trials being organized at St. Paul's, internationally
"(The vein) was a straight line to the valve, closer than entering via the groin."
He is organizing international research trials at St. Paul's, other Canadian, American and European sites that he hopes will lead to approval of the transcatheter tricuspid device. Health Canada made them available to Dr. Cheung through its compassionate access program, granted when patients have no other options.
"I hope this innovative device will become a great option for patients suffering from TR and heart failure," says Dr. Cheung.
He has more cases planned for this spring.