A St. Paul's Hospital emergency physician who recently volunteered in Ukraine says the experience showed him "how good humanity can be and how bad it can be."
Dr. Anthony Fong, a locum at St. Paul's Emergency Department and other Vancouver-area hospitals, arrived in Ukraine on March 13. He went with just 48 hours of advance notice.
He was part of Canadian Medical Assistance Teams, or CMAT.
The non-governmental organization provides volunteer disaster-relief work around the world.
He treated patients in sites such as Krakovets, near the border with Poland, for almost two weeks.
"They picked up their suitcases or backpacks and left."
Dr. Fong, 41, provided primary and urgent care to people, giving treatment similar to what they would receive at a walk-in-clinic in Canada.
Yet his patients, displaced from their homes by the Russian attacks on the nation, were unlike any he has treated back home. He was working in a war zone, helping traumatized people fleeing for their lives.
"Many had travelled over 1,000 kilometres in buses after leaving their homes in a hurry. They picked up their suitcases or backpacks and left.
"They arrived at the border tired, hungry, dizzy, nauseated, and with anxiety and post-traumatic stress."
The CMAT team worked non-stop. He was on the night shift and worked 12 hours straight. His team saw between 50 and 60 people daily.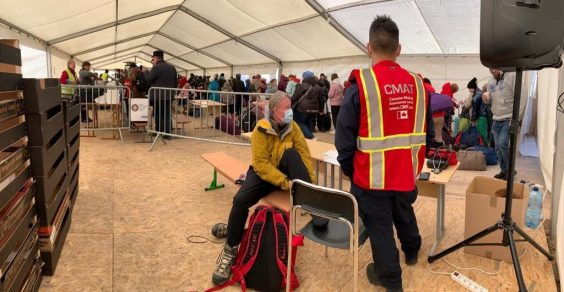 He would learn that was nothing compared to the period before he arrived, a time rife with stories of survival and tragedy. Then, there were queues of 30,000 people who had travelled on foot in winter weather. Some children died of hypothermia.
When he arrived, he discovered that many patients' issues were straightforward but important.
"A lot forgot their prescriptions (in their haste to leave). They needed basic things like hypertension or diabetes meds."
Boxes of medical supplies from Canada
The team had brought 20 boxes, each weighing 15 to 20 pounds, and six large crates of essential items typical for a walk-in or urgent- care clinic: pain and anti-nausea medications, antibiotics and supplies like dressings, saline, cleansing agents, basic meds for IV administration, and stethoscopes.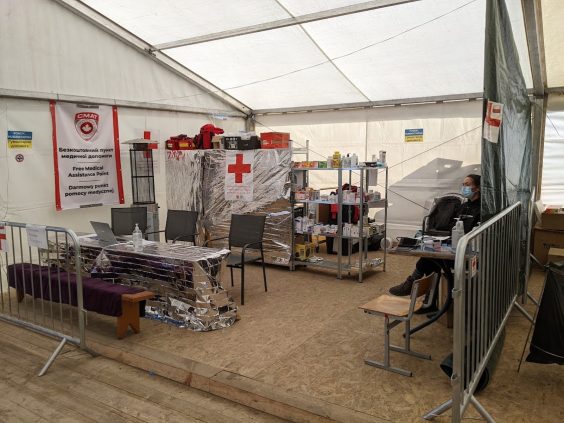 He treated patients with existing problems that the attacks had made impossible to address. "A lot of people came with ulcers or old injuries that couldn't get treated immediately because they'd been in a bomb shelter basement for 17 days."
Occasionally there were emergency cases that the Canadian medical team couldn't manage. There was the young man from bombed-out Kharkiv, who was having seizures in the tent city set up near the CMAT clinic. "His mom came to our tent in tears. A couple of us, including an emergency nurse and an interpreter, helped him."
Every team member vital
The man, with badly swollen legs, had a history of intravenous drug use that could have been causing the seizures. "We examined him and thought he had something really serious like a brain bleed or drug intoxication or meningitis."
The patient didn't have papers to enter Poland for care, so the team called a Ukrainian ambulance and took him to a hospital in Lviv.
Dr. Fong says that case highlights how important every member of the team was – paramedics, doctors, nurses and interpreters.
Air raid sirens "terrifying" at first
Danger was always present, but Dr. Fong tried to keep fear over his personal safety at bay. However, he and the team had arrived when Russia was escalating its attacks on Lviv.
"When the (nearby town of) Yavorev got hit by missiles, we heard the air raid siren for the first time. Everything just stopped.
"Initially the sirens were terrifying. Afterwards, we got a bit used to them. We were just metres from the border so we reasoned it was an acceptable risk."
So what makes him sign up for this high-adrenaline work? "I've always been interested in disaster medicine and global health and I did a (medical) residency in global health." In 2020, he was part of a relief mission in hurricane-ravaged Honduras.
Experience has parallels with St. Paul's Hospital work
"There is so much responsibility but you feel fulfilled because you're there for people when they really need help. That exemplifies what I want to be as a doctor: meeting high needs at the worst time, even if you put yourself in a risky position."
He sees parallels with the Ukraine experience and the work St. Paul's does as an inner-city hospital.
"Whether you're working downtown amid an opioid epidemic or in a war-torn country, you've got to speak with locals and ask them what they need. It's not about providing them what you think is best. Patient-centred care is part of good humanitarianism."
When asked how the average Canadian can best help the country, he says: "Donate to NGOs with proven benefit and experience in conflict zones."
The experience made Dr. Fong examine human nature. "You question your understanding of how good humanity can be and how bad it can be. But I ultimately believe there are more well-intentioned people out there than bad actors. If we can all work together harmoniously, co-ordinate and listen to each other, then humanitarianism can win the day."
"It's really meaningful work. I'll take this with me for the rest of my life."
---