Providence Health Care researchers will play an important role in a new a pan-Canadian alliance aimed at tackling the challenge of heart failure in Canada.
The network, called the Canadian Heart Function Alliance, brings together 100 researchers from across Canada who will focus on improving the prevention, diagnosis, treatment, and care of heart failure across the country. The network also includes Indigenous-led research that will focus on priorities identified by Indigenous leaders and Elders, as well as First Nations, Inuit and Métis Peoples with lived heart failure experience.
Dr. Sean Virani, Head of Cardiology at Providence Health Care, is the BC lead and multiple investigators from across Providence are also involved. The network will be led by Dr. Jean Rouleau at the Montreal Heart Institute.
On Tuesday, at the start of National Heart Failure Awareness Week (May 2-8, 2022), the federal government announced funding of $5 million to support the research network through CIHR in partnership with the Heart & Stroke Foundation of Canada, Mitacs, and the National Institute of Health's National Heart, Lung and Blood Institute. A total of $27 million has already been invested in the alliance.
A major chronic condition
Heart failure is a chronic condition where the heart is unable to pump enough blood to meet the body's circulatory and respiratory needs. More than 750,000 people live with heart failure in Canada, with an estimated 100,000 new cases every year. Heart failure often occurs following a heart attack, from viral and bacterial infections, as a side effect to medications, or from other causes that weaken the heart muscle.
Marc Bains, a patient whose own heart failure resulted in a heart transplant at St. Paul's Hospital in 2018, is Scientific Co-Director of the new alliance.
"The CHF Alliance is patient-driven and incorporates a wide demographic of patients and their family caregivers from rural to urban communities and from children to seniors," Bains said in a news release from the Montreal Heart Institute.
Bains, who is co-founder of HeartLife Foundation – a national non-profit organization advocating for heart failure patients and caregivers – notes in the release that "although we don't yet have a cure for heart failure, medical therapies and lifestyle changes can help people manage their condition. To that end, research – patient-informed research – is crucial."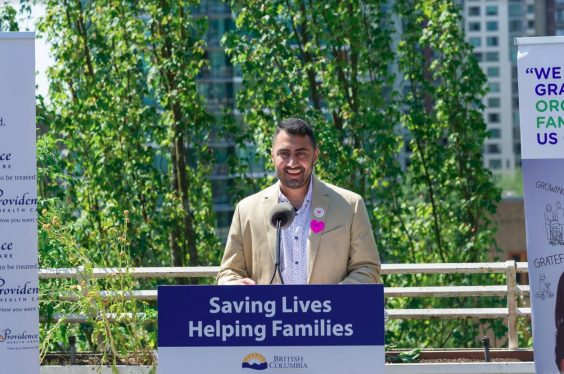 The CHF Alliance will be grounded in a partnership involving patients and caregivers, health professionals, and health care system experts. In addition to promoting evidence-based care for patients and improving their quality of life, the network will also study ways to better integrate caregivers and technology into the recovery process and expand hospitals' capacity to provide care from start to finish.
This story was adapted from the following announcements: