"I tell people if you want to know more about me, type in 'Mario Gregorio BC' and there's about six pages."
When you search for his name online, Mario Gregorio is featured in all sorts of stories that help raise awareness and reduce stigma about dementia. That's because ever since being diagnosed with a form of dementia in 2008, he has been a passionate and vocal advocate for people living with disabilities.
Gregorio is part of the Patient Voices Network, Alzheimer Society of Canada, Transit Universal Access Committee, and the Burnaby Access Advisory Council, to name a few.
He's also a patient partner for the new St. Paul's Hospital and Health Campus Project.
"Partnering with groups who encounter similar challenges and share the same concerns make our voices that much stronger," says Gregorio, an avid photographer in his spare time. "How can our perspective help improve health care services?"
Design based on patients' lived experience
Throughout the hospital design process, the Project Team has been engaging with a variety of stakeholders to get feedback on floorplans. Gregorio sits on the Center for Healthy Aging (C4HA) and Wayfinding committees for the project.
For Craig Harris, the senior project and change management lead for the C4HA, patient voices are vital because they represent the population of the centre. "As clinicians and designers, we don't have the same lived experience as patients. Things that seem important to us are not always of the same value to patients. Likewise, what may be important to them may not be immediately evident to us."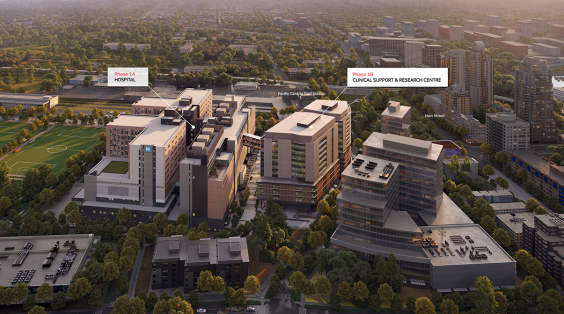 For Gregorio, it is a chance to call attention to details from the patient's point of view. "The designers look at the designs from the viewpoint of expediency. But how about the convenience and experience of people using the space?"
Gregorio describes seeing the floorplans of the C4HA reception area. He and other patient partners noticed space would be a tight fit if a wheelchair needed to pass by while someone was at the reception desk.
After all the feedback was collected, several changes were made to the area. Reception will now sit closer to the entrance for a shorter travel distance for patients. Sections of the desk will be at a lower height to better serve patients in wheelchairs and scooters, and it will have rounded corners to make it easier for people to navigate around it. Finally, the adjacent waiting area was tweaked so there will be plenty of space for people to move freely past the reception area.
"Designs should be supplemented by the point of view of actual lived experiences," says Gregorio. "It's crucial to delivering service to patients. I'm so glad our comments are being taken into account."
Patients' input helps bridge gaps in care
Gregorio is no stranger to feeling lost in the health care system. He remembers struggling to figure out where to book his next appointment after undergoing surgery outside his health authority.
"In these types of situations, what am I to do? It's these types of discrepancies in service that patients can point out."
Gregorio thinks the new hospital should be one-stop access for patients. "The thinking should be 'What does the patient need once they're out of the hospital?' and 'How can we connect patients with the services they need?'"
Fortunately for Gregorio and other patients like him, the new St. Paul's Hospital Project is on the same wavelength. Teams are working to deliver new models of integrated care that blend hospital-based services with primary care, community-based primary care, and community health services and support programs.
Meanwhile, he continues to push patient voices forward and enjoying every step of the process.
"This gives me a sense of purpose and makes my life interesting. I keep telling my family, had I not been diagnosed, I'd be at home sitting in a rocking chair. I was on the cover of Reader's Digest. I was invited to go to Ottawa and Toronto. There is a feeling of accomplishing something worthwhile. I like to think that while I'm having fun doing this, I'm also helping the community."
To learn more about the project and engagement for the new St. Paul's Hospital, click here.