A St. Paul's Hospital pain specialist says anesthesiologists can help prevent opioid misuse in surgical patients by ensuring pain meds prescribed on discharge are personalized to their particular needs.
Anesthesiologist Dr. Ainsley Sutherland says prescribing discharge drugs that include other analgesics along with, or even instead of opioids is one way to reduce the risk of persistent opioid use in post-op patients.
In an op-ed in the July edition of the Canadian Journal of Anesthesiology, she and co-author Dr. Hance Clarke from Toronto's University Health Network write that chronic use can lead to physical opioid dependence, potentially leading to other health issues, more serious addictions issues and even death.
In light of the record 940 lives lost to toxic drugs in British Columbia's deadly opioid overdose crisis in the first five months of 2022, avoiding chronic opioid use is a serious health priority among post-op patients.
Importance of non-opioids in pain relief
"Surgery is a trauma and pain treatment with opioids afterwards can cause chronic use," says Dr. Sutherland. "As anesthesiologists, we need to try to use other pain relievers such as Tylenol and Advil for post-surgical patients."
The op-ed advocates for discharge prescriptions that match what the patients received 24 hours before they went home. "In some cases, the patients might be prescribed more opioids, but data shows most could use less," says Dr. Sutherland.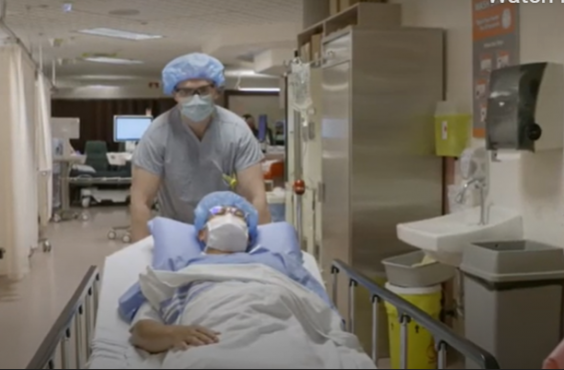 Discharged patients don't use all their Rx at home, causing misuse risks
Sending patients home with prescription opioids improperly tailored to their needs can be risky to them as well as their families and the broader community, note Dr. Sutherland and her co-writer.
"Multiple surveys have shown that patients generally use only a small proportion of the opioids prescribed to them, leaving many pills unused and unaccounted for, and at risk for misuse."
"A National Institute on Drug Abuse study found that 75% of people entering drug treatment for opioid use disorder in the 2000s reported that the first opioid they used was a prescription opioid."
Leftover prescription opioids can fall into others' hands
The authors cite research showing that frequently, opioid pills left over from a discharge prescription are unused, and other family members might take those for non-medical use – a highly risky practice.
Quoting a study in the op-ed, the authors write, "Up to 70% of patients reported that they kept the pills they didn't use after surgery."
The op-ed recommends more hospitals adopt a Transitional Pain Clinic model to support patients as they move from acute to chronic post-surgical pain. In these clinics, interdisciplinary teams work with patients before and after surgery to screen those at potential risk of developing opioid dependence after their operations and provide them with more support.
St. Paul's Transitional Pain Clinic supports post-surgical patients
The St. Paul's Department of Anesthesia and Pain Medicine launched a Transitional Pain Clinic a year ago, guided by Dr. Sutherland and her colleagues Dr. Katarina Kojic and Nurse Navigator Reagan Covey. Since then, about 105 surgical patients have visited and the majority were weaned off opioids. Before their surgery, patients can be referred to the clinic for pain management or up to six months post-operatively if they continue to struggle with pain and/or ongoing opioid use.