It's crunch time for families as the first day of school looms less than one week away. Along with stocking up on school supplies, making sure shoes still fit, and figuring out new teachers, classmates and schedules, there is one more thing to add to the list: school lunches. Sorry to break the news – you have around 180 days of school lunches ahead of you.
Ensuring your kids have good, nutritious food throughout the day while at school isn't as easy as you might think. A UBC study published a year ago showed Canadian children don't eat enough vegetables, fruit and dairy products during school hours. This means they are falling short of several daily dietary recommendations on school days. At the same time, consumption of less nutritious foods such as sugar-sweetened beverages, salty snacks and candies was higher during school hours.
As St. Paul's Hospital dietitian Tanya Choy says, "All kids are different with their own preferences, so find what works for you."
Tanya has come up with three easy lunch ideas:
No Cook Lunch
The no-cook lunch is colourful, easy to eat, and nutritionally balanced. Hummus provides protein, starch for energy comes from high fibre crackers, and a variety of fruits and vegetables round out the meal.
Another easy no-cook lunch idea is leftovers from last night's dinner. Cook once, eat twice! Tanya suggests pasta with sauce that's chock full of hidden grated zucchini and carrots.
Quick food safety tip: pour hot water into the thermos and then pour it out before adding food to keep hot foods hot.
Bento Box Fun with Quesadillas
Quesadillas are a super quick and easy staple that most kids enjoy. Cheese is always a favourite, or get creative with fillings your children will enjoy – leftover chicken, beans, peppers and onions.
Add a side of fruit and vegetables. Use silicone separators for individual finger foods.
Amazingly delicious and moist brownies that are healthy too. The secret ingredient? Watch the next video to find out!!
Batch Cooking – Baked Egg Cups
Super simple baked egg cups take just minutes to assemble and bake – think omelette poured into a muffin tin. Customize with fillings your kids like. Make ahead and freeze. Pull them right out of the freezer and pack into the lunchbox.
Plain yogurt sweetened with fruit is much lower in sugar and more environmentally-friendly than prepackaged, highly sweetened yogurt.
And the secret ingredient in those decadent brownies? Your kids will never guess it's high-fibre and super nutritious black beans!! (Recipe and video to come.)
To minimize leftovers, Tanya suggests working with your children and asking them to help plan and make lunches, "Make it fun and get them involved. Use a variety of shapes, colours, textures and shapes, and remember you may have to offer new foods many times before your child learns to like them."
A good rule of thumb is to include at least three out of the four food groups in Canada's Food Guide for lunch, and two out of the four food groups for a healthy snack.
---
The Dietitians of Canada has put together a list of foods to keep on hand for preparing healthy lunches and snacks (and find lots of other great tips HERE):
In the pantry: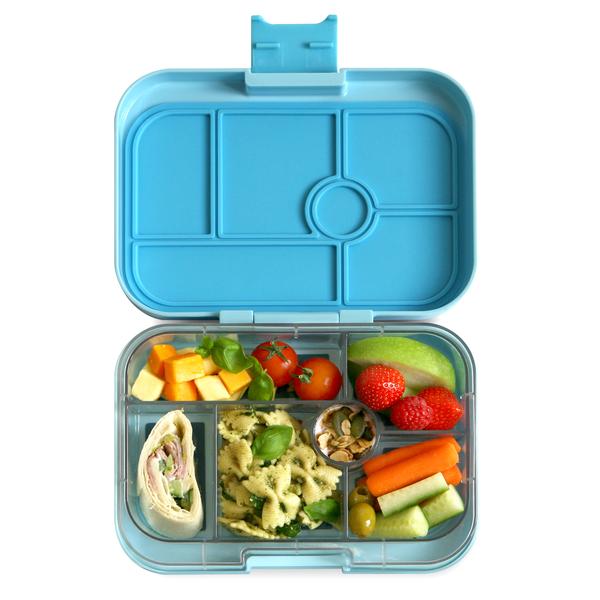 Whole grain breads
Ready to eat cereals
Whole grain crackers
Canned and dried fruit
Canned tuna and salmon
Canned legumes like chick peas, black beans, baked beans in tomato sauce
In the fridge:
Yogurt (fruit yogurt, yogurt drinks, plain yogurt for dips, soy yogurt)
Cheese (block cheese or cheese strings, cottage cheese, cream cheese)
Milk
Fresh vegetables and fruit
In the freezer:
Whole grain pita and tortillas – they don't take up much space and you can use just one at a time. They defrost easily in the microwave.
Frozen fruits for smoothies
Leftovers like chili, lasagna, and soups in single-serving containers. (When you pack leftovers don't forget to label and date).
100% juice boxes for keeping lunch cool
---
This story was originally published on the Daily Scan on September 3, 2018.