During Dr. Heather O'Donnell's first meeting with Janet Burns, the Providence Health Care ophthalmologist knew she had to do something to help her patient.
She also knew it wouldn't be easy.
Burns had been experiencing years of declining vision, until she was legally blind. She had posterior capsular opacification, a common problem after cataract surgery where vision can get fuzzy again, or even lead to blindness without a laser procedure.
Other specialists in the Lower Mainland had the same diagnosis.
Yet Burns had a unique set of circumstances and there appeared to be no solution for them.
As the result of a stroke in 2018, Burns uses a reclined wheelchair. The chair doesn't allow her to sit in the position required for the YAG capsulotomy laser treatment – a procedure that requires the patient to lean forward and place their chin in a cup, similar to an eye exam. The patient's head also needs to be stable and still for the duration of the procedure.
"Because this cloudy membrane on the eye is microns thick, immense precision is also required to focus the laser on it," explains Dr. O'Donnell. "Sometimes even the patient's natural respirations can make focusing the laser challenging."
A call for help
"When I met Janet and her son Jody, I let them know that I could not do the procedure on my own," said Dr. O'Donnell. "Yet I felt the team at St. Paul's Hospital would be able to help."
Dr. O'Donnell's first call was to Jeff Masse, a professional practice leader for occupational therapy at St. Paul's Hospital. The two know each other through their work behind-the-scenes on the new St. Paul's Hospital project.
Masse and Dr. O'Donnell agreed: the ability to sit upright shouldn't be a requirement for someone to see. They set an appointment for Janet to receive the procedure at St. Paul's Hospital.
Masse remembers thinking, "what does the client need and how can we do it? Let's get creative."
MacGyver'ing a solution
To figure out a way to help, Masse reached out to his colleagues and assembled a care team of occupational therapists (OT) and a physiotherapist (PT). His first calls were to Hannah Fisher, a clinical special PT, and Leah Swantje, the OT site leader at Holy Family Hospital Rehab, who specializes in wheelchair seating.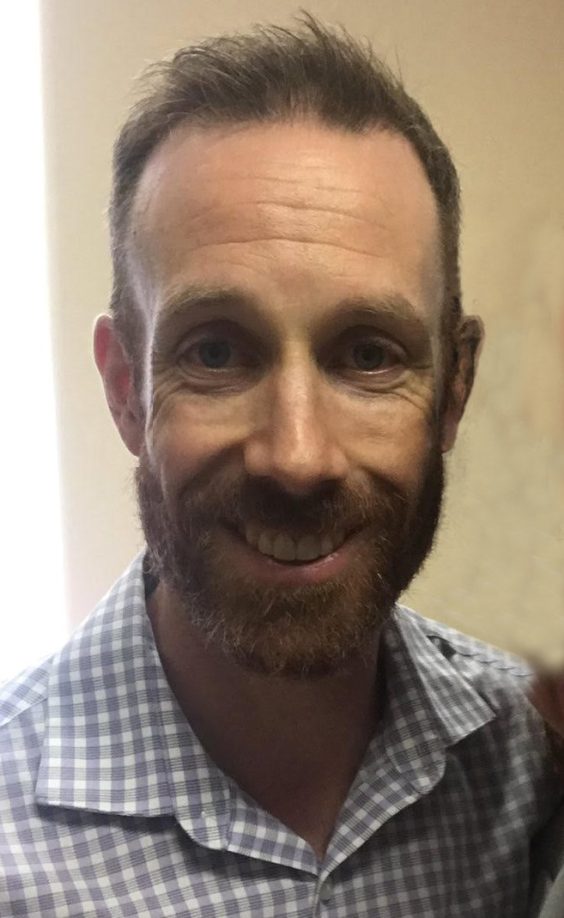 The three brainstormed ideas on how to best keep the client comfortable and close to the laser.
"It's what we learn in school," says Masse. "Our job is creative thinking and problem-solving: how do we enable the client to be able to do what they want or need to do?"
The trio considered everything, including common rehab supplies. "Ankle weights, transfer belts, steps – mostly basic things," said Masse. As they team brainstormed ideas, Jeff admits there were also a few references to MacGyver, the iconic TV character who creates complex devices out of everyday objects.
When the day of the procedure was at hand, the team came prepared with the idea they thought would work. They had some back-ups too, if needed. Monika Haska, an OT rehab assistant also played a key role in coordinating all equipment for the day.
Janet and Jody met with the team. There was excitement and joy in the air, as well as some nerves.
"I did my best to follow everyone's instructions exactly," says Janet.
When everyone was ready, the team executed their solution.
A unique support system
The shape of the laser and tight confines of the procedure room added extra layers of complexity so the team used simple strategies and basic equipment.
They started by positioning Burns in her wheelchair and using the seatbelt and transfer belts to secure her in a stable position.
Next, to bring her head forward, they lifted the back wheelchair wheels onto a step platform, then secured the front casters with foam yoga blocks. Fisher and Swantje held her head from each side.
"It was total teamwork," said Masse.
Let there be light
When the patient was ready and comfortable, Dr. O'Donnell began the procedure and the laser lit the dark room. The effects of the laser on the capsular opacity were instantaneous.
"The laser flashed into my eyes several times. There was no pain," recalls Janet. "After the surgery, I could immediately see clearly. I could read words on signs everywhere in her office and elsewhere in the hospital. Let there be light!" She could also see faces again, including her son's and the team that helped her.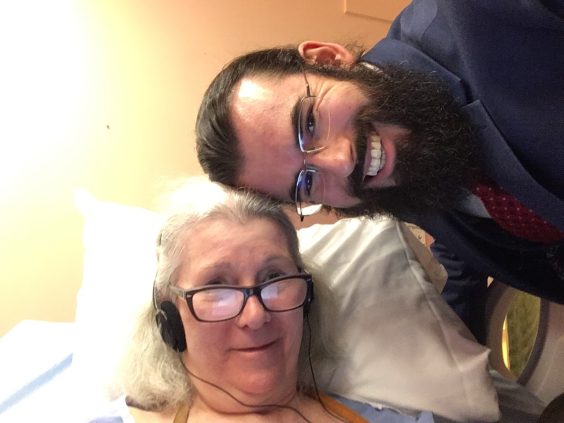 Janet is thankful for everything the team did. Her son remains astonished by what he calls "the symphony of care" involved in his mother's care and grateful to Dr. O'Donnell's perseverance and the team's special care for them.
By Ryan Ingram
Related story: Six ways to save your vision