Beginning Jan. 31, adults 18 and older in B.C. will not be subject to criminal charges if they possess a small amount of certain illegal drugs for personal use.
Health Canada granted the Province of B.C. a subsection 56(1) exemption under the Controlled Drugs and Substances Act to decriminalize people who use drugs for three years until Jan. 31, 2026.
"We know criminalization drives people to use alone. Given the increasingly toxic drug supply, using alone can be fatal," said Jennifer Whiteside, B.C.'s Minister of Mental Health and Addictions, at a Jan. 30 announcement in Vancouver where the province outlined details of the exemption. "Decriminalizing people who use drugs breaks down the fear and shame associated with substance use and ensures they feel safer reaching out for life-saving supports. This is a vital step to get more people connected to the services and supports as the Province continues to add them at an unprecedented rate."
Drugs remain illegal
This exemption does not mean drugs are legalized. The drugs included in the exemption remain illegal; however, adults who are found in possession of a cumulative total of as much as 2.5 grams of opioids, cocaine, methamphetamine and MDMA for personal use will no longer be arrested, charged or have their drugs seized, if abiding by the scope and conditions of the exemption. Instead, police will offer information on available health and social supports, as well as local treatment and recovery options.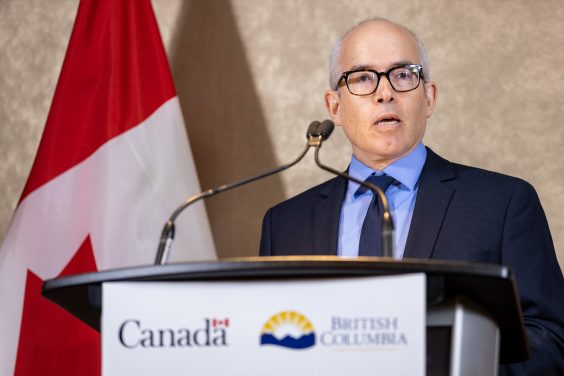 "As a clinician, I see on a daily basis the devastating harms caused by the criminalization of people who use illicit drugs. The evidence is clear. These punitive policies lead to high-risk use patterns, increased rates of incurable infections and, perhaps most damaging to our patient's overall well-being, stigma. With this shift to decriminalization, I am feeling more hopeful than ever that we can reduce these harms, particularly stigma, and engage more British Columbians in life-saving support on their path to recovery," said Dr. Scott MacDonald, lead physician, Providence Crosstown Clinic, which was the first full medical clinic in North America to provide medical-grade heroin (diacetylmorphine) to clients experiencing severe opioid-use disorder. The clinic provides the legal analgesic hydromorphone as well.
Watch Dr. MacDonald speak from 36:10-39:05 in the video below:

Resources will be available
To prepare for Jan. 31, the Province has worked with police leaders to develop training resources and practical guidance, which are now available to more than 9,000 front-line police officers.
In addition, the Province is building new pathways into the health-care system by hiring health authority specific positions dedicated to building connections with local service providers and people referred by police. These positions will also help connect people with resources and information on voluntary mental-health and addictions supports in their own community.
Drug possession in any amount will continue to be a criminal offence on K-12 school grounds and at licensed child care facilities. Further, decriminalization does not apply to youth 17 and younger. Youth found in possession of any amount of illegal drugs are subject to the federal Youth Criminal Justice Act, which offers them alternatives to criminal charges in some cases.
One tool in the toolbox
Together, the federal and provincial governments will be working closely to evaluate and monitor the exemption to ensure the desired outcomes of decriminalization are met and there are no unintended consequences.
This exemption is just one tool in the Province's toolbox in the fight against the toxic drug crisis. In addition, the B.C. government has been urgently working to build a comprehensive and seamless system of mental-health and addictions care that works for all British Columbians. This includes adding hundreds of new treatment beds and increasing access to harm-reduction programs, such as supervised consumption sites, safer supply and naloxone.
This story was adapted from a Government of BC news release. Read the original news release.