We've launched a series of staff profiles to highlight the important role of nurses who work in substance use care. We've already introduced you to Loraine Belleza. Now, meet Naomi Watt, Nurse Educator, Substance Use Disorders.
---
While harm reduction is not a new concept, it's an area of addiction medicine that's rapidly evolving and Naomi Watt is excited to be on the forefront of such innovative work.
As a Nurse Educator with the Urban Health and Addiction Medicine Team at Providence Health Care, Watt leads orientation sessions for new nurses and provides education on harm reduction and addiction medicine for nurses across the organization.
She also develops and implements workflows for new treatments and medications, and contributes to research.
"It's exciting, challenging work and feels deeply meaningful," she says. "I love working with our clients and patients, getting to know people and building relationships."
"The patients I get to work with are the most creative, resilient and strong people I have ever met in my life."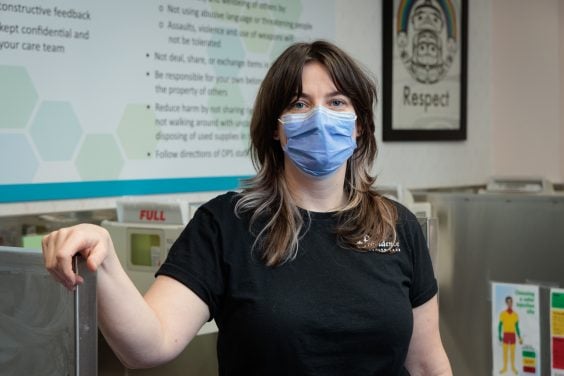 Making a connection
Watt knows well the stigma and stereotypes associated with substance use. But she says those who harbour such assumptions might be surprised by the shared experiences and that people who use substances are not one "type."
"I love discovering what we have in common – music taste, pets, family ties and stories, dreams, fears. It's a wonderful feeling making a connection with someone, even if for a brief time."
A firm believer in universal health care, Watt went into nursing to ensure that those who need the most support are able to access health care that is safe and evidence-based. She has a Bachelor of Science in Nursing and covered for the Clinical Nurse Leader on the Urban Health units at St. Paul's Hospital before moving into her current role.
'Not individual heroes'
To succeed in the fast-paced and ever-changing field of substance use care, Watt says it's essential to work well as a team.
"To know that you will both support your colleagues, and be supported by them. We're not individual heroes," she says.
On difficult days, it's her teammates who support her, inspire her, and share moments of levity. It also helps to stop and appreciate the little things in everyday life – like spotting seals, birds and beautiful gardens on her bicycle commute.
Outside of work, Watt relaxes by walking her dog and binge-watching TV with her teenagers.