Providence Health Care will soon launch BC's first Care Coordination Centre, a hospital version of air traffic control.
It's powerful, smart technology, and more. Staff will use it to get site-wide insights of beds, capacity, bottlenecks, inpatient status and what needs attention – in real time and 24/7.
This digital transformation of patient care is supported by a $5 million gift from the Mr. and Mrs. P.A. Woodward's Foundation.
Providence has partnered with GE HealthCare, a leading health-care technology company and digital solutions innovator, to implement the Care Coordination Centre for St. Paul's Hospital, Mount Saint Joseph Hospital and Holy Family Hospital and eventually at the new St. Paul's Hospital when it opens in 2027.
"The provincial government's investment into the new St. Paul's Hospital and the digitization of health care will ensure more people benefit from the best patient outcomes," said Adrian Dix, Minister of Health. "We have a huge opportunity in front of us to put this data to work for the betterment of patients and health care staff alike. By using real-time, predictive data, care teams at Providence can transform care and deliver clinical excellence in B.C."
Hi-tech 'traffic' control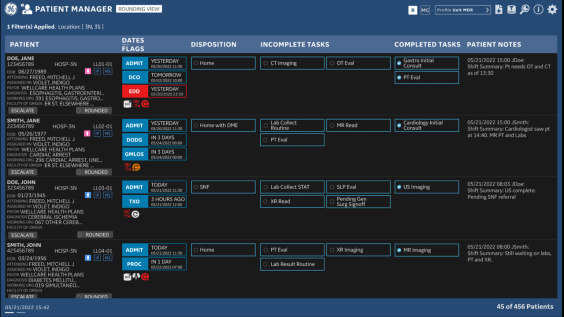 The new Care Coordination Centre will support staff with coordinating the thousands of steps and decisions happening daily as patients arrive, are admitted, have tests, treatments or surgery, receive care and are discharged home or to their communities. The technology uses real-time analytics to enable teams to quickly and easily access essential information about inpatient care activities on display monitors, workstations and mobile devices. It will provide actionable insights to care teams who work at the bedside, so they can focus more on delivering patient care and less on coordinating care.
Whereas similar capabilities modelled after NASA Mission Control have existed for decades in other industries, including transportation, energy and utilities, they only recently emerged in health care. Today, GE HealthCare's command center software is used by over 300 hospitals worldwide.
"While the technology of the Mr. and Mrs. P.A. Woodward's Foundation Care Coordination Centre will be invisible to inpatients and visitors, it will bring big benefits to everyone who steps inside our hospitals," said Fiona Dalton, Providence's President & CEO. "The routine use of data in our everyday operations will allow us to maintain and improve our standard of care, so patients continue to receive the exceptional care Providence is known for. Staff in our hospitals will soon be able to keep a closer eye on inpatients, intervene earlier and escalate for help as needed."
Smoother patient journeys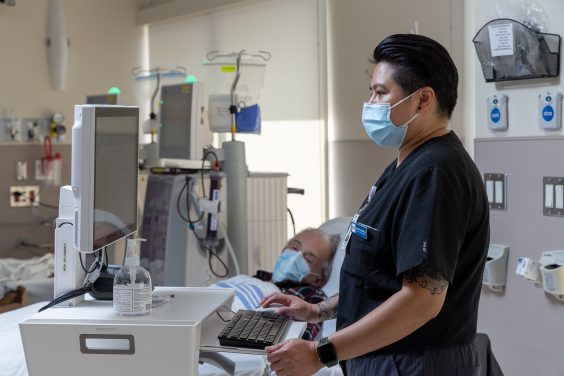 The Care Coordination Centre analytics will also suggest what will likely happen in the coming hours and days, so teams can spot potential issues and proactively intervene. For example, if a unit is predicted to be full by midnight, teams could adjust patient bed assignments or avoid admitting additional patients to that unit to reduce the pressure on staff.
"The software will allow us to monitor what is currently happening inside the hospital, and intelligently predict what's likely to happen, so staff can respond proactively," explains Stephanie Hood, program manager for IT Innovation with the New St. Paul's Hospital Project Team. "We expect this new software to help us improve the patient and staff experience alike, and it will also result in better patient flow and increased data visibility."
The first phase of the software implementation focuses on capacity and staffing and will launch this summer for St. Paul's, Mount Saint Joseph and Holy Family Hospitals; the rest will be implemented by summer 2024.
Purpose-built space boosts digital transformation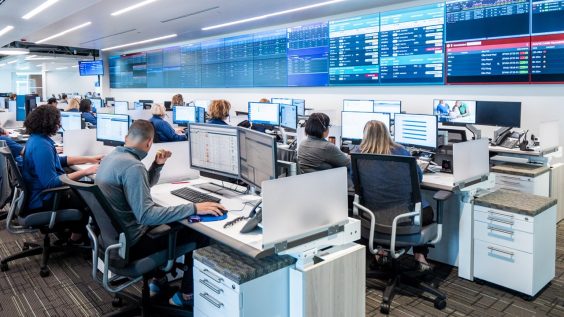 Providence's digital transformation will be supported by a 2,800 square feet, purpose-built space at the new St. Paul's Hospital. Called the Mr. and Mrs. P.A. Woodward's Foundation Care Coordination Centre, the space will feature a video wall with 16 screens displaying real-time insights, and workspace for a centralized team to proactively intervene and ensure streamlined patient flow and day-to-day hospital operations.
"The Mr. and Mrs. P.A. Woodward's Foundation has contributed significantly to St. Paul's Hospital since its first gift in 1958," says Dick Vollet, President & CEO, St. Paul's Foundation. "When the new St. Paul's Hospital opens at the Jim Pattison Medical Campus, the Woodward's Foundation will be recognized for its vision and commitment with the naming of the Mr. and Mrs. P.A. Woodward's Foundation Care Coordination Centre."
This story was adapted from a Providence Health Care news release. Read here for the full announcement.
Story by: Justine Ma, New St. Paul's Hospital Project