National Medical Laboratory Week takes place April 9-15. Sponsored by the Canadian Society of Medical Laboratory Science, it's a time to promote awareness and understanding of the role of laboratory professionals in the health care system.
You may never see or meet many of them, but behind closed doors, medical laboratory professionals are working around the clock to analyze patient samples and provide results.
Providence Health Care has 315 lab professionals at its two laboratory sites: the main lab is located on the second floor of St. Paul's Hospital and a smaller lab is located at Mount Saint Joseph Hospital. Both are part of the Lower Mainland public laboratory network.
The Providence laboratory provides a comprehensive range of diagnostic services including surgical pathology, autopsy pathology, clinical chemistry and hematology, microbiology and virology, and transfusion medicine (blood bank).
With more than 70 per cent of all critical clinical decisions based on laboratory results, physicians, surgeons and entire medical teams depend on the lab for accurate and timely test results, pathology reports, and clinical advice.
Take a behind-the-scenes look at what goes on in some of the different areas of the St. Paul's Hospital lab:
​Clinical Chemistry
Staff working in this area provide test results and medical diagnostic expertise to all hospital services including heart and lung, HIV/AIDS, mental health, emergency, critical care, kidney care and numerous surgical programs. They also provide specialized diagnostic services to support clinical care on a provincial basis. St. Paul's is the sole provincial chemistry resource for multiple specialized endocrine, lipid, immunologic, and hematologic tests.
Read about the journey of a blood sample in The Daily Scan.
Each year the lab analyzes:
250,000 routine specimens (blood, urine, stool, cerebrospinal fluid, synovial fluid, pleural fluid)
Over 100,000 specialized tests, such as endocrine, hormone and lipid testing
Over 34,000 cardiac screening tests
28,000 specimens for therapeutic drugs, testosterone and other small molecules on 2 LC-MS/MS platforms
About 2,000 screens for primary aldosteronism, 200 confirmatory tests and 75 adrenal venous sampling analyses

Medical Microbiology and Virology
Staff working in this area provide a wide range of diagnostic services and expert consultation on the prevention and management of infections. The division uses various applications of science (e.g. mass spectrometry, molecular testing, and culturing methods) to provide diagnostic testing.​

Hematopathology and Transfusion Medicine
This area of the lab includes Hematology, Coagulation and Transfusion Medicine sub-divisions. A team of hematopathologists and medical technologists work together 24/7 in collaboration with every clinical area at St. Paul's and Mount Saint Joseph Hospitals to provide both diagnostic testing and therapeutic blood and blood product support. ​
Each year the lab…
Handles over 40,000 blood products
Analyzes 150,000 hematology samples
Tests 115,000 coagulation specimens
Examines 25,000 blood films
Performs 22,000 CD4 tests for immunodeficient and HIV-positive patients (the Providence lab is one of the largest testing facilities in North America for this test!)​​​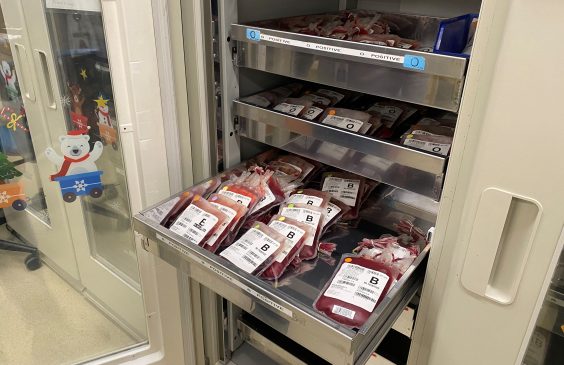 Anatomic Pathology
This is where laboratory staff examine tissue removed from living patients either by biopsy or during surgery. Special areas of expertise are kidney pathology, cardiovascular pathology, breast pathology, and gastrointestinal pathology, but the lab receives and reports on a wide range of specimens and tissue from all parts of the body.
Medical laboratory technologists process the tissue and prepare tissue sections for microscopic examination by the pathologist. Pathologists then make a diagnosis and issue a pathology report that also contains information on the patient's prognosis and how the patient may respond to treatment.​
Each year…
Providence lab technologists prepare over 120,000 paraffin blocks and 200,000 glass slides.
Anatomic Pathology reports over 30,000 surgical pathology cases and 4,000 cytology cases.​​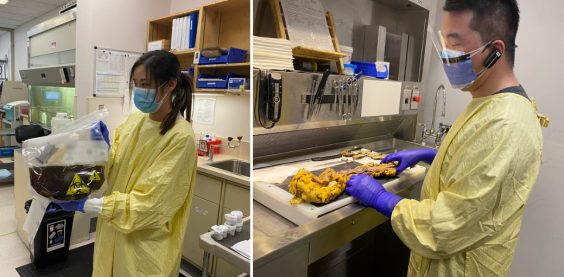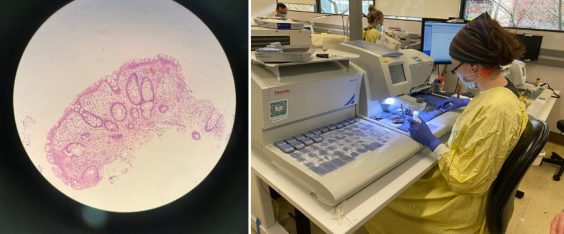 BC Provincial Renal Pathology Laboratory
A subdivision of Anatomic Pathology, the renal lab provides diagnostic medical renal biopsy services for all patients in every health authority in BC.

Learn more about Pathology and Laboratory Medicine at Providence Health Care: www.providencelaboratory.com
This story was originally published in 2022.