Young people and families will have faster, easier access to mental-health and addiction services and primary care with the expansion of Foundry centres to more communities throughout the province.
Roots at St. Paul's
Foundry began in St. Paul's Hospital in 2015 and has grown into a network of care for young people across the province.
Through Budget 2023, the BC government will add 12 new Foundry centres to provide young people aged 12-24 and their families and caregivers free and confidential services.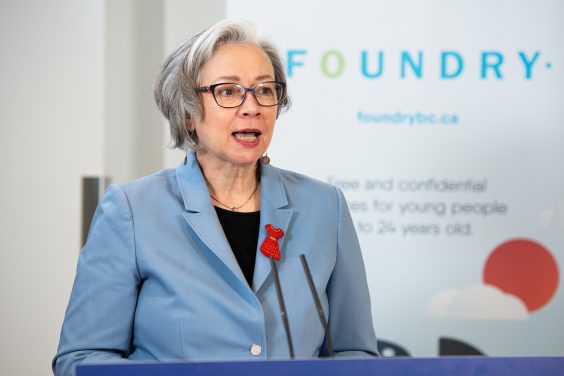 Supports include mental-health and addiction counselling, physical and sexual health care, peer support and social services.
More community services for youth
"Young people struggling with mental health and addictions and their families urgently need support," says Jennifer Whiteside, Minister of Mental Health and Addictions. "Opening Foundry centres in communities across B.C. means more youth will get the help they need and deserve right in their own community. "
Budget 2023 provides more than $236 million over three years to create more services for young people, including crisis supports, culturally safe wraparound services, enhanced transition services and improved emergency room hospital-based care and discharge planning.
This includes nearly $75 million for Foundry expansion and enhanced services.
15 existing clinics and eight being developed
This builds on previous investments that supported the expansion of the Foundry network across the province and the creation of the Foundry virtual services for young people who are not able to access a centre. There are 15 Foundry centres open in Vancouver-Granville, North Shore (North Vancouver), Campbell River, Ridge Meadows, Abbotsford, Kelowna, Prince George, Victoria, Penticton, Terrace, Comox Valley, Langley, Richmond and Cariboo-Chilcotin (Williams Lake) and Sea to Sky (Squamish).
An additional eight new Foundry centres are in development in Burns Lake, East Kootenay (Cranbrook), Port Hardy, Surrey, Fort St. John, Tri-Cities, Kamloops and the Sunshine Coast. Foundry's provincial virtual services can be accessed from anywhere through the Foundry BC Ministry of Mental Health and Addictions.
For more information about Foundry BC, visit: foundrybc.ca
To read the full news release, click here.