St. Paul's Hospital has officially been designated as a Baby-Friendly hospital – the first general hospital in BC to receive this accreditation that promotes best practices in infant feeding.
The designation, granted by the non-profit organization, Breastfeeding Committee for Canada, acknowledges the hospital's almost three years of work to instill a hospital-wide culture of best practices in infant feeding.
The Baby Friendly Initiative (BFI) is a joint World Health Organization (WHO) and UNICEF project that aims to create a health care environment where families receive the best care and information to give their child a bright future.
"I am extremely pleased with the work that the BFI team has been able to achieve," says Fiona Dalton, CEO of Providence Health Care. "It is incredible to see hospital staff across all disciplines and specialties come together to support parents' and families' breastfeeding goals."
St. Paul's one of only a handful of Canadian hospitals with label
St. Paul's is the first general hospital in British Columbia to become baby friendly. (BC Women's and Children's Hospital, a specialized hospital for maternity patients, newborns and children, was the first.)
St. Paul's is one of only 20 Canadian hospitals to receive the designation.
"All patients, visitors and staff – particularly staff returning to work – will be set up for success and welcomed to breastfeed anywhere in the hospital," says Amy Hamill, Program manager for the Pregnancy, Birthing and Newborn Centre at Providence Health Care. "Patients and staff who wish to have a private space can breastfeed in specific locations, including the Pregnancy, Birthing and Newborn Centre."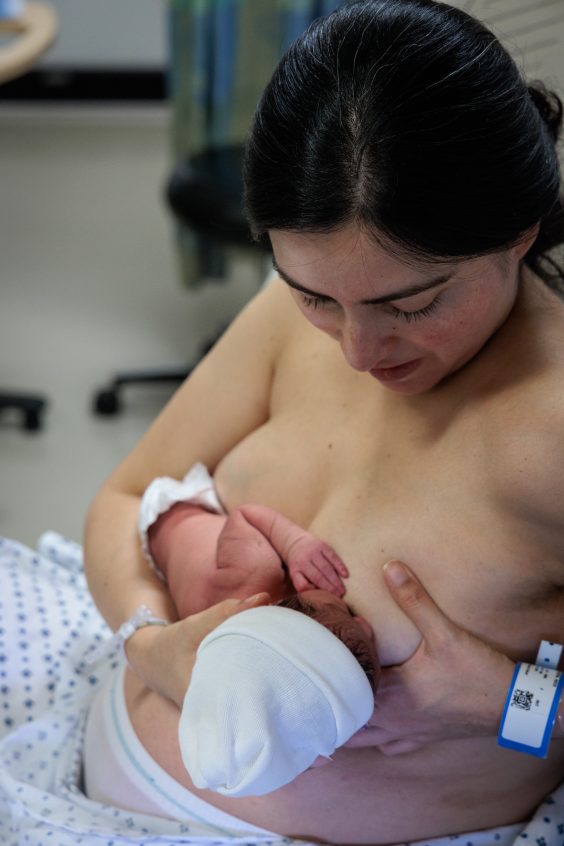 She adds: ''The transition from hospital back home can be daunting for many families, and this accreditation will help with that."
One of the priorities at St. Paul's is safe skin-to-skin contact between mom and baby, a practice emphasized within the BFI. "We know that early and sustained skin-to-skin can positively impact breastfeeding initiation," says Andrea Firmani, Clinical Nurse Educator at Providence and BFI lead. "We hear frequently from many families how having this experience of uninterrupted skin-to-skin immediately after birth was so important to their overall birth experience, regardless of feeding method."
Mina Asgari, whose son Soren was born two days ago, says, "skin-to-skin contact is the best, and most enjoyable part of (having her infant). "Everything was good and went so smoothly at St. Paul's."
The new services and resources include:
An outpatient nurse lactation consultant. Based within the family practice program, maternity referrals are accepted during pregnancy, and postpartum. All providers can access this resource for their postpartum patients throughout their care.
Prenatal education accessible to everyone. Workshops are facilitated virtually and in-person to meet participants' needs. Private workshops are also available.
Weekly breastfeeding drop-in group led by a nurse and physician lactation consultant. These are for St. Paul's Hospital patients only, and no registration or referral is needed. This drop-in group includes a baby weigh in, infant feeding support and the opportunity to meet other new parents.
Support for staff returning to work at St. Paul's Hospital after giving birth, including connection with the lactation consultant to create an infant feeding plan if it's required.
"The Baby-Friendly Initiative is an invaluable global initiative that supports all families," says Lea Geiger, Provincial Clinical Coordinator for Maternal Infant Health at Perinatal Services BC.
Giving newborns the best start in life
"The BFI practice standards enhance the quality of care provided to parents and their babies, empowering parents with the knowledge and resources they need to give their babies the best possible start in life," she adds. "By placing families at the center of care, these standards promote a holistic approach that leads to greater happiness and healthier outcomes for both parents and babies."
St. Paul's breastfeeding support reduces the overwhelm for moms
Patient Amanda Marshall is grateful for the support around breastfeeding offered by St. Paul's. "For a brand new mother it's a stressful overwhelming time. I don't think you even realize what you're going through until you can take a step back and realize 'Wow, that was an intense time.' The medical professionals at St. Paul's recognize that, care about that and want you to feel heard."
To become BFI designated, health care organizations must fulfill the requirements outlined by World Health Organization and UNICEF and adapted by the Breastfeeding Committee for Canada for all health care institutions.
Among those requirements, the hospital must adhere to rules around breast milk substitutes, including not advertising those products within the hospital.
Story by Ann Gibbon, Providence Health Care
---
Related stories: