August 31 is International Overdose Awareness Day (IOAD), an annual campaign to end overdose, remember without stigma those who have died from overdose, and acknowledge the grief of the family and friends left behind.
The role of a peer support worker is an integral one in substance-use treatment and recovery.
Acting as a bridge between patients and clinical teams, peer support workers at Providence Health Care (also called peer navigators) help people feel more at ease, better understand a treatment plan, feel more seen, and decrease stigma. Drawing on their own lived experience, they provide emotional support, advocate on behalf of patients and help to find them the resources they need.
As British Columbia continues to weather the drug overdose crisis that claims hundreds of lives every year, hospital-based peer support workers are more important than ever. To mark International Overdose Awareness Day, meet six peers at Providence:

Saige Flaumitsch Laboucan – Indigenous Peer Support Worker, Indigenous Wellness & Reconciliation (IWR) team, St. Paul's Hospital
When she was just 17, Flaumitsch Laboucan was hospitalized for the first time from severe substance-use poisoning. During that experience, she felt the right resources were not there for her.
Now, as a peer support worker at St. Paul's IWR team, the young Lutsel'ke Dene and Woodland Cree woman from the Northwest Territories makes sure those gaps are filled. "I help keep people safe from harm, as well as provide them with compassion, empathy, and a face that they can relate to."
It is important work. Indigenous people are disproportionately affected by toxic drug poisoning events, dying at 5.9 times the rate of other B.C. residents in 2022. Peer support workers like her have personal experience with challenges Indigenous patients might face, such as racism, trauma, substance use, and/or physical or mental health issues.
No day is typical for her. "Our (IWR) staff are in various units of the hospital, from ICU, to psychiatry, emergency, acute health, maternity, etc." She travels through the hospital, starting with the Rapid Access Addiction Clinic, then to other clinics that may need her support. Her priorities are meeting with psychiatric patients and youth who may find the hospital an intimidating place.
She brings value through her knowledge of community resources and strong personal community connections, which can make the referral process simpler and less intimidating. "Patients always appreciate that support to connect to resources, having to face less barriers of making that first initial phone call.
"We may not be nurses or doctors, but I have personally guided many patients through end-of-life processes, grieved with families, helped patients process deep traumas, and have been there for patients in their darkest times."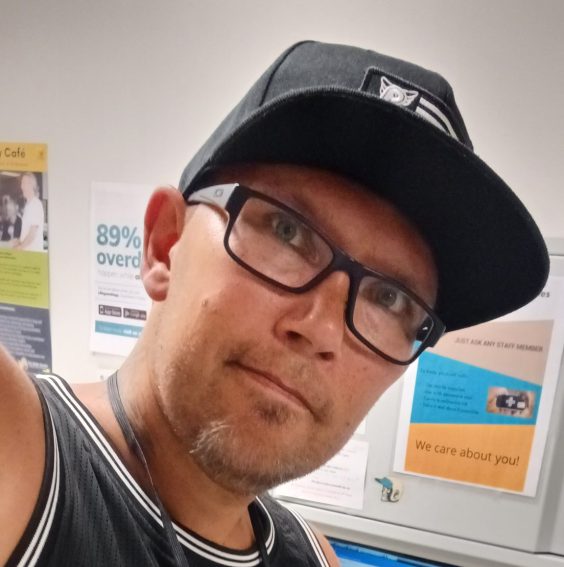 Bryan Becker – Peer Navigator, Rapid Access Addiction Clinic (RAAC), St. Paul's Hospital
Bryan Becker was about 21 months sober when the outreach team who was supporting him suggested he apply to be a peer navigator at St. Paul's.
"Being that I had used drugs and alcohol the majority of my life, I felt that all the problems it caused me put me in a good position to be able to help other people that were struggling with the same addictions," he says.
Every day on the job presents new and unique challenges where critical thinking and empathy come into play. On any given day, Becker might take someone to detox, speak with clients in crisis, provide information about harm reduction and treatments, provide special training, and much more.
"I absolutely love my job and all that it entails," Becker says. "Because I once suffered from a substance use disorder, it put a passionate drive into me so I may be able to help others that are in a similar position."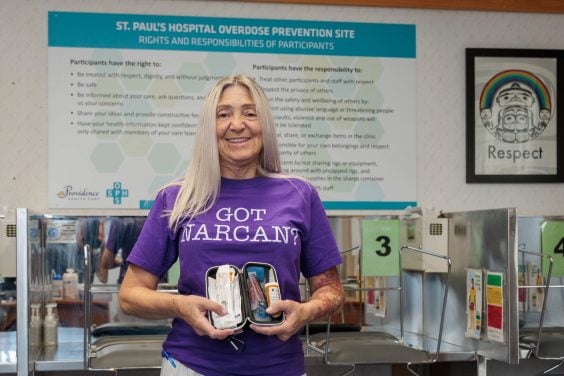 Karen Scott – Peer Support Worker, Addiction Medicine Consult Team/Urban Health
Karen Scott has been called an "Earth Angel" because, were it not for peers like her, patients would not have stayed in the hospital.
"I feel that what l bring to the clinical team is a different kind of understanding of the patient. l can relate a little better because of being in the same situation myself in the past. I feel the patient is more at ease when connected with a peer," she says.
A typical day at work for Scott starts with morning rounds with addiction medicine doctors. They review patients, go over any concerns, and she may get new patients referred to her. Then she starts checking in with the patients she's following – anywhere from 15 to 25 daily.
Scott believes all hospitals would benefit from having peer support workers.
"The value l see with peers is helping people get the help and treatment they may need with compassion and no judgement."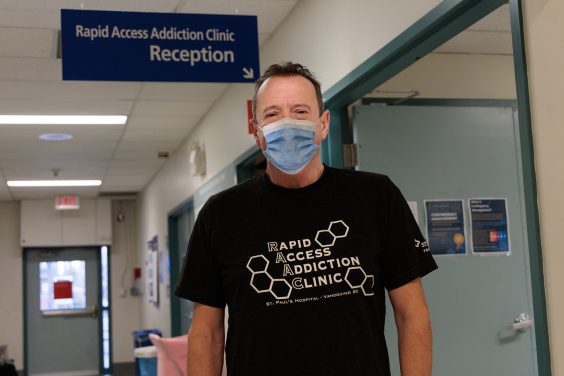 Mark Haggerty, Peer Navigator, Rapid Access Addictions Clinic (RAAC), St. Paul's Hospital
Mark Haggerty started as a peer more than a decade ago with the Positive Living Peer Program at the John Ruedy Clinic at St. Paul's. He joined the RAAC when it opened in 2016.
"Having struggled with addiction for a large part of my life. It was great to be able to share with others my own experiences (failures and success) and to be able to give back," he says.
"We want to make clients feel welcomed, valued and respected. This could just mean listening to them in a non-judgemental way, supporting them in their choices."
Haggerty says peers must maintain a good knowledge of the support systems available to clients and their families, not just at St. Paul's, but also outside agencies. The job is never boring, he says, and he looks forward to coming to work every day.
"Clients have come back and thanked the whole team for supporting them. Also we have many thank you cards and notes of gratitude from clients."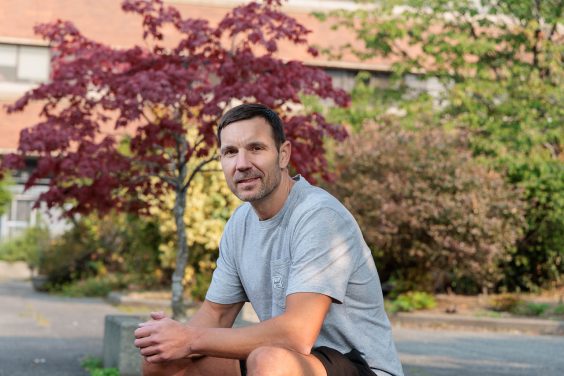 Ian Haynes, Peer Support Coordinator, Urban Health/Road to Recovery
Ian Haynes struggled with mental health, trauma and substance use disorder growing up and throughout his life. "During that time I made a lot of choices which negatively impacted other people and the community around me," he says.
Eleven years ago, he stopped using substances and decided to change the narrative of his life.
"I am so grateful that the darkest parts of my life are not a waste, they are a powerful tool," he says. "Being a part of the Peer team with Urban Health and Road to Recovery is so meaningful. Every day we connect people to the services they need using a Person Centered, Harm Reduction approach. It's the ultimate way of giving back for me."
As a Peer Support Coordinator, his work involves supporting and mentoring peers who are on the front-lines doing life-changing work. He also does training and education on harm reduction, participates in organizational meetings, supports clients and patients one-on-one, and responds to critical situations arising from the overdose crisis.
"Getting the perspective and feedback of someone who has faced many of the same situations as the population served allows valuable insight and an opportunity to look at things from a different angle," Haynes says. "Having a Peer present often lightens the mood and can be a great person to debrief with."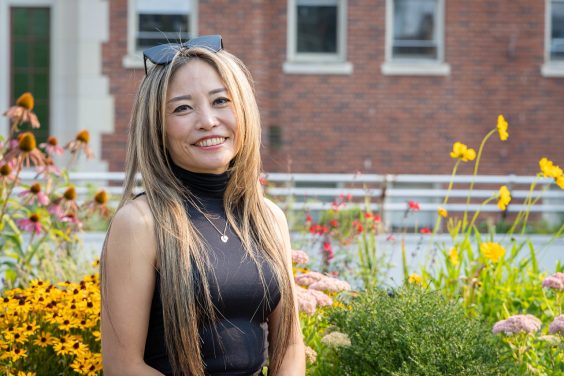 Junko Milton, Peer Navigator, John Ruedy Clinic; Peer Support Worker, Road to Recovery (starting in September)
Junko Milton's door is always open. "No appointments are needed. It is a safe space for everyone to come see me, talk, cry, be vulnerable, be themselves and feel supported," she says.
"Some people are anxious about coming to hospital, but they feel safe coming to see me. They feel safer and more comfortable engaging in treatment knowing that a peer is there to support them every step of the way."
When Milton was going through her own healing journey, she was touched by the love and compassion she received from health care professionals at St. Paul's. She knew then that she wanted to become a peer support worker one day.
For her, being a peer is not a job, it's a mission. "I promised my friends and loved ones whom I lost to overdose that I would carry on their legacy and spread awareness that people who use substances are beautiful and loving human beings," she says.
If there was not peer support, Milton says many clients would feel overwhelmed and isolated navigating the hospital. Peers meet clients where they are at, build safety, connections and trust.
"We inspire and empower individuals that there is a hope in the future."