The Province and public-health officials are encouraging people in B.C. aged six months and older to get their COVID-19 and influenza vaccines.
B.C. Provincial Health Officer Dr. Bonnie Henry and Health Minister Adrian Dix held a media conference Thursday to announce the vaccine campaign, and to reintroduce the requirement to wear masks in health-care facilities as respiratory infections increase in B.C. communities.
"An increase in hospital visits with the fall respiratory illness season requires measures to ensure our acute care is effective and our health-care system is strong, and that's exactly what we're doing," said Adrian Dix, Minister of Health, in a Sept. 28 news release. "We all know that getting immunized is the best way for us to protect ourselves, our loved ones and the B.C. health-care workers we rely on. We all know that to keep ourselves healthy and our health-care system strong, we all need to do our part. And by getting our free and readily available COVID-19 and influenza vaccines at the same time, we're all doing precisely what's needed."
People can get flu and COVID-19 shots at the same time
When the vaccines start to arrive in B.C. in early October, priority populations will be invited to book vaccine appointments. This includes people most at risk of severe illness and complications, such as seniors 65 and older, residents in long-term care facilities, Indigenous peoples, pregnant people and those with chronic health conditions (e.g., cancer, HIV, hepatitis C, diabetes), as well as health-care workers.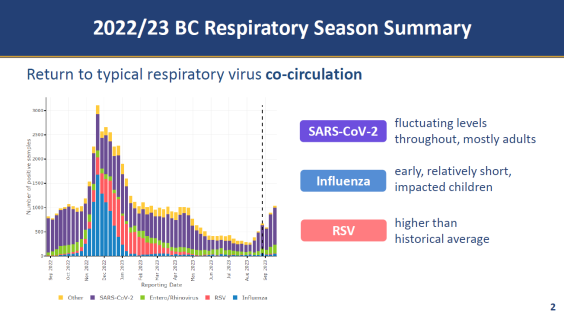 Invitation for immunization appointments for everyone else will begin on Oct. 10, 2023, and people will be able to receive influenza and COVID-19 vaccines at the same time, if they wish. Invitations will roll out incrementally throughout the month of October.
Vaccines will be readily available in many participating pharmacies, health-authority clinics, and some primary-care providers' offices throughout the province. They remain free and are available for everyone six months and older, including enhanced influenza vaccines for seniors.
Updated vaccines available soon
"We are starting to see increasing respiratory virus infections in B.C., including COVID-19, and now is the time to remember the healthy habits we can all do to protect ourselves, our loved ones and our communities," said Dr. Bonnie Henry, provincial health officer. "That includes covering your cough, cleaning your hands regularly, staying away from others if you have a cough or a fever, wearing masks if you have lingering symptoms or need extra protection and getting the updated COVID-19 and influenza vaccines. By getting immunized for both COVID-19 and influenza, we are not only protecting ourselves, but also those around us."
Health Canada approved the updated Pfizer-BioNTech Comirnaty Omicron XBB.1.5. COVID-19 vaccines on Sept. 28, 2023, and the COVID-19 Moderna Spikevax vaccine on Sept. 12, 2023, and they will be available in B.C. soon. The new vaccines target the XBB.1.5 subvariant and are approved for use in people six months and older. The updated Novavax vaccine is expected to be approved shortly and will also be available throughout the province.
Masks required in health-care facilities
As respiratory infections are increasing in communities in B.C., the risk also increases in health-care facilities where people may be more at risk of severe infections or complications. To increase protections in health-care facilities in the province, medical mask wearing will be required by all health-care workers, volunteers, contractors and visitors in patient care areas starting Oct. 3, 2023.
Long-term care visitors will be required to wear a medical mask when they are in common areas of the home and when participating in indoor events, gatherings, activities in communal areas of the care home or residence.
Ambassadors will be at facility entrances to support screening for symptoms of respiratory illnesses, hand out medical masks, and ensure people clean their hands before entering.
As fall and winter can add more strain to B.C.'s health-care system and to ensure hospitals have capacity in the event of increased demand during the respiratory season, plans are in place to add hospital beds and expediate patient flow as needed. This includes daily co-ordination planning between the Province, health authorities and the BC Emergency Health Services, as well as continuing efforts to strengthen the health-care system through B.C.'s Health Human Resources Strategy.
Read the Government of BC news release.
Learn how to get vaccinated this fall at www.gov.bc.ca/respiratory-illness.