Seniors and their loved ones are now benefitting from high-quality care after a newly renovated 216-bed long-term care home opened its doors.
Chénchenstway, located at 7550 Rosewood Street in Burnaby, offers residents more privacy and comfort with private rooms, individual washrooms and other accessible outdoor spaces.
"The opening of this new long-term care home signifies our commitment to ensuring dignified and compassionate care for people," said Adrian Dix, BC's Minister of Health. "Today's announcement expands on our government's work and investments into long-term care in British Columbia and on our commitment to build safe homes and communities for seniors."
Goal to reduce multi-bed rooms in long-term care
The renovation of the former New Vista long-term care home is a partnership between Fraser Health, Providence Health Care (Providence) and Vancouver Coastal Health. Fraser Health is operating 106 of the Chénchenstway beds, while Providence has oversight of the remaining 110. The project began with a goal of reducing the number of multi-bed rooms in long-term care.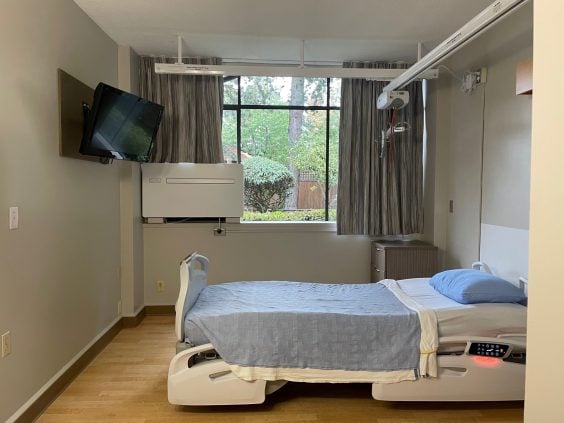 "Our government is committed to working with our health care partners to create places that meet the needs of seniors and their families – in Burnaby, and throughout B.C." said Harwinder Sandhu, Parliamentary Secretary for Seniors' Services and Long-Term Care. "Providing seniors access to high-quality, compassionate care close to their loved ones is crucial to ensure seniors can continue to live happy and fulfilling lives in their community."
Residents from several Fraser Health and Providence long-term care residences who opted to move to Chénchenstway are now living in their new home. They relocated from facilities that include Fraser Health's Fellburn Care Centre in Burnaby and Queen's Park Care Centre in New Westminster; as well as and Providence's Mount Saint Joseph Hospital, Holy Family and Brock Fahrni sites in Vancouver.
More showers, updated dining rooms and activity space
"I am thrilled that Burnaby seniors and their families will benefit from more long-term beds and high-quality care at Chénchenstway," said Raj Chouhan, MLA for Burnaby-Edmonds. "This will allow more seniors to live in comfort and with dignity, supported by their loved ones, in a place they can call home."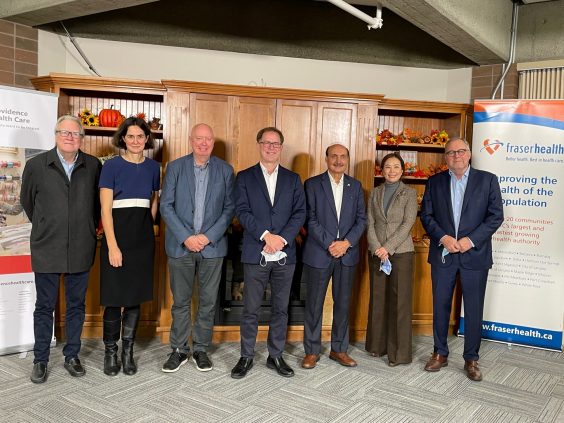 Additional amenities for Chénchenstway residents include more showering facilities, updated dining rooms and space for social activities. The building has also been upgraded to improve the air flow, heating and air conditioning.
"We embraced the creativity of our dedicated teams that incorporated thoughtful design to craft Chénchenstway into a nurturing home," said Dr. Victoria Lee, president and CEO, Fraser Health. "We are deeply appreciative of our staff and medical staff, and the unwavering support of families and friends. Together, they ensure that the residents of Chénchenstway not only find joy and comfort but also enrich their quality of life in profound ways."
Chénchenstway means 'to lift each other up'
Project is funded with $7.8 million from Fraser/Providence, and $19 million from the Federal government's Safe Long Term Care Fund.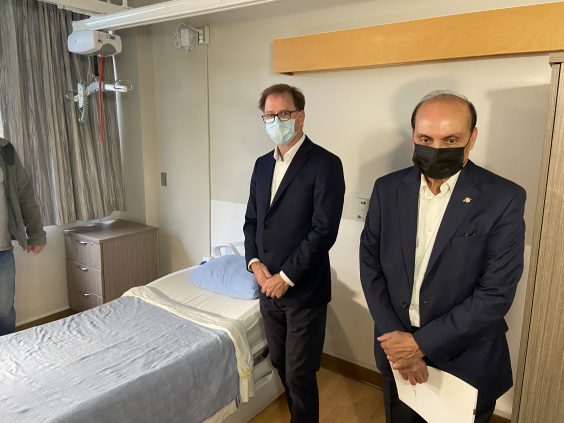 "All of these features mean residents and their families will have greater comfort, privacy and peace of mind," said Fiona Dalton, President and CEO of Providence. "Chénchenstway is a Squamish word that means 'to lift each other up' and it is our hope that this new residence will do just that for seniors and their loved ones."
Partners worked closely with unions of the Fraser Health and Providence sites that Chénchenstway residents left. All staff were offered employment at the Rosewood Street facility.