The 26th annual Lights of Hope fundraising campaign and community celebration takes place November 23, St. Paul's Foundation has announced.
Mark your calendars
From 6 p.m. to 8 p.m. outside St. Paul's Hospital, the iconic display will light up for the first time in 2023. Fireworks are set to return to the free, family-friendly event. Save the date and join St. Paul's Foundation for one of their biggest and most visible fundraising events of the year.
Free, family-friendly event
Attendees can expect a variety of festive sights and activities, including holiday favourites performed by local Vancouver musicians, The Rain City 6 Band, and choral performances by Sarabande and The West End Singers from St. Andrew's-Wesley United Church. Visitors can also enjoy complimentary hot beverages and cookies from Beyond Coffee or feast on some delicious treats from local food trucks, Camion Café and J's Disco Dogs.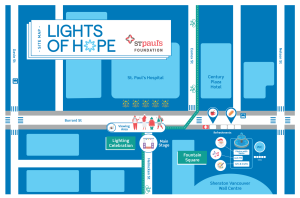 Across the street at Fountain Square (in front of Sheraton Vancouver Wall Centre) attendees can take a holiday photo with Santa and Mrs. Claus, design a holiday card for a resident in long-term care at the Arts & Crafts tent, and find more goodies from Coffee Bike Vancouver.

Every year, it takes plenty of hardworking volunteers to produce the display. A team of approximately 150 volunteers work together for almost six weeks to set up the stars that will be lit up.
Give hope
At the darkest time of year, patients and long-term care residents need hope more than ever. This year's lights will shine bright, with each star representing a donor's gift. Lights of Hope is St. Paul's Foundation's largest community fundraising campaign—raising more than $50 million over the past 25 years from donors and community across British Columbia.
Ways to give
Bring the Lights of Hope home by purchasing a Hope at Home star lantern. Star lanterns are available for a limited time only.
Sponsor a star individually or as a team. There is still time to be featured in this year's display after the community celebration. Gifts by December 1 will still be recognized on the shining display until January 5. To make a donation, please contact Annalissa Magleo.
Take a chance in the Lights of Hope 50/50 raffle. Tickets can be purchased until November 30. One lucky winner will take home half the jackpot. As of November 14, the jackpot is sitting at $48,385.
Story by Ramneet Grewal, St. Paul's Foundation