Aging is inevitable but how do we live well while we age? There are complex challenges surrounding aging that require creativity, collaboration and innovation.
The third annual Skunkworks event, Hacking Aging, united researchers, health care professionals, caregivers, patients, students and external partners to collaborate on solutions to address these challenges and improve the lives of older people.
Super senior Jim Pattison a judge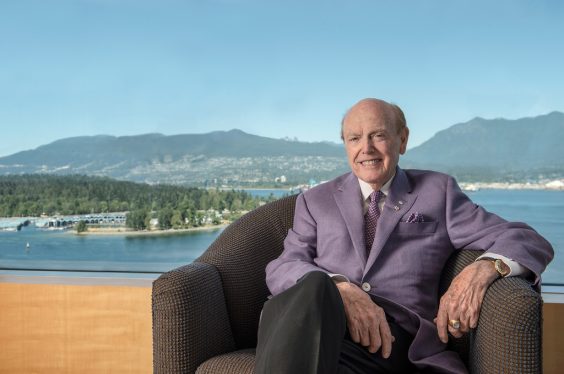 As part of the event, each team would brainstorm ideas then get three minutes to pitch its project to a panel of judges. This year's panel included Johny Bassan, Director, Internet of Things, BCIT, Sarah Lubik, SFU Director of Entrepreneurship, Jason Elliot, Master of Digital Media (MDM) and Pre-MDM Faculty, Centre for Digital Media, Sean Lumb, Interim Managing Director of entrepreneurship bv@UBC, and Brian Simmers, Providence Health Care Chief Financial Officer and Vice President, Health Informatics and Corporate Development.
Super senior Jim Pattison, the legendary Vancouver businessman, was a special guest judge. The spritely 95-year-old has donated $75 million to the new St. Paul's Hospital.
Record number of attendees
Hosted by Providence Research in partnership with St. Paul's Foundation, Skunkworks is a unique innovation event series designed to facilitate solutions to complex health care problems. The term "skunkworks" originated in the 1940s as an alias for an American engineering lab that worked on top-secret programs at Lockheed Aircraft Corporation.
Today it describes a project developed by a group of people who identify issues and pilot solutions.
This year's event was presented by the Centre for Aging + Brain Health Innovation (CABHI) and held in collaboration with the Discover, Learn & Innovate for Impact Physician Advisory Committee and Providence Health Innovation, Research + Engagement (PHIR+E). Around 120 people attended Skunkworks: Hacking Aging, more than any previous year.
Broadening perspectives on aging through design thinking, lightning talks
Skunkworks is framed around design thinking, an approach to problem solving anchored in human-centred design. Marlies van Dijk and Josh McCutcheon from The Pivot Group design firm facilitated the event, leading a series of design thinking activities to explore the challenges surrounding aging. Through these, teams of participants developed "How might we?" questions to frame the problems they would be "hacking."
Speakers gave lightning talks to inspire and energize participants. Health Futurist Zayna Khayat from Deloitte Canada gave a virtual presentation from Ontario on the future of aging. She spoke about the three layers of change – technology, policy and people. Technology creates what is possible, policy dictates what is permissible, and people dictate what is operable. She encouraged participants to focus on policy and people – as health care practitioners, they have direct experience with aspects that people running technology companies usually lack.
Older adults as co-creators of new care, not passive recipients
Jim Mann, a researcher, author and volunteer who is engaged in reducing stigma around dementia, provided unique insights from the perspective of a person with Alzheimer's. He emphasized that it is important to view older adults not as passive recipients of new forms of care and innovation, but as co-creators.
Dr. Lillian Hung, the founder and head of the UBC Innovation in Dementia and Aging (IDEA) Lab, spoke on research innovations in the fields of dementia and aging. The UBC Idea Lab had an interactive display showcasing their Lovot robots, Mango and Kiwi. The Lovots are mobile social robots that the lab is testing to determine if they can improve the quality of life for people with dementia.
Patient partners have vital role
A key theme that emerged throughout Skunkworks: Hacking Aging was the importance of listening to patient populations in order to understand both their healthcare needs and who they are as people. That is why the participation of patient partners in events like this is vital.
Several patient partners affiliated with the Patient Voices Network were part of this year's event and made contributions, not just as mentors offering their unique insights and perspectives, but as genuine participants in the conference.
"I hadn't been to a conference in over 10 years, and this conference sort of picked me up and took me into the 21st century. It was an absolute mind-blower, in terms of my own personal learning," says patient partner Margaret Emmet.
Prototyping and pitching solutions
On the second day of the event, the teams created 'prototypes' of solutions to their "how-might-we" questions. Prototyping involves designing an early version of a project that provides an idea of what it is, while still letting the creators quickly pivot and toss away ideas that are not working.
Award winners
The Technology Accelerator Award is presented to the idea that involves the best use or adaptation of technology. This was awarded to Team Six for their project, "The Communications Interface Overall Care Solution (CIOSC)," a system that would increase efficiency in long-term care homes through allowing patients, family members and health-care providers to access patient information through a voice-activated touchscreen.
The Research and Innovation Award goes to the idea that seeks to advance research, knowledge and ideas that could result in products, services or practices that will positively impact the older adult population. This was awarded to Team Eight for their project, "Know-Well," which would support care teams in understanding who a patient is, when they might not be able to communicate for themselves. A QR code on a wristband would be connected to a database of significant information filled out by the patient's family.
Continuing a tradition that began at Skunkworks last year, PHC spontaneously funded a surprise third award, the Operational Impact Award, which went to Team Two for its "Older Adult Liaison" project. It can be challenging for older adults to navigate the emergency department, and family members cannot always be there to support them. The Older Adult Liaison would help older adults through the system, assisting with navigation, answering questions, and working with ED staff to streamline the flow of care.
Story by Grace Jenkins, Providence Research