Love was in the air at Mount Saint Joseph Hospital this month when the son of a resident tied the knot there – all so that his mother could be part of his wedding.
It's not easy planning a wedding, even with lots of time to make plans and having the best resources available (think: professional wedding planner!) Yet for Dennis Eng and his bride-to-be Sharon Jiang, there was no doubt that the venue of choice for their nuptials needed to be where Dennis' mother lived.
"I wanted to be married in front of my mother and it was easier to have it at the hospital rather than at a wedding hall," says Eng. "Mainly because of the care that's required and the emergencies that can happen. If it became uncomfortable for my mom or if something happened to her, then the staff could take care of that. It was a lot easier getting her ready with the staff there rather than trying to move her and having to travel to a chapel and trying to find ways to accommodate her."
Mount Saint Joseph residents were part of the nuptials
It was also important to them to include the other residents in their special day.
Wedding plans for the couple came together very quickly, within a mere week. As per usual for most weddings, there were some panic moments and mishaps. Dennis and Sharon had done some very preliminary organizing a few days before the wedding and chose the chapel but after the guest listed ballooned, they had to change the venue to the dining room.
They arrived at the venue an hour and a half before the ceremonies were to begin.
Continues Eng: "We walked into the room and the residents were still eating breakfast. Panic started to set in until one of the staff members assured us that as soon as they were finished, she and a team of volunteers would get the room in order according to plan. We had to believe that would happen."
The day included some nail-biter moments  
What's a wedding without some poignant, crazy moments? Eng was signing his marriage certificate at the last minute and his brother who stood up for him ripped his tie. Their dad rigged it to fit. Eng had ordered vanilla butter-cream cupcakes for the occasion that included special Mr. and Mrs. Cupcakes. But his dad and one of the care staff mistakenly ate them.
In the end, it all worked out. The bride and groom's family and friends and about 50 residents attended a beautiful ceremony, pictures were taken and the staff and residents were part of a special event.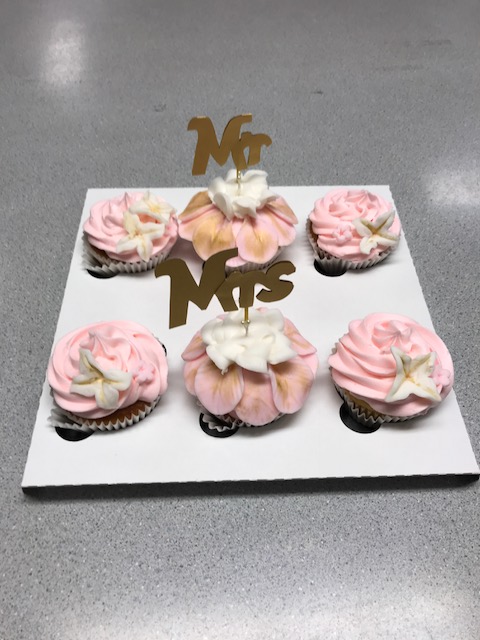 The hospital had never played host to a wedding before
The wedding was a first at Mount Saint Joseph, and staff and volunteers stepped up to make it happen, says Carrie Willekes, residential care manager at the site. "Instantly, we wanted to support the family," she says, upon receiving the request from the bride-to-be to hold the event there.
"Staff came in on their days off to make sure it all came off without a hitch, helping with decorations and the backdrop," she says. "I'm so proud of them – they just took it on." Accommodating the special event was a no-brainer for the residential-care facility. "We're working hard to create a home-like environment here, and weddings are a part of life , so it made sense to host it here."
The best part of the day for Eng? "Probably the acceptance by my mother of my new bride. The night before I got her blessing. When my wife  brought her extended family over to go see Mom, the first thing she did was extend her hand to Sharon's godparents. I think there were tears in her eyes."
Eng is grateful to the manager and staff of Mount Saint Joseph Hospital for being allowed to host the first wedding there and for their help in pulling it all together in such a short time. "The staff are so good to my mother. She treats them as family and they treat her as family too. I'm a private kind of a guy but we were sharing the same space as the residents so there was nothing wrong with sharing the wedding with them. And they were so happy."