It's the first program of its kind in Canada and could mark a radical change in the way treatment is offered to people living with opioid use disorder.
The BC Centre for Excellence in HIV/AIDS (BC-CfE) and Vancouver Coastal Health (VCH) marked the launch of the BOOST (Best-practices in Oral Opioid agoniSt Therapy) Collaborative by bringing together twenty teams from across VCH to improve access to – and retention in – suboxone and methadone treatment.
Based on the highly effective, made in BC HIV/AIDS Treatment as Prevention® (TasP®) model, BOOST will use the methodology behind STOP (Seek and Treat for Optimal Prevention) HIV/AIDS – the program that successfully sought out untreated HIV positive people and provided them with lifesaving anti-retroviral therapy.
"There are many parallels between the HIV/AIDS epidemic and the overdose crisis we are experiencing now," says Dr. Rolando Barrios, assistant director at the BC-CfE. "Keep in mind, however, missing a dose of HIV medication could make you sick but missing a dose of suboxone can have immediate life or death consequences. The BOOST Collaborative is designed to help front-line staff ensure people get their treatment daily and stay in treatment long-term."
The strategy known as TasP® is being deployed as a key tool to promote Targeted Disease Elimination and healthcare sustainability to therapeutic areas beyond HIV/AIDS, including addiction and viral hepatitis. The program will expand the BC-CfE's demonstrated success in the control of HIV/AIDS, centered on the optimization of therapeutic opportunities to decrease morbidity, mortality and new HIV cases.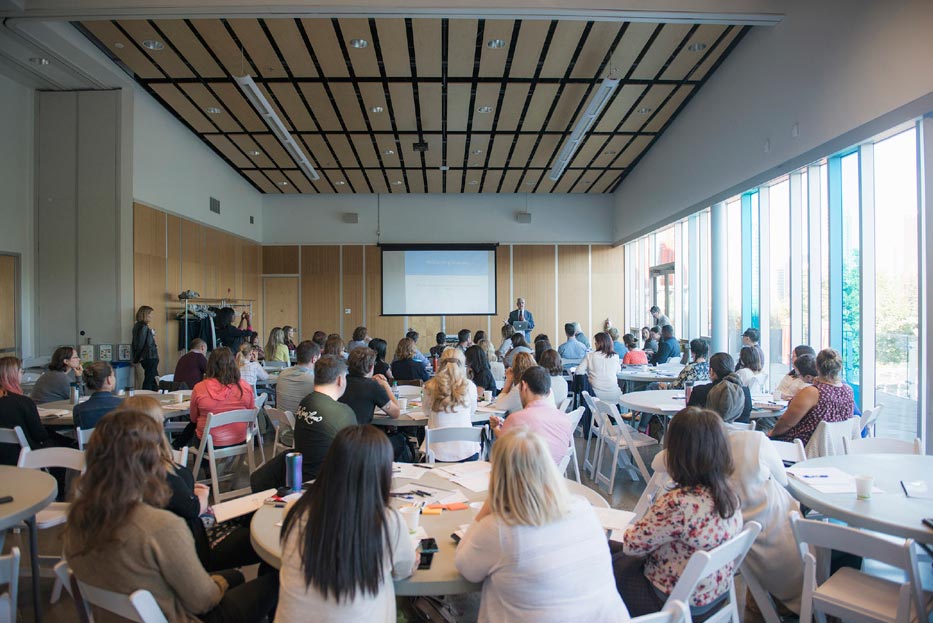 "The work we did, we did together, during the HIV/AIDS era which enhanced access to life saving services for our most marginalized patients – stopping premature deaths and transmissions," Dr. Julio Montaner, director of the BC-CfE told the BOOST Collaborative. "We had effective therapy in the form of anti-retroviral medication, so we changed our approach dramatically – from a passive approach to engaging with our clients to facilitate their access to services. We realized this was good for our clients, public health and promoting healthcare sustainability."
For families, friends and harm reduction advocates, a new approach aimed at saving lives is welcome news.
"As parents and family members we are always on a never-ending search for treatment for our loved ones and the current opioid crisis has us in a constant state of fear and anxiety," Frances Kenny, Founder of PARENTS FOREVER told the doctors, nurse and frontline workers with the Collaborative. "We are excited to welcome a pilot project that seeks to close any gaps in the system and will attempt to proactively reach out to people with OUD, engage them in care and attempt to keep them in care."
After sharing learnings on how to improve opioid agonist therapy with system change, Dr. Dennis McCarty, Division Head, Health Services Research, Oregon Health and Science University spoke about how BOOST could set the standard internationally for delivering opioid agonist treatment around the world.
"Vancouver broadly – and British Columbia – is setting the stage at a higher level of excellence and that's something to aspire to," says McCarty. "Vancouver has a high penetration of fentanyl – and fentanyl is a much more dangerous opioid than heroin – but you also have a more organized system of care because it is a provincial health system. The province benefits from reductions in health care expenses, they benefit from reductions in mortality and morbidity and a reduction in stress on the criminal justice system."
The first set of results from the BOOST Collaborative will be available in the winter of 2017, with the entire project set to conclude in July 2018.
Source of Original Article: http://www.cfenet.ubc.ca/sites/default/files/uploads/news/forecast/forecast-sept_2017_web.pdf