Certain dishes are consumed during the Chinese New Year for their symbolic meaning. Lucky food is served during the 16-day festival season, especially on New Year's Eve, which is believed to bring good luck for the coming year. The auspicious symbolism of these foods is based on their pronunciations or appearance.
Chinese dumpling or "Jiǎozi" is one of the most important foods during Chinese New Year. Since the shape of Chinese dumplings are similar to ancient gold or silver ingots (Yuan Bo), they symbolize wealth. Traditionally, family members get together to make dumplings during New Year's Eve. They may even hide a coin in one of the dumplings.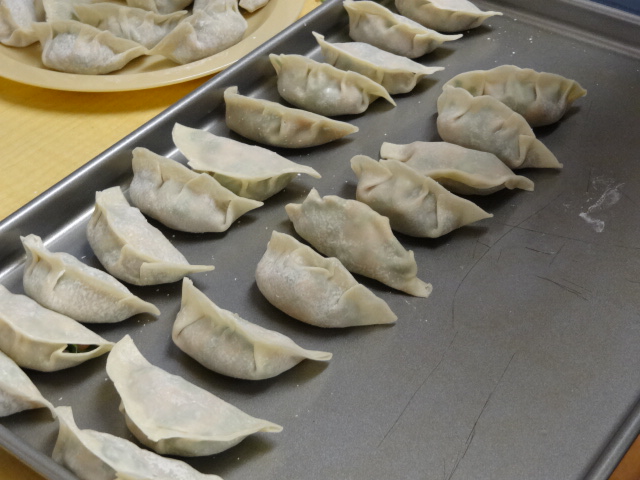 On Chinese New Year's Eve, Holy Family Residence rehab staff brought this special tradition to life for their residents.
Gina, a resident's companion, mixed the ingredients. Ellen, registered nurse, showed other staff how to wrap the dumplings. Six Chinese residents picked up the "job" right away and a solid production line was formed without hesitation.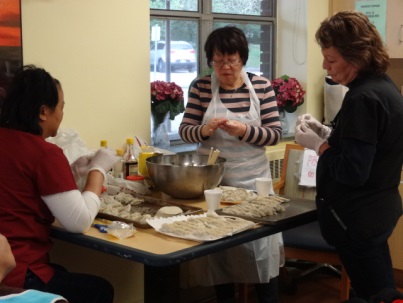 They worked diligently and showed perfectionism in their products. Susan, a resident who kneaded the edge of the dumplings, crafted the delicacy with professionalism that matched machine-made dumplings with identical twists. Even Mrs. Li was able to wrap dumplings with her one hand.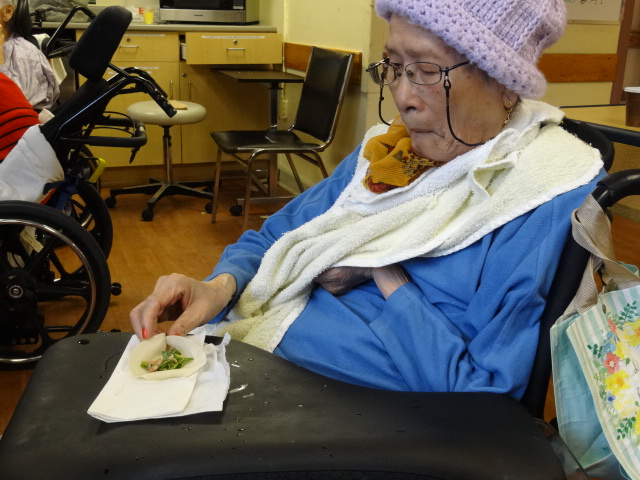 When Ivy, the rehabilitation assistant, cooked the dumplings in a pot of boiling water, the smell and the steam of the dumplings warmed up the dining room. Residents and staff members enjoyed the dumplings shortly after. We noticed that Mrs. Lee, who has no appetite for hospital food, ate the dumplings with delight shining in her eyes. Another participant said that this event was definitely a hit and we should do it again.
In case you want to make your own dumplings, here are the ingredients we included in our Chinese dumplings:
Ground pork
chopped spinach
grated ginger
soy sauce
sesame oil
salt
corn starch
"Double Happiness" dumpling wraps (simply paint some water on the edge to help seal the dumplings)