A Dutch model for seniors care – known as the dementia village in De Hogeweyk, Netherlands – will serve as the vision for a major Providence Health Care (PHC) redevelopment in Vancouver.
The De Hogeweyk dementia village fosters free movement of people with dementia within a homey setting, and involvement of them in everyday activities within the household or the wider, secure neighbourhood. The former St. Vincent's Hospital at Heather Street and West 33rd Avenue in Vancouver is the proposed site for the PHC redevelopment.
PHC, a long-time provider of compassionate residential care at multiple sites, is pioneering this new social model of resident-directed care for people with dementia. PHC has completed a clinical services plan for the Heather Street dementia village along with a functional plan with drawings in consultation with an architect.
PHC is now in the process of finalizing a business plan over the next few months. The land designated for site development is being provided through the generosity of the Archdiocese of Vancouver.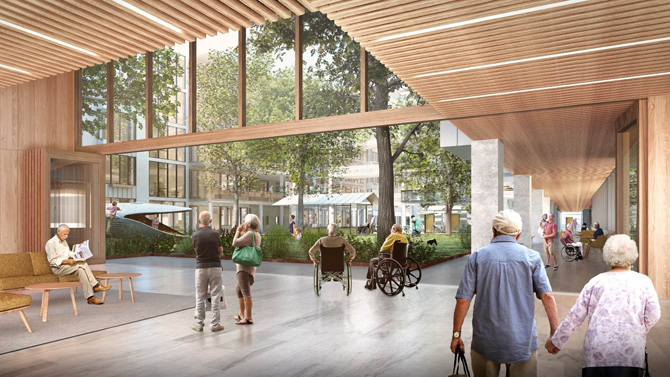 The De Hogeweyk dementia village is viewed internationally as a hallmark of innovation in residential care of people living with dementia and has received media attention as a result. It is one of 16 elder care sites visited by PHC planning staff during a five-country, information-gathering tour in Europe.
Jo-Ann Tait, the PHC corporate director of seniors care and palliative services who participated in the tour, says the Heather Street dementia village will emulate many aspects of the Dutch model. For example, it will focus on the establishment of smaller households for residents who share a common bond with each other, such as cultural or friendship-based.
The Heather Street dementia village will also see the return of regular, daily life for residents. Usually, when people with dementia enter residential care, they are relieved of the kinds of regular household routines and puttering about – from cooking to cleaning to sweeping the floor or making their beds – which are so often the cornerstone of home life and define one's sense of belonging to it.
"We wonder why seniors sit in their chairs asleep and become disengaged with the world around them. Without normal life experiences, isolation and loneliness begin to creep in. And we know life experience is not about keeping residents busy to pass the time. It's more than bingo and bowling," said Tait.
As a result, residents will have access to kitchens where they can prepare food with and under the supervision of staff, as well as washers and dryers, possibly even clotheslines or drying racks.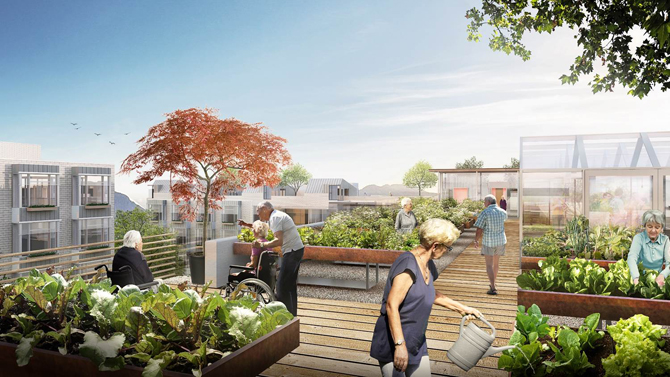 The entire perimeter will be enclosed and secured using creative structure and layout as well as technology so that residents can easily venture outdoors. They will be encouraged to get outside as much and as often as possible, free of the traditional restraints, constraints and wander guards that have kept them confined to their chairs and indoors for most of their residential life.
PHC's goal is to create vibrancy and an authentic sense of community with amenities that are actual destinations and points of interest for people and their families to enjoy, including a grocery store, pub, and child daycare.
In alignment with that goal is the intention to have the Heather Street dementia village also welcome the outside community into residential care. For too long, residential care homes have been areas where the community or visitors come by invitation only, if at all. In the dementia village, visitors will be able to drop by and become part of the community whether that means stopping in for a meal or renting spaces for music instruction or allowing kids to practice their instruments after school while nearby residents watch and listen.