Happy Nutrition Month 2018! This year, our team of dietitians and volunteers are working together across all Providence sites to help to "Unlock the Potential of Food". Through our media writing, patient education, staff engagement, and health promotion efforts, we hope to demonstrate that food has incredible power to fuel, to engage children in discovery, to prevent, to heal, and to bring us together. Thank you for joining us in this journey!
The ability of food to heal is such a powerful statement and the reason many dietitians practice in the areas of diabetes, heart health, kidney care, and digestive health, just to name a few. Dietitians work across the continuum of health care, from doctor's offices to hospitals to community health care centres. We help people heal with food.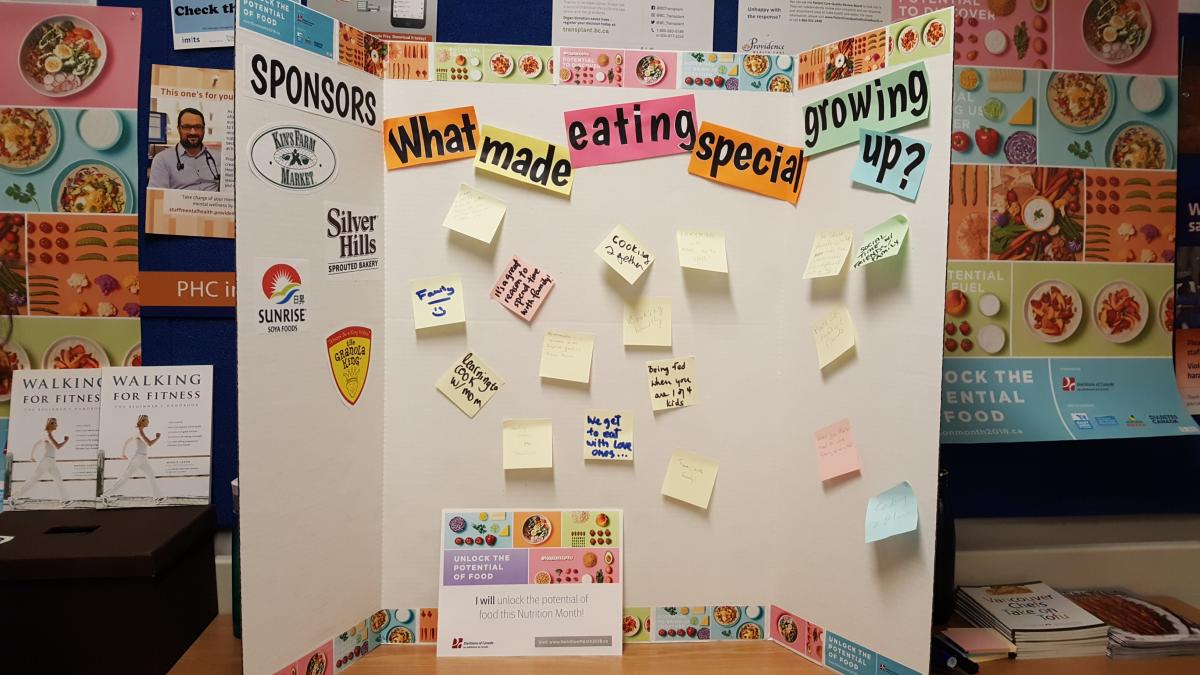 Whether you are engaged in disease prevention or management, meeting with a dietitian can help you achieve your lifestyle goals more easily and effectively.
Here are some ways in which dietitians can help people discover the power to heal:
Diabetes prevention and management: As diabetes is a growing condition in our population, dietitians can help clients choose foods that help improve blood sugar control, blood pressure, cholesterol and weight. It is through supporting clients to make healthier lifestyle choices that we can slow down the progression of complications, such as eye disease, kidney disease, heart disease, and neuropathy.
Inflammatory Bowel Disease care: Dietitians can help map out food choices for those living with Ulcerative Colitis, Crohn's Disease or Celiac Disease to promote gut healing and restore nutrient absorption.
Care for those with swallowing problems: Particularly in a residential care setting, dietitians work as part of a team of patients, families, and health care providers to find suitable food choices for individuals who have difficulties swallowing to ensure that they stay well-nourished.
Cancer care: As rates of certain types of cancer rise in our population, and new treatments emerge for their management, dietitians play an important role in symptom management so people can feel as best as possible while under treatment.
Did you know?
You can call 8-1-1 and speak to a dietitian directly about your nutrition questions as well as receive individualized lifestyle counseling.
A registered dietitian is your best source for reliable nutrition information.  Dietitians are educated through accredited programs and  regulated by a Professional College.
Be part of Nutrition Month activities at Providence this March:
Thank you to everyone who stopped by our Nutrition Booth for the month of March — we really enjoyed all of the great conversations and fun. See you next year!
Support your knowledge of nutrition by playing our Jeopardy game, which will happen throughout the month of March at all our Providence Sites.
Access great recipes and menu planning tips through the Nutrition Month App, Cookspiration, and eaTracker, at www.dietitians.ca/gettheapps.
Tweet about your goals and achievements with #Nutritionmonth.