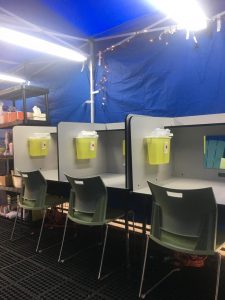 As new figures show a rise in the number of overdose deaths from illicit drugs, a new Overdose Prevention Site has launched at St. Paul's Hospital to help save lives.
Overdose drug deaths in BC for the month of March rose almost 60 per cent over those in February in the province according to new BC Coroner's figures.
The St. Paul's OPS launched May 7 and is the first OPS outside the Downtown Eastside and within the Vancouver Coastal Health Region.
The bright blue tent, off the Thurlow Street entrance behind the Vancouver Police Foundation's Transitional Care Centre, offers clean needles and other equipment, drug testing and naloxone to substance users, as well as connections to community supports. It opens at 11 am seven days a week and the last visit is at 10.30 pm.
The site is the latest addition to a series of PHC's wraparound supports for substance users, including the Rapid Access Addiction Clinic and recently operationalized Emergency Department HUB. They provide important clinical, transitional and community-linked supports.
"The tent offers people who use substances in this area a supportive and judgment-free place to use, whether they're St. Paul's patients and visitors or residents of the West End," said Scott Harrison, Director of  Urban Health, Indigenous Health, Substance Use, Maternity and NICU at PHC.
Substance users recognize SPH as a safe place to be after an overdose and the OPS will address the high number of people who die alone because they're afraid of stigma around drug use, said Harrison. In 2018, 91 per cent of illicit drug overdose deaths occurred inside.
The tent aligns with Providence Health Care's commitment to harm reduction and emphasis on compassionate, non-judgmental care for all, particularly the most vulnerable.
And data indicates that OPSs save lives. Existing Vancouver OPSs have facilitated over 130,000 visits and reversed over 1,000 overdose events since December 2016, all without a single fatality, according to PHS Community Services. The lack of a service in the West End left many patients and visitors at St. Paul's Hospital, and nearby residents, vulnerable and at risk of using alone.
The OPS is funded by Vancouver Coastal Health and managed by RainCity Housing, which is providing it with a peer support worker and a staffer.